What are some of the most popular places to visit in Kentucky?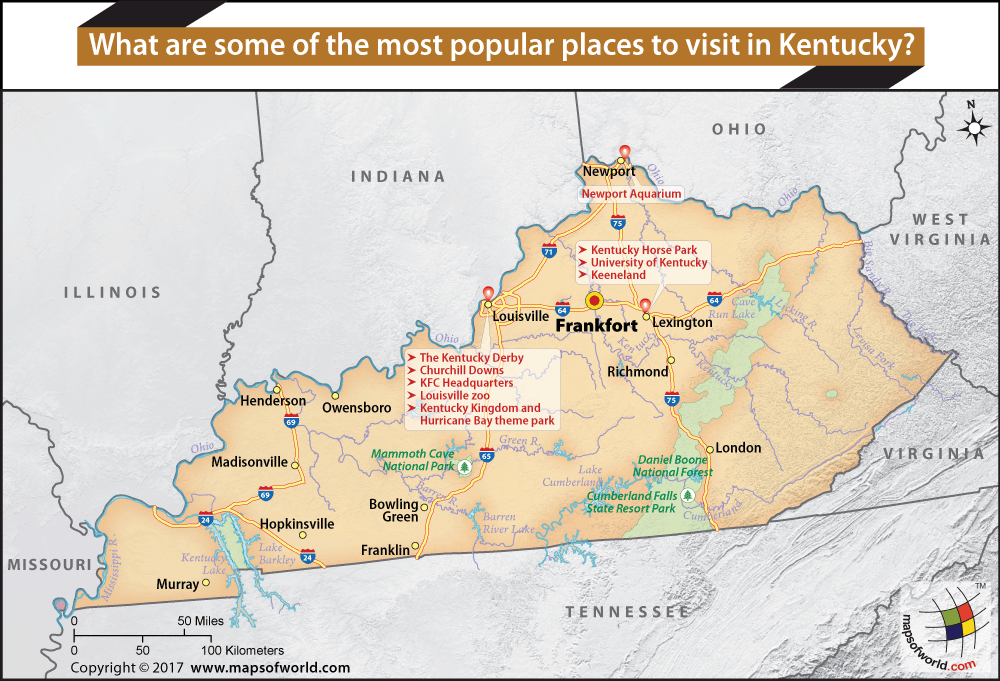 Does Kentucky Fried Chicken ring a bell? Yes, the state of Kentucky is where the Colonel's iconic Original Recipe originated, and today KFC is the second-largest restaurant chain in the world.  But Kentucky is known for many more world-famous attractions, including the Kentucky Derby and also the world's largest cave system. The state is also one of the four US states that is a commonwealth.
The largest city in Kentucky, Louisville is home to the famous Kentucky Derby. Churchill Downs offers spectacular views of world-class horse races and a museum and the Derby store, which offers souvenirs.
One of Kentucky's most unusual events is the Knob Creek Machine Gun Shoot where gunshots light up the sky in a spectacular display.
Louisville is home to KFC headquarters as well as the Louisville Zoo, which features the Glacier Run with polar bears and grizzly bears and the Gorilla Forest. Boasting 120 parks, Lousiville offers a thrilling experience at places like the Kentucky Kingdom and Hurricane Bay, where rides of the Fear Fall drop from a height of 129 feet at 45 miles per hour speeds.
Known as the horse capital of the world, Lexington is home to the Kentucky Horse Park as well as the University of Kentucky. The horse park has displays featuring a variety of horse breeds and a working horse park, along with the International Museum of the Horse. Keeneland in Lexington is one of the most beautiful places in Kentucky where visitors can take a tour and observe how the horses are trained to become racing thoroughbreds.
Other major cities in Kentucky include Frankfort, the capital, Bowling Green, which was named one of the top 25 cities to retire in the United States, Owensboro, Kentucky's manufacturing hub, Richmond, the centre of commerce, and London, which is home to the World Chicken Festival.
The state is also home to the world's largest cave system, Mammoth Cave National Park, where guided tours take visitors to explore the deep caves and cave paintings. The highlights of the cave include Mammoth Dome, the Ruins of the Karnak, and the Frozen Niagara. Check this Mammoth Cave National Park Map article for more info about the national park.
Cumberland Falls in Kentucky is known for its gem mining experience where tourists can discover rare, colourful gemstones. Bird watching and camping are some other ways to explore this region.
The Newport Aquarium is home to exotic sea creatures and a walk through the aquarium will make visitors feel like they are walking among the sharks.
Kentucky is known as the Bluegrass State for its fields of grasses that have a bluish tint when they get tall enough to flower. Another interesting fact about Kentucky is Mother's Day originated in the state when Henderson schoolteacher Mary Towles Sasseen created it to honor her own mother.
Some Kentucky hotels include:
21c Museum Hotel, Louisville
The Brown Hotel, Louisville
The Seelbach Hilton, Louisville
Griffin Gate Marriott Resort & Spa, Lexington
Cumberland Inn & Museum, Williamsburg
Embassy Suites, Lexington
Related Maps: