Delaware City Maps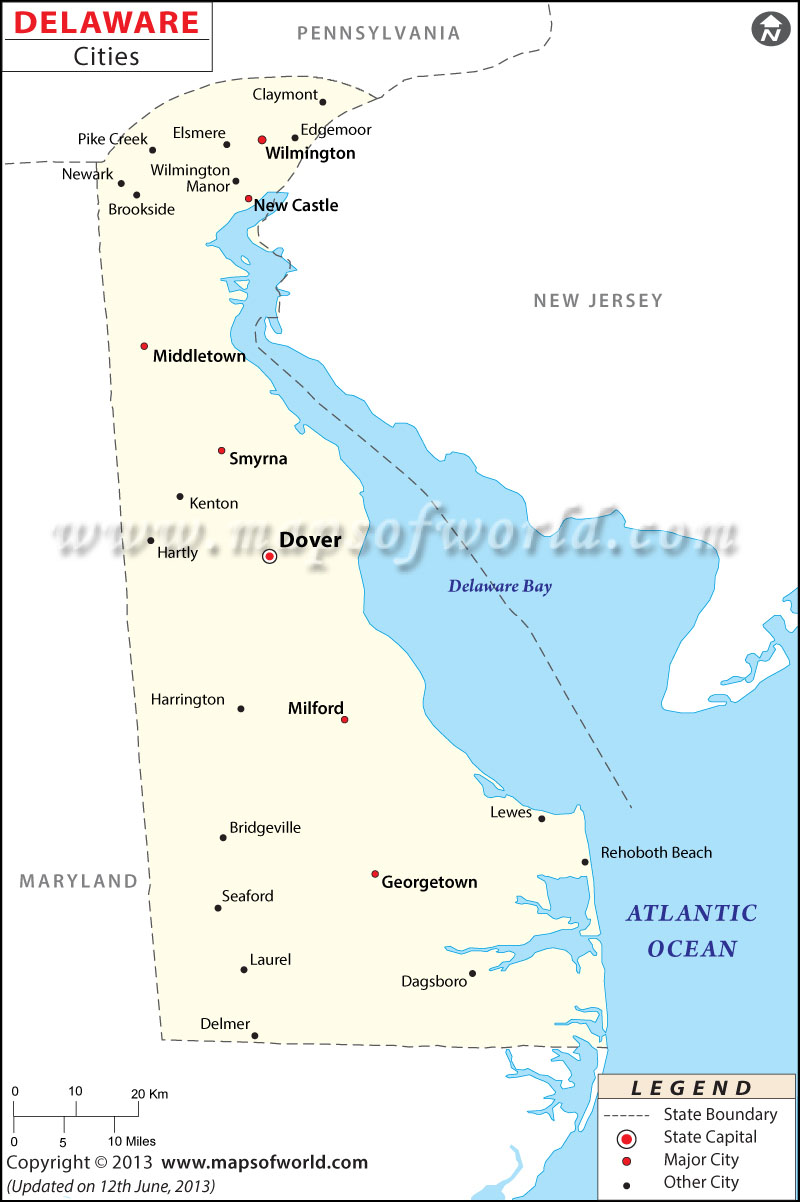 Delaware is the second smallest state in the United States by area and is ranked 45th by population. Wilmington is the largest city in the state by population. According to a 2016 estimate, Wilmington comprised a population of 71,442 inhabitants. The city, which was founded in 1638 and incorporated in 1731, covers a total area of 16.94 square miles. Dover, which is the capital of Delaware, is the second-largest city by population and as of 2016 had a population of 37,786 people. Newark, which is home to the University of Delaware, is the third-largest city and had a population of 33,398 inhabitants, as of 2016. Some of the other major cities are Middletown, Smyrna, Milford, Georgetown, New Castle etc. Meanwhile, Hartly, which is a town in Kent County, is the least populous comprising a population of just 71 people, according to a 2016 estimate.
It was the first Swedish settlement in North America.
Newark, in northern Delaware, is the home of the University of Delaware. Middletown, Smyrna, Milford, Seaford, and Georgetown are other major cities in the state.
Getting In and Around
The Wilmington Airport (ILG) is the busiest airport in Delaware.
Amtrak stations in Newark and Wilmington are served by trains along the Northeast Corridor.
Interstate highway I-95 and six U.S. highways form a dense road network.
List of Cities in Delaware
| City Name | County | Population |
| --- | --- | --- |
| Wilmington | New Castle | 71305 |
| Dover | Kent | 36560 |
| Newark | New Castle | 31618 |
| Middletown | New Castle | 18995 |
| Smyrna | Kent/New Castle | 10180 |
| Milford | Kent/Sussex | 9709 |
| Seaford | Sussex | 7036 |
| Georgetown | Sussex | 6524 |
| Elsmere | New Castle | 6172 |
| New Castle | New Castle | 5320 |
| Millsboro | Sussex | 3942 |
| Laurel | Sussex | 3769 |
| Harrington | Kent | 3619 |
| Camden | Kent | 3519 |
| Clayton | Kent/New Castle | 2966 |
| Lewes | Sussex | 2789 |
| Milton | Sussex | 2621 |
| Selbyville | Sussex | 2192 |
| Bridgeville | Sussex | 2081 |
| Townsend | New Castle | 2064 |
| Ocean View | Sussex | 1912 |
| Delaware City | New Castle | 1706 |
| Delmar | Sussex | 1630 |
| Cheswold | Kent | 1401 |
| Rehoboth Beach | Sussex | 1349 |
| Wyoming | Kent | 1334 |
| Felton | Kent | 1320 |
| Blades | Sussex | 1261 |
| Bellefonte | New Castle | 1200 |
| Bethany Beach | Sussex | 1077 |
| Newport | New Castle | 1062 |
| Greenwood | Sussex | 990 |
| Frankford | Sussex | 862 |
| Dagsboro | Sussex | 813 |
| Frederica | Kent | 785 |
| Millville | Sussex | 553 |
| South Bethany | Sussex | 456 |
| Arden | New Castle | 442 |
| Ellendale | Sussex | 386 |
| Fenwick Island | Sussex | 384 |
| Houston | Kent | 379 |
| Odessa | New Castle | 367 |
| Dewey Beach | Sussex | 347 |
| Bowers | Kent | 341 |
| Ardentown | New Castle | 266 |
| Kenton | Kent | 264 |
| Ardencroft | New Castle | 232 |
| Magnolia | Kent | 228 |
| Little Creek | Kent | 227 |
| Slaughter Beach | Sussex | 210 |
| Leipsic | Kent | 185 |
| Woodside | Kent | 184 |
| Bethel | Sussex | 174 |
| Viola | Kent | 160 |
| Henlopen Acres | Sussex | 124 |
| Farmington | Kent | 113 |
| Hartly | Kent | 76 |