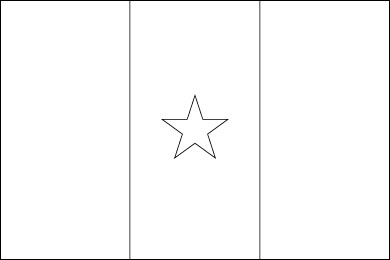 Download Picture of Blank Cameroon Flag For Kids to Color
The national flag of Cameroon was officially adopted on May 20, 1975, after Cameroon became a unitary state. The flag consists of three vertical stripes – the left stripe is green; the middle one is red, and the right stripe is yellow.
In the middle of the flag and red stripe is a five-pointed yellow star. The star is also known as the 'star of unity, and the background color red of the star is also a representation of unity.
The colors of the flag of Cameroon represent the pan-African spirit.
The yellow and the green colors represent happiness and hope respectively.
| | |
| --- | --- |
| Official Name: | Republic of Cameroon |
| Proportion: | 2:3 |
| Adopted on: | May 20, 1975 |
| Location: | West-central Africa is bordered by Nigeria, Chad, the Central African Republic, Equatorial Guinea, Gabon, and the Republic of the Congo |
| Capital City: | Yaounde |
| Major Cities: | Touboro, Fotokol, Dschang, Batouri, Moloundou |
| Area: | 183,568 square miles. |
| Population: | 19,100,000 |
| Currency: | Central African CFA franc (XAF) |
| Official Languages: | French, English |
| National Day | Cameroon National Day is celebrated on 20th May to mark the abolition of the federal government system and the formation of a unitary state |
| National symbol(s): | lion |
| National colors: | green, red, yellow |
| National anthem: | |
| Name: | "O Cameroun, Berceau de nos Ancetres" (O Cameroon, Cradle of Our Forefathers) |
| Lyrics/Music: | Rene Djam AFAME, Samuel Minkio BAMBA, Moise Nyatte NKO'O [French], Benard Nsokika FONLON [English]/Rene Djam AFAME |
| | | |
| --- | --- | --- |
| | Facts about the Cameroon flag | |
| Country | Cameroon |
| --- | --- |
| Designed by | NA |
| Adopted | May 20, 1975 |
| Revision | 1957, 1961, 1975 |
| Design and Colors | A vertical tricolor of green, red and yellow, with a yellow star centered on the red band. |
| Size Ratio | 2:3 |