What Countries were never invaded by the British?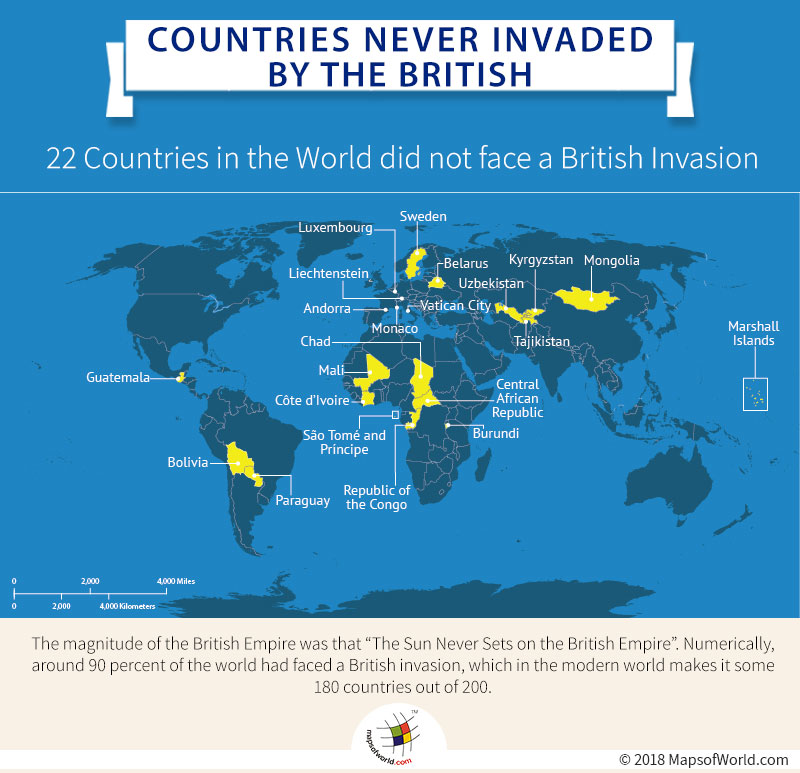 The origin of the British Empire can be dated back to the fifteenth century when England and Scotland were separate kingdoms. Emerging as a sovereign and unconquerable empire during the nineteenth century, the British Empire was a force to be reckoned with, eclipsing other empires of the age such as Spanish, French and the Portuguese. There was not a single inhabited place that had not witnessed the wrath of the emerging imperial force. Rather, it takes just one sentence to access the magnitude of the British Empire – The Sun Never Sets on the British Empire. Numerically, around 90 percent of the world had faced a British invasion, which in the modern world makes it some 180 countries out of 200.
As nations continued to bow before the British crown, there were some countries which were either accidentally or intentionally left out of the empire. To put it in simple terms, there were just 22 countries in the world that did not face a British invasion, so says the book All the Countries We've Ever Invaded: And the Few We Never Got Round To, which was authored by Stuart Laycock, a British historian, and author.
Many of the countries were under the rule of the Spanish Empire, the Portuguese Empire, the French Empire, and the Dutch Empire; but in some way or the other, these nations did face raids by the Britishers. Some of these nations are located far away from the British Isle such as the African nations of Burundi, Central African Republic, Chad, Ivory Coast and the Central Asian nations of Kyrgyzstan, Tajikistan and Uzbekistan. But some of them are much near Britain and are located in the European continent such as Luxembourg, Lichtenstein, Vatican City, Monaco and Luxembourg. The Asian nation of Mongolia, which was once the base of the feared leader of the Mongol Empire, was also never invaded by the British.
Following table lists the countries never invaded by the British:
Visit the following to learn more about Britain:
Related Maps: