Burundi Map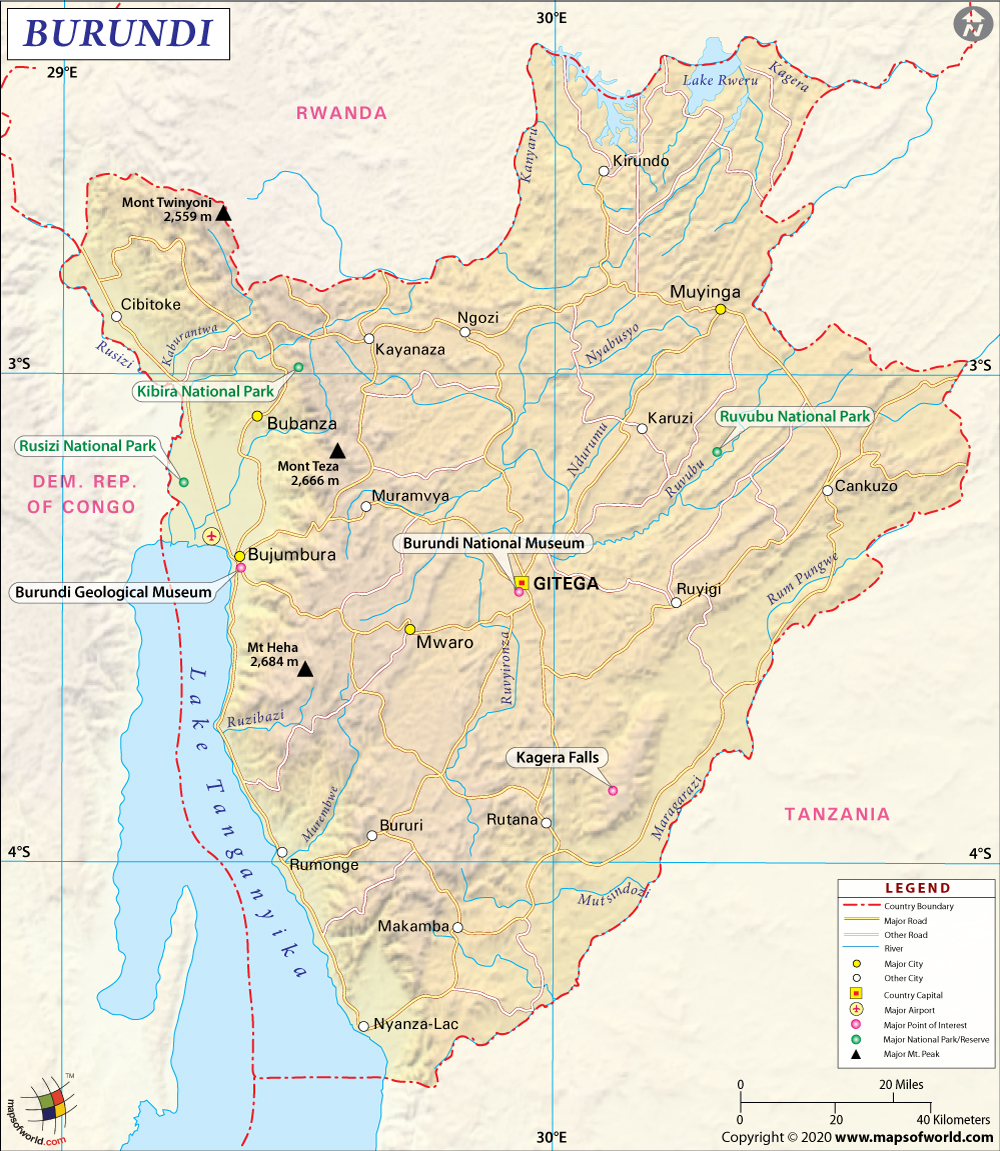 The Map shows the country of Burundi and it's major physical and cultural features such as the geographical relief, mountain peaks, major cities, Country capital Gitega, major airports, points of interest, and National Parks.
The Republic of Burundi has a very long history, with legends of its formation going back to the independent kingdom under the rule of a monarch (or Mwami) in the 16th century. It was home to the Hutu and Tutsi tribes, which are the two main ethnic groups in Burundi, even today.
Burundi's history is closely tied with neighboring Rwanda, from which it historically annexed some of its lands. With the arrival of the Europeans in the mid-1800s, Burundi was colonized and was controlled by German East Africa. After World War I, that political entity was transferred to Belgium, becoming Ruanda-Urundi, along with Rwanda. Beginning in 1959, Burundi began its fight for independence from both ruling Belgium and Rwanda, and after much conflict, Burundi gained independence in 1962, and soon became a member of the United Nations.
The new nation suffered internal conflict as it transitioned to independence, with revolts and even genocides. In the 1990s and 2000s, Burundi's warring sides, the Tutsis and Hutus, began peace talks and signed a treaty with the help of the UN. Since 2006, Burundi has been working toward reconstruction, reform, and keeping the peace.
Neighboring Countries
Burundi shares borders with Rwanda, Tanzania, and the Democratic Republic of the Congo.
Major Cities
Bujumbura
Gitega (capital)
Muyinga
Geography
Burundi is one of Africa's smallest nations, with a land area of 25,650 square kilometers (9,900 square miles). Burundi is situated in the east-central part of the African continent. Though Burundi is a landlocked nation, its southwestern border lies along the large Lake Tanganyika. Another major body of water in Burundi is the Ruvyironza River, which flows into the Nile. Burundi is mountainous, with its highest point is Mount Heha, at 2,670 meters (8,759 feet).
Points of Interest
Burundi has many scenic sites, including Kibira National Park and Ruvubu National Park. These forests offer natural beauty, thermal hot springs, and a variety of native wildlife, including chimpanzees, baboons, buffalo, and many varieties of birds. Several natural reserves are also scattered around the nation, including Rusizi, Bururi, Vyanda, and Rwihinda Lake. Thermal waterfalls can be found at Nyakazu Break and the Kagera Falls. There are also beaches along Lake Tanganyika, including Karera Beach and Saga Plage.
Transportation Burundi is served by Bujumbura International Airport in its largest city and the former capital Bujumbura, which provides service to many African nations. Another way to enter the country is via bus from neighboring Rwanda, the Democratic Republic of the Congo, Tanzania, and Uganda. There are also boats and ferries for transportation on Lake Tanganyika.