Cote d'Ivoire (Ivory Coast) Map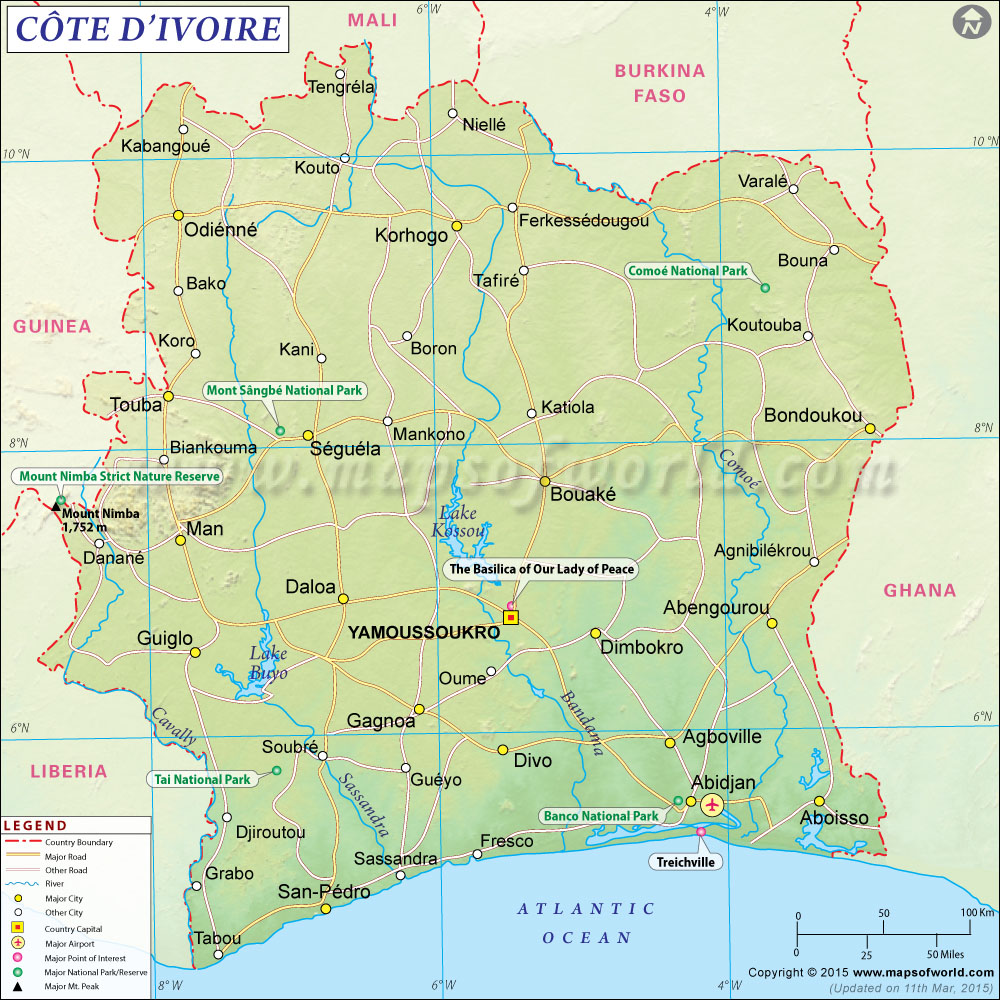 Neighboring Countries - Liberia, Guinea, Mali, Burkina Faso, Ghana
Continent And Regions - Africa Map
Other Cote d'Ivoire Maps - Where is Cote d'Ivoire, Cote d'Ivoire Blank Map, Cote d'Ivoire Road Map, Cote d'Ivoire Rail Map, Cote d'Ivoire River Map, Cote d'Ivoire Cities Map, Cote d'Ivoire Flag
About Cote d'Ivoire
Explore this Cote d'Ivoire map to learn everything you want to know about this country. Learn about Cote d'Ivoire location on the world map, official symbol, flag, geography, climate, postal/area/zip codes, time zones, etc. Check out Cote d'Ivoire history, significant states, provinces/districts, & cities, most popular travel destinations and attractions, the capital city's location, facts and trivia, and many more.
| | |
| --- | --- |
| Full name: | Republic of Côte d'Ivoire |
| Capital City: | Yamoussoukro |
| Language: | French (official), Dioula (spoken) |
| Currency: | West African CFA franc – CFA |
| Religion: | Muslim, Christian |
| National Anthem: | L'Abidjanaise (Song of Abidjan) |
| Newspaper: | Fraternite Matin, Le Jour |
| Places to Visit | National Museum of Abidjan , Grand Bassam, Parc National de la Comoë, Basilique de Notre Dame de la Paix and many others. |
| Transport: | Flieghts include Air Burkina, Air France, British Airways, Egyptair, Kenya Airways, SN Brussels that pass through this region to and fro. One may even avail trains and bus routes that ply from this region frequently to different destinations. |
| Shopping: | Ghanaian kente cloth, wax prints, pottery, indigo fabric, wooden statuettes and masks, woven cloth, bead necklaces, basketware. |
The untouched beauty, peace and tranquility are something that welcomes you the land of Côte d'Ivoire, which complements you with bountiful opportunities. From historical artifacts to sandy beaches from mesmerizing waterfalls to ancient building, this place has lot to bank upon.
Location Of Cote D'ivoire
Côte d'Ivoire is nestled in the western part of the Sub Saharan Africa while facing towards the North Atlantic Ocean coast. The place is engulfed from all ends especially by Ghana from the eastern front, Liberia from the western front, Guinea from the northwestern part, Mali to the northern front, Burkina Faso to the northeast front and Gulf of Guinea from the southern front.
Physical Map Of Cote D'ivoire
The territory of Côte d'Ivoire can be described as a low coastal plain surging with plateaus rising above the sea level and ascending high with scenic mountains. The four major rivers in this region are Bandama, Cavally, Comoe and Sassandra.
The southern regions are filled with lagoons in coastal inlands that initializes from the Ghanaian border and extend along the eastern coast that is filled with tropical forests. The Guinean forest-savanna mosaic belt travel from east to west and seperates the region into coastal region and savannah grasslands. The Dix-Huit Montagnes mountainous region boders along the location of Guinea and Liberia which is nestled near the Guinean forest-savanna area.
The flag of Cote d'Ivoire is designed with three bands of solid color stripes vertically placed which can be compared with the flag of Ireland. The colors are orange lying on the hoist side, which symbolizes the savanna grasslands ; white that signifies the rivers within the country and green, which is known for its coastal wooded forests. The flag was officially accepted during 3 December 1959.
Climate Of Cote D'ivoire
The climatic condition of Côte d'Ivoire varies from the equatorial in the southern coastal region to the semiarid in the far north. Semiariad experiences tropical weather condition whereas Equatorial witnesses dry and sultry atmosphere. November to March is generally warm and dry, March to May is especially hot and June to October is both hot and wet. The place is even affected with sudden rainfall followed with torrential flooding. Temperature ranges from 25 to 30 degree Celsius to 10 to 40 degree Celsius.
Flora And Fauna Of Cote D'ivoire
Côte d'Ivoire is filled with abundant flora and fauna. There are three major national reserves within the region namely Mount Nimba Strict Nature Reserve, Comoe National Park, Tai National Park.
The Mount Nimba Nature Reserve is covered with wooded mountain slants and green meadows and this place is famous for Chimpanzees who used stones as their tools whose remnants is still found in this place.
Tai National Park that is filled with tropical forests in the midst of Cavally and Sassandra rivers, is a home to endangered species like Pygmy Hippopotamus, elephants, leopards, diana and colobus monkeys, antelopes and many others.
The Comoe National Park or the Biosphere Reserve is a habitat for animals like baboons, lions and crocodiles.
The native birds include species like vultures, cranes, pigeons, turtledoves, parrots, herons and much more.
Deciduous trees are common in this region especially the mahogany plants.
People Of Cote D'ivoire
There are about 60 cultural groups by which the populations of Cote d'Ivoire can be divided into. The Baoulé (center), the Agri (eastern front), the Senufo (northern front), Dioula (northwest and western front), the Bété (center-west), the Dan-Yacouba (west) are few to name about.
Among the non Ivoirian Africans residing in this place most of the population is covered with people from Ghana, Guinea, Mali, Nigeria, Benin, Senegal, Liberia, and Mauritania.
The people of this place are friendly in nature and treat you warmly with their hospitality. About 40 percent people staying in Cote d'Ivoire are Muslims, rest 40 percent are Christians and the others are of different religious groups.
Arts, Culture And Music Of Cote D'ivoire
Art: The Baoule, the Senoufo is known for their wooden carvings work creations. Ceremonial Masks are a prominent factor of the region that is inscribed with various designs. Brass carving is also an important factor that is used for artistic creation in Cote d'Ivoire. French Colonial architecture witnessed in Grand Bassam is a good example of masterpiece that was done during the primitive age.
Culture: Participate in the regional Festival of Masks, known as Fêtes des Masques thereby paying respect to the forest spirits that are personified within the masks. Bouaké carnival is celebrated in the month of March each year that carries on for a week.
Music: The music is an important source of entertainment within this region. Dan is considered as the well-played musical artist group within the town. Music is sung during the occasion of death, marriage, and birth or in any other celebrations. The famous musical instruments of this region native to this region are Talking drum, djembe, Kpalogo, Shekere (Youroo), Akombe, Cleavers and many others.
Economy Of Cote D'ivoire
The economic development of Cote d'Ivoire depends on the timber industry due to the wide expanse of forest reserves within the region. Hardwood export adds to the GDP growth in the country's revenue. Cocoa has its largest production in the area along with the plantation of cash crops like coffee, bananas, oil palms, palm oil, kernels, Maize, millet, rice, yams and cassava and many others.
The region has its production of major natural resources, which includes products like manganese, iron, cobalt, petroleum, natural gas, diamonds, bauxit, copper and hydopower and much more.
The region even has its hands on fish rearing and exporting especially the tuna and sardine fish. The regions fish hatrcheries can be seen in Bouaké, Bamoro, and Korhogo.
Stay connected at Mapsofworld for all relevant information about the Republic of Cote d'Ivoire.