Map of Mississippi Cities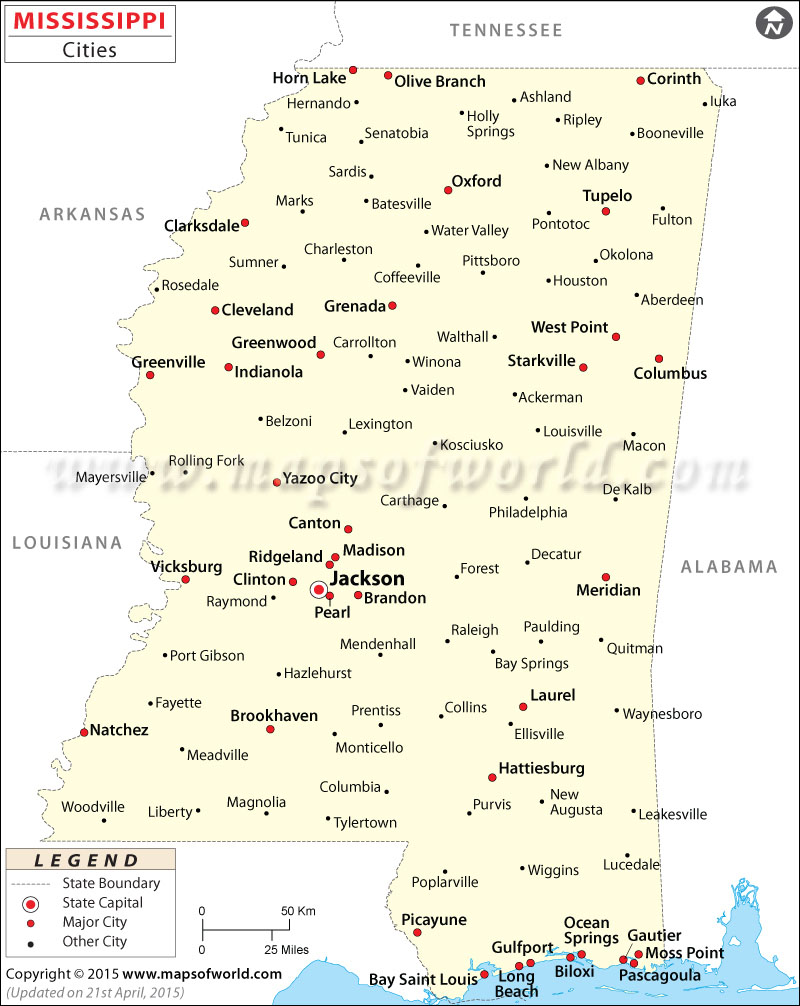 Mississippi Map with Cities
Discover the diverse cities of Mississippi with the Mississippi Map with Cities. This map allows you to explore the various cities within the state, making it easy to locate them on the map.
Cities in Mississippi
Mississippi has different cities, each with its own special feel. Some cities are busy and have lots of things happening, while others are calm and found in pretty natural places. No matter what you like—quiet places, outdoor fun, or city life—Mississippi has a city you'll enjoy! Whether you like nature, exciting things to do, or exploring the city, you'll find something you love in Mississippi's cities.
How Many Cities are in Mississippi
Mississippi has approximately 298 incorporated municipalities. Whether you like busy cities or cozy towns, you'll find something you like in Mississippi's cities. While the exact number of cities can change depending on how you count them, there are a lot of cities to check out. You can find where each city is on the Mississippi Map with Cities.
Largest Cities in Mississippi
The biggest cities in Mississippi are lively places with lots of chances for fun and learning new things. Some of the biggest cities are Jackson, Gulfport, Southaven, Hattiesburg, and Biloxi. These cities have interesting places to visit, schools to learn from, and lots of exciting things to do. Whether you live there or are just visiting, these cities have many opportunities to explore and discover new things.
Safest Cities in Mississippi
In Mississippi, some cities really focus on making sure everyone is safe and feels secure. Cities like Madison, Brandon, Oxford, and Clinton are famous for being safe places. They work hard to keep crime low and make sure everyone feels safe. These cities are great options, especially if you want a safe place to live, especially for families and people living on their own.
Best Cities to Live in Mississippi
Mississippi has great cities that make life really good. Think about cities like Jackson, Oxford, Starkville, Gulfport, and Hattiesburg. These cities have jobs, good schools, and lots of things to do. Whether you like being outside, want to learn new things, or enjoy different experiences, these cities have something special for you. They want to make sure you have a happy life with lots of things to enjoy.
Explore the Map of Mississippi Cities to delve deeper into the geographical locations of each city in Mississippi.