Mississippi City Maps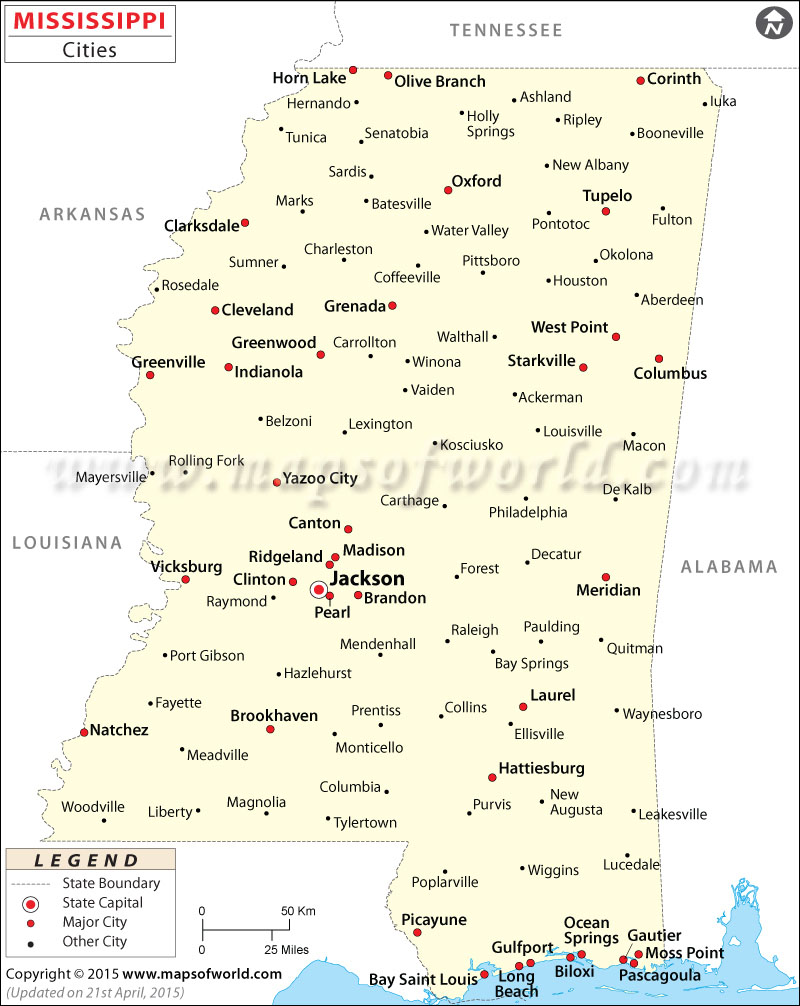 Cities in Mississippi
Nicknamed 'The Magnolia State,' Mississippi is located in the southern United States. The state is known for its rich history, southern hospitality, and savory dishes.
Jackson, the state capital and largest city, is known as the "Crossroads of the South." The city is famous for Gospel, Blues, and Jazz music. Tupelo is the birthplace of Elvis Presley, the "King of Rock and Roll." Cities such as Hattiesburg, Gulfport, and Southaven, will make your stay in Mississippi a day too long.
Getting In and Around
Jackson−Evers International Airport (JAN) and Gulfport−Biloxi International Airport (GPT) are two major airports in Mississippi. Amtrak's City of New Orleans and Crescent are two passenger trains serving the state. Interstate Highways (I-55, I-59, I-20, and I-22) and U.S. Routes (US 11, US 49, and US 82) create a dense road network.
List of Cities in Mississippi
| City Name | County Name | Population (2011) |
| --- | --- | --- |
| Biloxi | Harrison | 44,054 |
| Brandon | Rankin | 21,705 |
| Clarksdale | Coahoma | 17,962 |
| Clinton | Hinds | 25,216 |
| Columbus | Lowndes | 23,640 |
| Gautier | Jackson | 18,572 |
| Greenville | Washington | 34,400 |
| Greenwood | Leflore | 15,205 |
| Gulfport | Harrison | 67,793 |
| Hattiesburg | Forrest | 45,989 |
| Horn Lake | DeSoto | 26,066 |
| Jackson | Hinds | 173,514 |
| Laurel | Jones | 18,540 |
| Long Beach | Harrison | 14,792 |
| Madison | Madison | 24,149 |
| Meridian | Lauderdale | 41,148 |
| Natchez | Adams | 15,792 |
| Ocean Springs | Jackson | 17,442 |
| Olive Branch | DeSoto | 33,484 |
| Oxford | Lafayette | 18,916 |
| Pascagoula | Jackson | 22,392 |
| Pearl | Rankin | 25,092 |
| Ridgeland | Madison | 24,047 |
| Southaven | DeSoto | 48,982 |
| Starkville | Oktibbeha | 23,888 |
| Tupelo | Lee | 34,546 |
| Vicksburg | Warren | 23,856 |