Map of Idaho Cities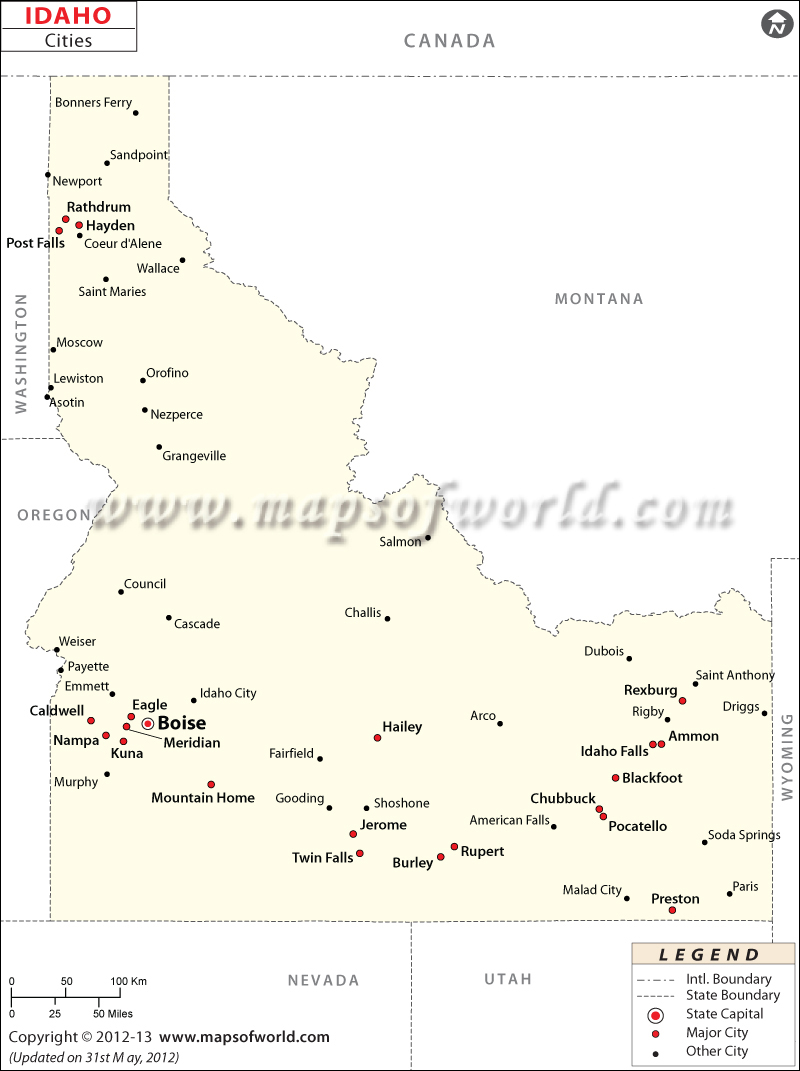 Map of Idaho Cities
Learn all about the different cities in Idaho with the Map of Idaho Cities. This map allows you to explore the various cities of the state of Idaho, making it easier to locate the cities on the map.
Cities in Idaho
Idaho has many cities, and each one is special in its own way. Some cities are busy with lots of people and things to do, while others are quiet and found in the countryside. The cities in Idaho have something for everyone. If you like peaceful nature, exciting outdoor fun, or cool things to see in the city, you'll find something you really.
How Many Cities are in Idaho
Idaho has 200 cities altogether. Each city adds something special to the fun things you can do in the state. Whether you like the excitement of big cities or the warm feeling of small towns, Idaho's cities have lots of different choices. You can easily find where each city is on the Map of Idaho Cities.
Largest Cities in Idaho
The biggest cities in Idaho are super busy with lots of things happening. Some of the most well-known cities in Idaho are Boise, Meridian, Nampa, Idaho Falls, Pocatello, and Coeur d'Alene. These cities are famous for their cool places to visit, special things to see, and lively arts and culture. This means people who live there and people visiting have many chances to have fun and explore.
Safest Cities in Idaho
Certain cities in Idaho really care about keeping their residents safe and happy. They do things to make sure everyone feels protected and comfortable. Places like Eagle, Moscow, Rexburg, Ammon, and Hayden are known for being some of the safest cities in Idaho. They work hard to have very little crime and make sure everyone feels really safe. This makes these cities great for families and people who want to do well.
Best Cities to Live in Idaho
Idaho has lots of cities where life is really good and there are lots of good things. Some of the best places to live in Idaho are Boise, Coeur d'Alene, Idaho Falls, Meridian, and Twin Falls. These cities have a mix of good jobs, great schools, and fun things to do. It doesn't matter if you really like being outside or learning about interesting things, these cities have something for everyone. They make sure you have a happy and fun life.
Feel free to explore the Map of Idaho Cities, you can find all the cities marked on the map.
List of Cities in Idaho

City Name
County
Boise
Ada
Nampa
Canyon
Meridian
Ada
Idaho Falls
Bonneville
Pocatello
Bannock
Caldwell
Canyon
Coeur d'Alene
Kootenai
Twin Falls
Twin Falls
Lewiston
Nez Perce
Post Falls
Kootenai
Rexburg
Madison
Moscow
Latah
Eagle
Ada
Kuna
Ada
Mountain Home
Elmore
Chubbuck
Bannock
Ammon
Bonneville
Hayden
Kootenai
Blackfoot
Bingham
Garden City
Ada
Jerome
Jerome
Burley
Cassia
Hailey
Blaine
Payette
Payette
Sandpoint
Bonner
Rathdrum
Kootenai
Emmett
Gem
Star
Ada
Rupert
Minidoka
Middleton
Canyon
Weiser
Washington
Preston
Franklin
Fruitland
Payette
American Falls
Power
Shelley
Bingham
Buhl
Twin Falls
Rigby
Jefferson
Gooding
Gooding
St. Anthony
Fremont
Kimberly
Twin Falls
Orofino
Clearwater
Grangeville
Idaho
Salmon
Lemhi
Heyburn
Minidoka
Soda Springs
Caribou
McCall
Valley
Wendell
Gooding
Ketchum
Blaine
Homedale
Owyhee
Montpelier
Bear Lake
Bonners Ferry
Boundary
Filer
Twin Falls
St. Maries
Benewah
Dalton Gardens
Kootenai
Bellevue
Blaine
Kellogg
Shoshone
Malad City
Oneida
Aberdeen
Bingham
Parma
Canyon
Spirit Lake
Kootenai
Victor
Teton
Iona
Bonneville
Priest River
Bonner
Driggs
Teton
Pinehurst
Shoshone
Osburn
Shoshone
New Plymouth
Payette
Wilder
Canyon
Sugar City
Madison
Shoshone
Lincoln
Sun Valley
Blaine
Glenns Ferry
Elmore
Kamiah
Lewis
Paul
Minidoka
Hansen
Twin Falls
Lapwai
Nez Perce
Ponderay
Bonner
Ashton
Fremont
Ucon
Bonneville
Challis
Custer
Plummer
Benewah
Marsing
Owyhee
Arco
Butte
Genesee
Latah
Cascade
Valley
Grace
Caribou
Cottonwood
Idaho
Hagerman
Gooding
troy
Latah
Inkom
Bannock
Greenleaf
Canyon
Council
Adams
McCammon
Bannock
Potlatch
Latah
Wallace
Shoshone
Oakley
Cassia
Hazelton
Jerome
Menan
Jefferson
Teton
Fremont
Moyie Springs
Boundary
Horseshoe Bend
Boise
Athol
Kootenai
Mullan
Shoshone
Hauser
Kootenai
Kootenai
Bonner
Dubois
Clark
Ririe
Jefferson
Franklin
Franklin
Smelterville
Shoshone
Downey
Bannock
Kooskia
Idaho
Carey
Blaine
Roberts
Jefferson
Juliaetta
Latah
Hayden Lake
Kootenai
Dover
Bonner
Clark Fork
Bonner
Notus
Canyon
Mackay
Custer
Melba
Canyon
Paris
Bear Lake
Pierce
Clearwater
Deary
Latah
Craigmont
Lewis
New Meadows
Adams
Idaho City
Boise
Richfield
Lincoln
Firth
Bingham
Georgetown
Bear Lake
Nezperce
Lewis
Dayton
Franklin
Lewisville
Jefferson
Grand View
Owyhee
Weippe
Clearwater
Weston
Franklin
Riggins
Idaho
Fairfield
Camas
Lava Hot Springs
Bannock