Map of Italy Cities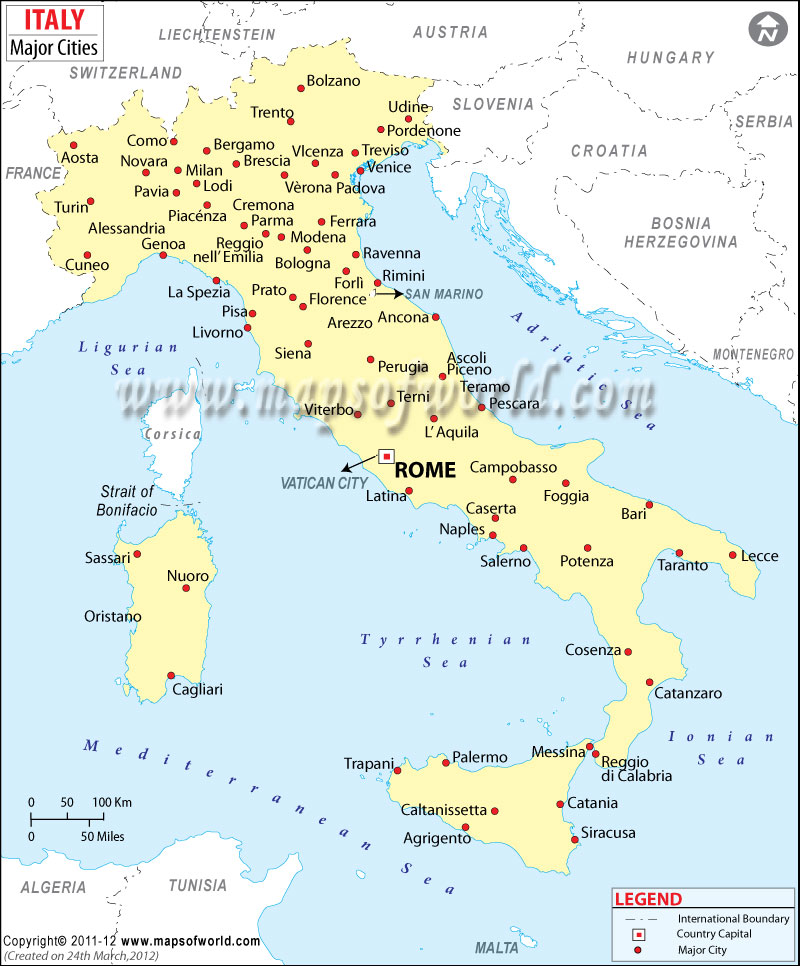 The Italian cities are famous for their beauty and uniqueness. Most of the cities have gone through a lot of political ups and downs and have evolved as independent states.
By the end of the fourteen and fifteenth century the cities of Milan, Venice and Florence had triumphed over the other small states.
Italy's capital is Rome and it is the largest city in Italy. The river Tiber is near it. It is well connected by road, railways and airways. The city is famous for its engineering, printing, textiles industries and scrumptious food delicacies. Furthermore, Rome is also famous for its fashion and film industry. The Piazza della Repubblica and the Fountain of the Nayads are must watch destinations. The Aurelian walls which once surrounded the city are still present here. The Borghese Park is a famous tourist destination. The Vatican museum has the spiral staircase which is its uniqueness.
Milan is another beautiful Italian city. One of the most sophisticated cities in the country, Milan is famous world over for its theaters, shopping and cinema. There are several restaurants in Milan offering pizzas, a speciality of the nation. The weather in Milan is neither too hot nor cold. It has a pleasing climate so it can be visited at any time of the year.
| City | 2011 Census | 2016 estimate |
| --- | --- | --- |
| Rome | 2,617,175 | 2,873,494 |
| Milan | 1,242,123 | 1,351,562 |
| Naples | 962,003 | 970,185 |
| Turin | 872,367 | 886,837 |
| Palermo | 657,651 | 673,735 |
| Genoa | 586,180 | 583,601 |
| Bologna | 381,337 | 388,367 |
| Florence | 358,079 | 382,258 |
| Bari | 315,933 | 324,198 |
| Catania | 293,902 | 313,396 |
| Venice | 261,362 | 261,905 |
| Verona | 260,172 | 257,353 |
| Messina | 243,262 | 236,962 |
| Padua | 206,192 | 209,829 |
| Trieste | 202,123 | 204,234 |

| City | 2011 Census | 2016 estimate |
| --- | --- | --- |
| Taranto | 200,154 | 199,561 |
| Brescia | 189,902 | 196,670 |
| Parma | 175,895 | 194,417 |
| Prato | 185,456 | 192,469 |
| Modena | 179,149 | 184,727 |
| Reggio Calabria | 180,817 | 182,551 |
| Reggio Emilia | 162,082 | 171,491 |
| Perugia | 162,449 | 166,676 |
| Ravenna | 153,740 | 159,057 |
| Livorno | 157,052 | 158,916 |
| Cagliari | 149,576 | 154,083 |
| Foggia | 152,747 | 151,726 |
| Rimini | 143,321 | 148,908 |
| Salerno | 139,019 | 134,850 |
| Ferrara | 135,369 | 132,009 |