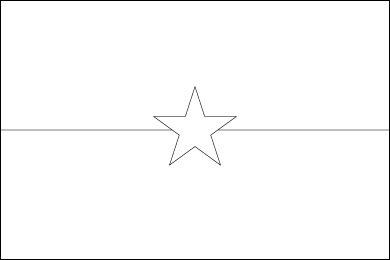 Download Picture of Blank Burkina Flag For Kids to Color
The national flag of Burkina Faso consists of a top red horizontal half over horizontal green bottom half. The middle of the Burkina Faso flag features a five-pointed yellow star.
The red color stands for the revolution; green corresponds to the country's profusion of natural resources. Lastly, the prominent yellow star symbolizes the guiding illumination of the revolt.
| | |
| --- | --- |
| Official Name: | Burkina Faso |
| Proportion: | 2:3 |
| Adopted on: | August 4, 1984 |
| Location: | West Africa is bordered by Mali, Niger, Benin, Togo, Ghana, and Cote d'Ivoire |
| Capital City: | Ouagadougou |
| Major Cities: | Boromo, Koudougou, Pama, Hounde |
| Area: | 105,900 square miles |
| Population: | 15,730,977 |
| Currency: | West African CFA franc (XOF) |
| Official Language: | French |
| National Anthem: | One Single Night |
| National symbol(s): | white stallion |
| National colors: | red, yellow, green |
| National anthem: | |
| Name: | "Le Ditanye" (Anthem of Victory) |
| Lyrics/Music: | Thomas SANKARA |
| | | |
| --- | --- | --- |
| | Facts about the Burkina Faso flag | |
| Country | Burkina Faso |
| --- | --- |
| Designed by | NA |
| Adopted | August 4, 1984 |
| Revision | NA |
| Design and Colors | A horizontal bicolor of red and green with a yellow star in the center |
| Size Ratio | 2:3 |