Download match schedule for 2014 FIFA World Cup Brazil in PDF, XLS and DOC formats.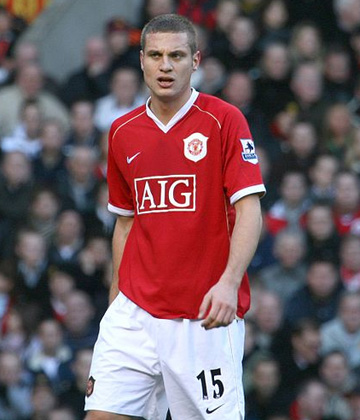 Source:Flickr
LINE UP

Full Name
NemanjaVidic
Date of birth
October 21 1981 (age 32)
Place of birth
TitovoUzice, Serbia
Height
1.89 meters
Nationality
Serbian
Playing Position
Center back
Nemanja belongs to the blessed land of erstwhile Yugoslavia known for its sports loving folks. Before the war that tore up the very fabric of Yugoslavia, their team showed the sheer artistry with the ball in what proved to be the swan song for the much loved European soccer giants in the 1990 Soccer World Cup. Their baton got passed to the budding Serb, Croat, and Bosnian players like Nemanja to showcase their art on the world stage.
HIS-STORY
Nemanja was born to a retired copper factory worker Dragoljub, and Zora, a bank clerk. He started playing football at six years of age, along with his older brother Dušanko, with local team JedinstvoUžice. He progressed swiftly, and moved to SlobodaUžice at the age of 12. Just before his 15th birthday, Red Star Belgrade signed Nemanja to their youth system. He won the 2004 Serbia and Montenegro League and the Cup trophies with Red Star and, in July 2004, he joined Russian side Spartak Moscow by becoming the most expensive defender in the annals of the Russian football .After playing two seasons for Spartak Moscow, Nemanja signed for Manchester United for a fee of around £7 million and joined the club in January 2006 after his work permit was granted.
During the 2006–07 Premier League season, Nemanja forged a lethal partnership with Rio Ferdinand, which has since become the most effective partnerships in European football. By 2008–09 season, he was a soul of the United team'sdefence. He started every match with United going on a record run of 14 consecutive clean sheets in Premier League matches. Manager Sir Alex Ferguson confirmed in 2010 that NemanjaVidic had taken over from Gary Neville as team captain on a permanent basis.
Nemanja was part of Serbia and Montenegro's fabled and feared "Famous Four" defence, along with MladenKrstajić, Dragutinović, and Goran Gavrančić, that conceded just one goal during the 10 qualification matches for 2006 edition of World Cup thus setting a new record. He injured his left knee ligaments during training and did not play any games at the 2006 World Cup. Nemanja was a regular during 2010 World Cup qualifying when fit and was instrumental as Serbia finished top of their group .On 11 October 2011, Nemanja missed a decisive penalty against Slovenia. On 24 October 2011, he announced his retirement from the Serbian national team. After his long stint with Man U, he will now be joining Inter-Milan at the end of the current season of 2014.
SCORE CARD
NemanjaVidic has collected a host of honors in his United career, including three consecutive Premier League titles (five titles in total), the FIFA World Club Cup (2008), three League Cup medals, as well as being included in three consecutive (four in total) PFA Team of the Year sides from 2007 to 2009, besides the UEFA Champions League title in2007-08 . He also collected both the club's Fans' and Players' Player of the Year awards.Nemanja won the coveted EPL trophy 5 times crowning off with the UEFA Champions League in 2007-08. He was named the Serbian footballer of the year in 2005 and 2008. As a solid defender, he has scored two highly decisive goals in the international fixtures besides a host of them in the domestic circuit.
EXTRA TIME
In July 2006, Vidić married his sweet heart Ana Ivanović (namesake of the Serbian tennis star and a national heartthrob), an economics student from Belgrade. Together, they are parents to three sons named Stefan, Luka, and Petar. A great character, he is nicknamed Serbian Ninja or Hench for his great defensive skills.
OFF SIDE
Occasionally known for tough tackles,NamanjaVidic has landed in troubles for the same. Whether the famous 2009 tie against Liverpool the third consecutive tie ending in a red card for the Serbian or the 2011 tie versus Chelsea when he was awarded the red card his tackle on Ramires, his hobnobbing with tough football are well known. Also difficult was his unilateral decision to opt out of the national duties in 2011 leaving Serbia's 2014 World Cup campaign in lurch.
TIE BREAKER And whilst NemnjaVidic has been the cornerstone of Man United's defence following his arrival from Spartak almost eight years ago, the Serbian has been plagued by injury since rupturing his cruciate ligaments in the UEFA Champions League tie to Basle in December 2011.Yet, he remain an epitome of a modern center back- a smart hunk with sharp mind,strong legs, and endless steam.