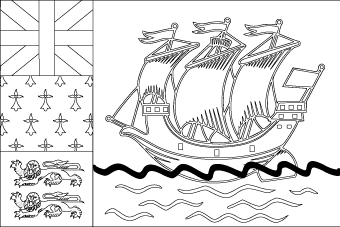 Download Picture of Blank Saint Pierre and Miquelon Flag For Kids to Color
There is no official flag for Saint Pierre and Miquelon. An informal regional ensign was introduced in 1982.
Introduction
The ensign had a blue background with a yellow sea vessel, believed to be the Grande Hermine, which was the ship that took Jacques Cartier to the territory on June 15, 1536.
There are three rectangular blocks positioned next to the flagpole that commemorates the descent of the majority of natives of the islands, from the base to the peak, Normans, Bretons, and Basques. They were settlers from Basque Country, Normandy, and Brittany.
Protocol
The archipelago does not have any authorized flag of its own and it uses the French tricolor as the official ensign. There are different versions of the unofficial flag and sometimes the principal background of the ensign is light blue. The sea waves are white in color, and irregular and the sea wave on the top (sea surface) is black and there is one white sea wave just underneath the surface.
The ensign on the upper left side is the Basque ensign, as stated before, and it is called as the "Ikurrina".
History
The introduction of an unauthorized regional ensign took place in 1982. This informal ensign was probably planned by Andre Paturel. Paturel was a merchant in the territory who modified the symbol blueprinted by Leon Joner.
National symbol(s): 16th-century sailing ship
National anthem:
| | |
| --- | --- |
| Adopted On | February 23, 2007 |
| Name | Flag of French Southern Territories, French Southern Territories Flag |
| Stands for | The flag of France as the canton symbolizes association with France. The five stars represent the five districts of TAAF. |
| Proportion | 2:3 |
| Colors | Blue, red, and white. |