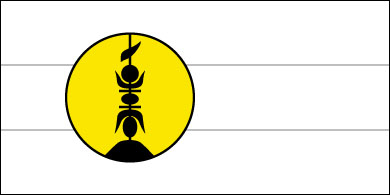 Download Picture of Blank New Caledonia Flag For Kids to Color
Introduction
Nevertheless, with the authorized acceptance of the Kanak ensign together with the flag of France in July 2010, the territory is one of the handfuls of provinces or nations in the world that have two official flags.
The FLNKS ensign was initially accepted by the group in 1980. It consists of three horizontal bands of blue, red, and green defaced with a yellow circle of a width two-thirds the length of the ensign in the middle at a place of one-third the breadth of the ensign, gauged from the mast side. The circle is bordered with black charged with an upright emblem, which is black as well.
The blue color stands for both the sky and more significantly the ocean bordering the territory. The red represents the sacrifices by the Kanaks in the battle for freedom, harmony, and collectivism. The green color represents the territory itself and in a broader sense, the predecessors laid to rest in it. The yellow circle is a depiction of the sun and the insignia on top of it comprises a fleche faitiere, a type of dart which decorates the top of Kanak dwellings pushed through tutut crusts.
Protocol
The tricolor of France is hoisted on every occasion in New Caledonia.
History
In 2008, the authorities of New Caledonia argued for the creation of a local official ensign and hymn, as necessitated by the Accord de Noumea. The ensign of the Kanak Socialist National Liberation Front (FLNKS) was used quite extensively in an informal manner. The FLNKS was a faction supporting the freedom of New Caledonia. However, the flag of France stayed as the solely authorized ensign for the subsequent two years.
The Prime Minister of France, Francois Fillon, participated in a function in Noumea on 17 July 2010, where the Kanak Socialist National Liberation Front ensign was flown next to the flag of France, rendering authorized status to both ensigns. Briefly, prior to the trip, the New Caledonia Congress overpoweringly chose to assume the Kanak ensign together with the flag of France.
| | |
| --- | --- |
| National symbol(s): | fleche faitiere (native rooftop adornment), kagu bird |
| National colors: | blue, red, green, yellow, black |
| National anthem: | |
| Name: | "Soyons unis, devenons freres" (Let Us Be United, Let Us Become Brothers) |
| Lyrics/Music: | Chorale Melodia (a local choir) |
| | | |
| --- | --- | --- |
| | Fact about the New Caledonia flag | |
| Country | New Caledonia |
| --- | --- |
| Designed by | NA |
| Adopted | 15. February 1794 |
| Revision | 1794, 2010 |
| Design and Colors | A vertical tricolor of blue, white, and red. |
| Size Ratio | 2:3 |