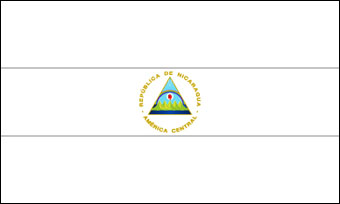 Download Picture of Blank Nicaragua Flag For Kids to Color
Nicaraguan Flag Description The flag of Nicaragua is divided into three horizontal bands, the top and bottom in blue, with white in the middle.
Centered on the white stripe is the coat of arms: a triangle with Nicaragua's volcanoes, a rising sun, the Cap of Liberty, and a rainbow, encircled by the words "Republica de Nicaragua America Central." The sunshine and rainbow represent a positive outlook for Nicaragua's future. The Cap of Liberty, the Phrygian cap, is a symbol of freedom from Ancient Rome. The cap is found on many Central American flags as a symbol of their pursuit of liberty.
Nicaragua's flag draws heavily on the flag of the United Provinces of Central America, of which it was once an important part. The flag of Nicaragua uses a deeper blue than the Central American flag, and the emblem in the center has been altered to reflect Nicaragua. The Nicaraguan flag also closely resembles the flag of Argentina.
| | |
| --- | --- |
| National symbol(s): | turquoise-browed motmot (bird) |
| National colors: | blue, white |
| National anthem: | |
| Name: | "Salve a ti, Nicaragua" (Hail to Thee, Nicaragua) |
| Lyrics/Music: | Salomon Ibarra MAYORGA/traditional, arranged by Luis Abraham DELGADILLO |
| | | |
| --- | --- | --- |
| | Fact about Nicaragua flag | |
| Country | Nicaragua |
| --- | --- |
| Designed by | NA |
| Adopted | 27. August 1971 |
| Revision | NA |
| Design and Colors | A horizontal triband of blue (top and bottom) and white with the National Coat of Arms of Nicaragua centered on the white band |
| Size Ratio | 3:5 |