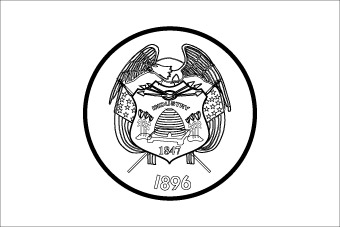 Download Picture of Blank Utah Flag For Kids to Color
Utah Flag History
From the records of the Utah Flag history it is known that the present flag was commissioned by the Sons and Daughters of Utah Pioneers, for gifting it to the battleship Utah.
It became the official Utah Flag in the following year.
Description of Utah Flag
The Utah State Flag is made of a deep blue background, in the center of which there is the state seal, bordered with a yellow fringe.
Symbolism of Utah Flag
Above the crest of the seal in the Utah Flag, is a bald eagle or the national bird of the US, which stands for the nation and the security offered by it. The 2 US flags on both sides of the seal suggest the association of the state to the country. The central beehive not only reflects the nickname of the state ( the Beehive State), but also brings out the quality of hard work and represents industry.
Writen above the behive is the statre motto, "Industry." Outside the structure of the beehive are the state's national flowers or sego lily in full bloom. These flowers truly symbolize peace. Below the hive, the state name in writen in bold white letters. 1847 is also known as the year of the Mormons or Church of Jesus Christ of Latter day Saints. 1896 is the year, when Utah was successful in becoming a member of the Union.
The Utah Flag skillfully incorporates the national emblems like the bird and flag of USA onto its fabric.