How to Prepare for a Hurricane?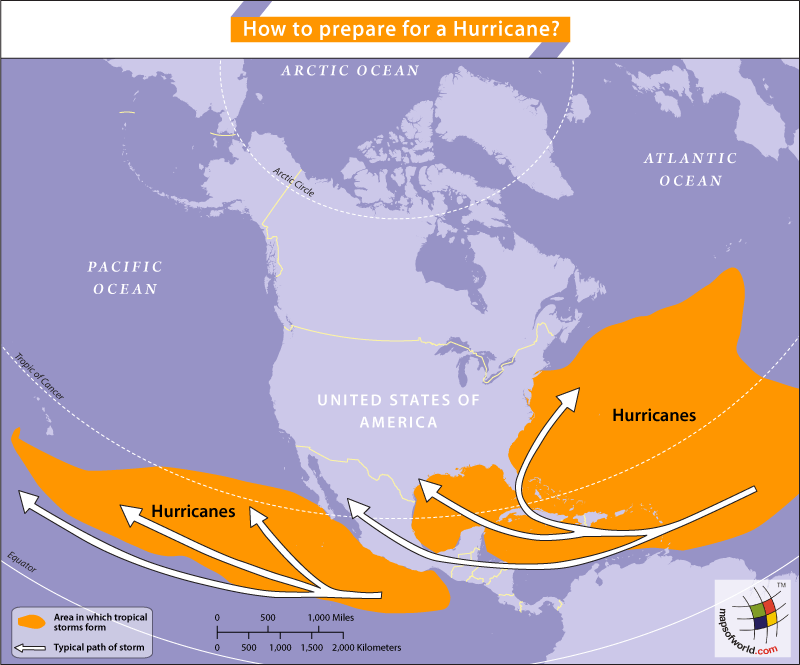 Living in a hurricane prone area can be quite difficult, particularly if you are unprepared for the fury that a hurricane may bring along. Hurricanes are violent storms that are accompanied by high speed winds, rains, thunder, lightning, and tidal surges (resulting in floods). Being adequately prepared is absolutely imperative in your attempts to survive a hurricane.
Putting Together a Survival Kit – Putting together a survival kit before the onset of the hurricane season is the most important step in preparing for a hurricane.
Here's a list of the supplies that your survival kit must contain.
Canned and dry food in adequate quantities for all the members of your family, dry pet food for pets (food and water for at least 3 days)
Bottled water (one gallon per person per day) to last your family and pets several days
Battery operated radio, lanterns, flashlights, clock and batteries in different sizes (all in ample quantities)
Fully stocked first aid kit
Plastic trash bags
Blankets and clothes for all family members and pets
Fire extinguisher
Duct tape, plastic sheets
Can openers, scissors, and a toolkit
Soaps and disinfectants, alcohol-based hand rubs and insect repellants
Thermometer, antiseptic solution, and bandages (these should be part of your first aid kit)
Medic alert tags and prescription medication in adequate quantities (supplies may not be available for several days in hurricane affected cities)
Over the counter drugs
Tampons, sanitary napkins, and feminine hygiene products
Leash and collar for your pets
Map (with possible evacuation route marked)
A backpack that can be carried along in case of evacuation
Extra cans of gas (if needed for evacuation)
Please note that this is not an exhaustive list but a sample that may be customized to suit your family's needs.
Securing your Home – Protecting your home and ensuring minimal damage is the next step in your hurricane preparedness plan.
Taking out flood insurance during the hurricane season can be expensive. Invest in insurance well before the season if you live in a vulnerable area.
Investing in hurricane shutters is a good idea. If you don't have these, board up the doors and windows with plywood planks.
Reinforce garage doors and peg down any loose items such as patio furniture, plants, and the mailbox.
Designate a secure room or a basement (or any interior room without windows) as your hurricane cover. Store your supplies here in an elevated platform to protect in case of flooding.
Turn off the gas and power supplies to your home before the storm hits. This can minimize damage to your home.
Including the Family
Ensure that your family is aware of all the arrangements and preparations you are undertaking to protect your home and family from a hurricane.
Involve each member and designate responsibilities. Everyone in the family including children must be aware of emergency contact numbers. This will make them able to call for help in case of need.
Let each adult in the family be well acquainted with the evacuation route and practice dry runs.
Even as the hurricane hits the vicinity keep a look out for safe evacuation routes and shelters in the vicinity.
Listen in to radio updates and evacuate immediately if an alert is issued.
Keep physical copies of the emergency plan, important contact numbers, and cash (ATMs are likely to be out of service during a hurricane).
Keep a friend or an associate informed of your emergency/evacuation plan at all times.
An Infographic on how to prepare for Hurricane: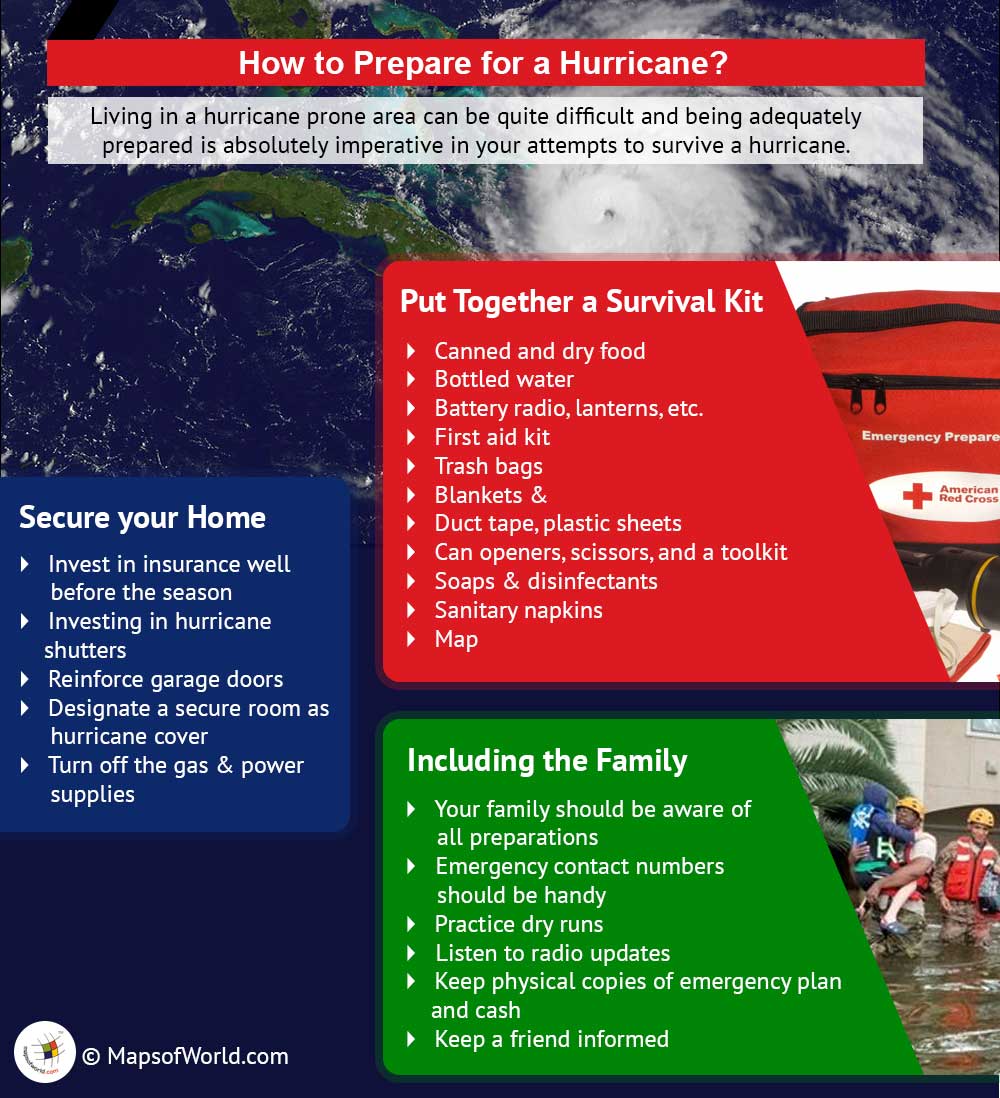 Know more:
Related Maps: