Croatia Map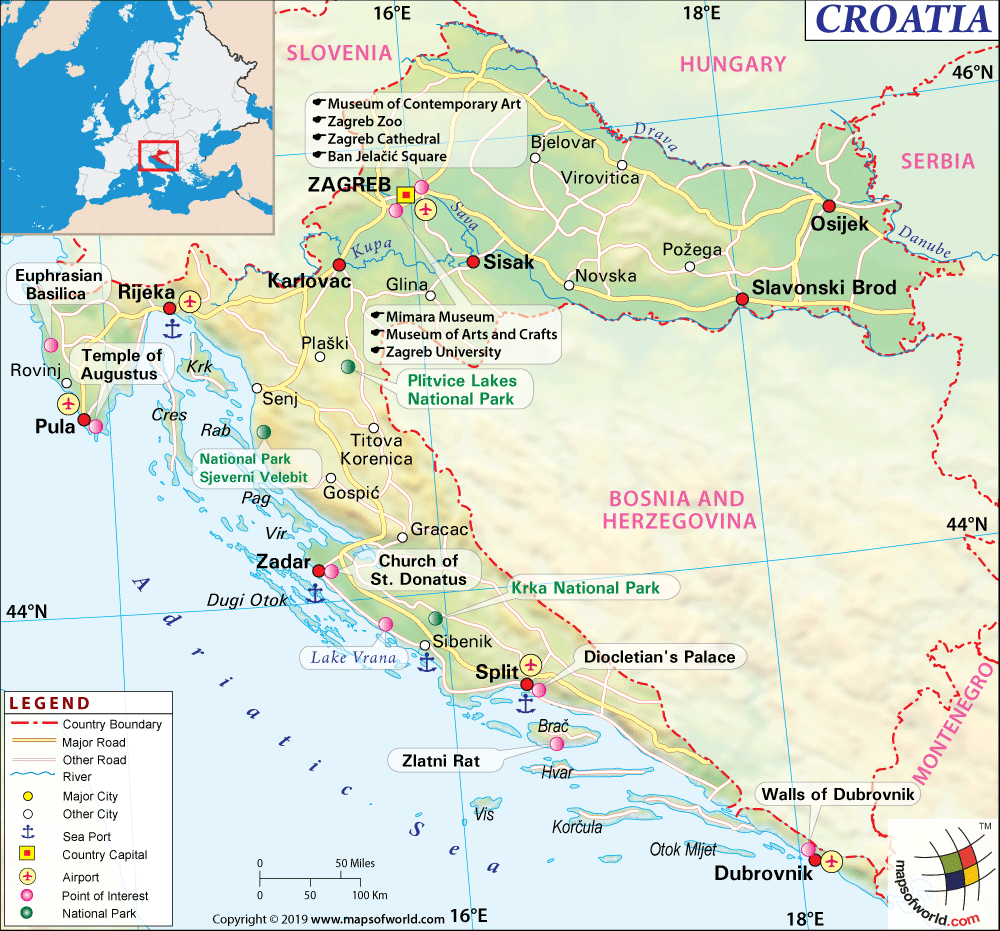 About Croatia
Explore this Croatia map to learn everything you want to know about this country. Learn about Croatia location on the world map, official symbol, flag, geography, climate, postal/area/zip codes, time zones, etc. Check out Croatia history, significant states, provinces/districts, & cities, most popular travel destinations and attractions, the capital city's location, facts and trivia, and many more.
| | |
| --- | --- |
| Full name: | Republic of Croatia |
| Capital City: | Zagreb |
| Language: | Croatian-Serbo-Croatian, Serbian, Italian, Slovenian, Hungarian |
| Currency: | Croatian kuna – HRK |
| Religion: | Roman Catholic, Islam, Eastern Orthodox |
| National Anthem: | Lijepa nasa Domovino (Our Beautiful Homeland) |
| Newspaper: | 24 Sata , Vjesnik , Vecernji List and many others. |
| Places to Visit: | Rooftops of Dubrovnik, Rovinj Waterfront, Baska Beach on Krk Island, Lopar Beach on Rab Island, Plitvice Lakes National Park and much more. |
| Transport: | Travel in ferry rides to different destinations from Croatia. Take to and fro flight services in Lufthansa , Austrian Airlines, Air France , CSA and many others. Opt for cruise lines like Princess, Radisson, Seabourn, and Silversea for traveling. |
| Shopping: | T apestries, filigree jewelry, handmade carpets, woolens, ceramics, Dalmatian lace, woodcarvings, wines, and folk crafts. |
Croatia resides within the European country which is nestled on the crossroads of the Mediterranean, the Central Europe and the Balkans that abounds with 1,000 islands and coral reefs. Croatia is seperated into 20 distinct countries and 1 city namely the Zagreb city.
Croatia was acclaimed with international awards three times for having the purest waters in the Mediterranean. The Dinaric Alps passes through the territory of Croatia that divides the region into separate costal and continental sectors. From the world's finest shells of Makarska to the urban architecture of Hum's smallest city, from the defense fort system of Ston City to the historical fort structure in Dvigrad, this place has much to offer.
Croatia is nestled in Southern Europe adjoining the Slovenia and Hungary towards the north, Serbia from the east end, Bosnia, Herzegovina and Montenegro from the south end along with sharing similar coastlines with Italy towards the west.
Physical Map Of Croatia
The territory of Croatia is alienated into two different parts with coastlines of Bosnia and Herzegovina. This diverse terrian is comprised of different features where :
The conintental north and northeast of Central Croatia and Slavonia is constituted with the rolling hills, plains and meanderng lakes which is essentially a part of the Pannonian plain.
Liki and Gorski Kotar is confined in the wooded mountainous regions which is a part of the Dinaric Alps.
The rugged coastlines are seen lying towards the Adriatic Seas of Istria, Northern Seacoast and Dlamatia.
The Flag of Croatia is designed with equal sized horizontal band of color typical of Pan Slavic namely red, white and blue. The Coat of Arms adorns the center location of the flag. The coat of arms represents a shield topped with five minor shields, which denote the historical regions of Croatia forming a basic structure of a crown.The main part of the coat of arms is designed in checkerboard style with 13 red and 12 silver colored fields. These fields are none other than chessboards that represent the different geographical regions of Croatia.
Climate Of Croatia
The climatic condition of Croatia differs from place to place starting from the Mediterranean to the coastal regions of Adriatic to the continental inland of the region. Northern Croatia witness's continental weather conditions, while Central Croatia experiences a highland temperature while the feel of Mediterranean weather comes from the Croatian coast. From sultry summers to rainy winters, the feel of coastal summer winds and biting winter winds is something one gets accustomed with. The temperature never descends below 10 degrees in winter but ascends to a level of 26 degrees as affected by the warm current flow.
Holiday during the months of April and September with reasonable accommodation charges as May and June being the best time for indulging in recreational activities.
Flora And Fauna Of Croatia
The native floras of Croatia include plants like Degenia velebitic, Croatian rock-cress or Arabis Croatia, Window bellflower, Croatian sibiraea, Croatian false bellflower and many others.
The native faunas of Croatia include Common dormouse, Barbel gudgeon, Long-fingered bat, Lynx, Brown bear and Capercaille.
People Of Croatia
The Croatians are ethnic people where 10 percent of the overall population comprises of Serbs with a minor portion inhabited by the Hungarians and Italians. The people are friendly in nature while maintaining their traditions quite religiously.
Arts, Culture And Music Of Croatia
Art: The Hvar Island made its trademark in the production of lace, from the threads coming from the agave leaves, which is widely accepted in the region. A good example of primitive architecture along with unique artworks can be sighted at the churches located from Istria to Boka Kotorska bay. The unique ancient buildings are adorned with architectural designs of the primitive age.
Culture: Croatia boasts of 13 century extended history with several major landmarks, monuments and noble men. Comprised of six world heritage spots and eight national parks this place is known for discovering fountain pens. The necktie popularly known as cravat made its origin from this place. The place is famous for its rich history, literary skills and artistic creations.
Music: The music of Croatia made its entry with major influences from the Mediterranean , Balkans and Central Europe. Pop, Rock and folk music is something that would delight your senses here. The Klapa music made its entry here, which carried the significance of country's love, wine, countryside and seashores. Tamburitza , gusle , Zagorje are the major folk songs of this region. Dance Music became quite popular here with song accompanied with euro dancing.
Economy Of Croatia
The economic growth of Croatia depends mainly on tourism, banking and public investments. Croatia produces crops like w heat, corn, sugar beets, sunflower seed, alfalfa, clover, olives, citrus, grapes, livestock, dairy products and many other items. The place even holds small industries like chemicals, plastics, machine tools, electronics, pig iron and rolled steel items, aluminum, wood, construction materials, textiles, shipbuilding, paper, petroleum and its refining, food and beverages and many others.