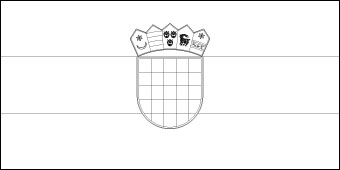 Download Picture of Croatia Flag Outline for kids to color
The national flag of Croatia bears three horizontal stripes – red (top), white (middle), and blue (bottom). The combination of red, white, and blue colors used in the flag has been borrowed from the flag of imperial Russia. The national coat of arms is placed in the center of the flag.
The coat of arms features a red and white checkerboard crowned by shields of five historical regions which formed the Republic of Croatia. These regions are – Croatia, Dubrovnik, Dalmatia, Istria, and Slavonia.
The colors used in the flag bear a national significance. Red symbolizes the blood shed by the countrymen in their struggle for independence; it also represents the zeal and enthusiasm of the martyrs in fighting the colonial authorities; white is a traditional symbol of peace and represents the peaceful and amiable nature of the people of Croatia. Blue represents the religious nature of the Croatians and their belief in God. The checkerboard consists of thirteen red and twelve white fields and has been used as a symbol of the Croatian Kings since the tenth century.
The present flag of the Republic of Croatia was adopted on December 21, 1990. Earlier when the country was a part of Yugoslavia, the flag of Croatia was a similar tricolor of red, white, and blue. The only difference was that in place of the checkerboard, the earlier flag bore a five-pointed red star with a yellow border. The red star was substituted by a checkerboard in May 1990, after the general elections took place in Croatia.
| | |
| --- | --- |
| Official Name: | The Republic of Croatia |
| Flag Proportion: | 1:2 |
| Adopted on: | December 21, 1990 |
| Location of Croatia: | Located in south-eastern Europe; Bordered by Bosnia and Herzegovina, Hungary, Montenegro Serbia, and Slovenia,   |
| Capital City of Croatia: | Zagreb |
| Major Cities of Croatia: | Osijek, Zadar, Kutina |
| Area: | 21,851 square miles |
| Population: | 4.03 million |
| Currency: | Kuna (HRK) |
| Official Languages of Croatia: | Croatian |
| National Anthem: | Our Beautiful Homeland |
| National symbol(s): | red-white checkerboard |
| National colors: | red, white, blue |
| National anthem: | |
| Name: | "Lijepa nasa domovino" (Our Beautiful Homeland) |
| Lyrics/Music: | Antun MIHANOVIC/Josip RUNJANIN |
| | | |
| --- | --- | --- |
| | Fact about the Croatia flag | |
| Country | Croatia |
| --- | --- |
| Designed by | Miroslav Šutej |
| Adopted | December 21, 1990 |
| Revision | 1990, 1992 |
| Design and Colors | A horizontal tricolor of red, white, and blue with the Coat of Arms of Croatia in the center. |
| Size Ratio | 1:2 |