Caribbean Map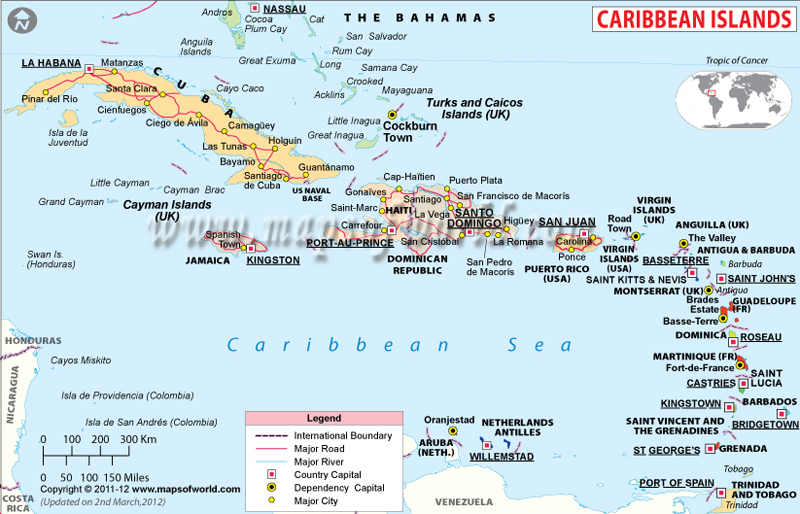 The Caribbean Sea is situated off the coast of North, Central, and South America. Within the Caribbean Sea, there are several islands, which are known along with the sea as the Caribbean. The Caribbean islands are typically considered part of North America. Over 7,000 islands and reefs form the Caribbean, which are organized into thirty territories that include both dependent and independent countries. The islands are divided into several geographic groups: the Lucayan Archipelago, Greater Antilles, and Lesser Antilles. Lesser Antilles is further divided into a few island groupings.
The Bahamas and Turks and Caicos Islands make up the Lucayan Archipelago. Greater Antilles consists of Cuba, Jamaica, Puerto Rico, the Cayman Islands, and Hispaniola island, which is home to Haiti and Dominican Republic. Lesser Antilles is made up of the Virgin Islands, Antigua and Barbuda, Dominica, Grenada, and many more.
The Caribbean islands were historically referred to as the West Indies, and were separated into united groups by the European nation who colonized them, like the British West Indies and Dutch West Indies.
Several American countries that are not islands are situated along the Caribbean Sea, and share many similarities with the Caribbean islands.
The Caribbean is a popular tourist destination for its great weather, warm waters, and pristine beaches.
The major islands of the Caribbean include:
| | | | | | | | | |
| --- | --- | --- | --- | --- | --- | --- | --- | --- |
| Cuba | Hispaniola | Puerto Rico | Jamaica | Dominica | Montserrat | Saba | Saint Kitts | Saint Lucia |
| Saint Thomas | Saint John | Tortola | Grenada | Saint Vincent | Guadeloupe | Martinique | Trinidad and Tobago | |
Some of the largest cities in the Caribbean islands include: Santo Domingo, Havana, Santiago de los Caballeros, Port-au-Prince, Kingston, Santiago de Cuba, San Juan, and Holguin.
The Caribbean has a number of unique holiday destinations. The place is a haven for beach lovers; the white sand beaches in most of the Caribbean are an ideal place for vacationers to relax. Besides, the Caribbean provides ample of recreational opportunities like surfing, sailing, scuba diving, windsurfing, and swimming with dolphins.
The rain-forests in the Caribbean are worth-visiting as they are home to numerous plant and bird species. Cruise ships and golf courses in the islands draw millions of people to the islands.