Benin City Map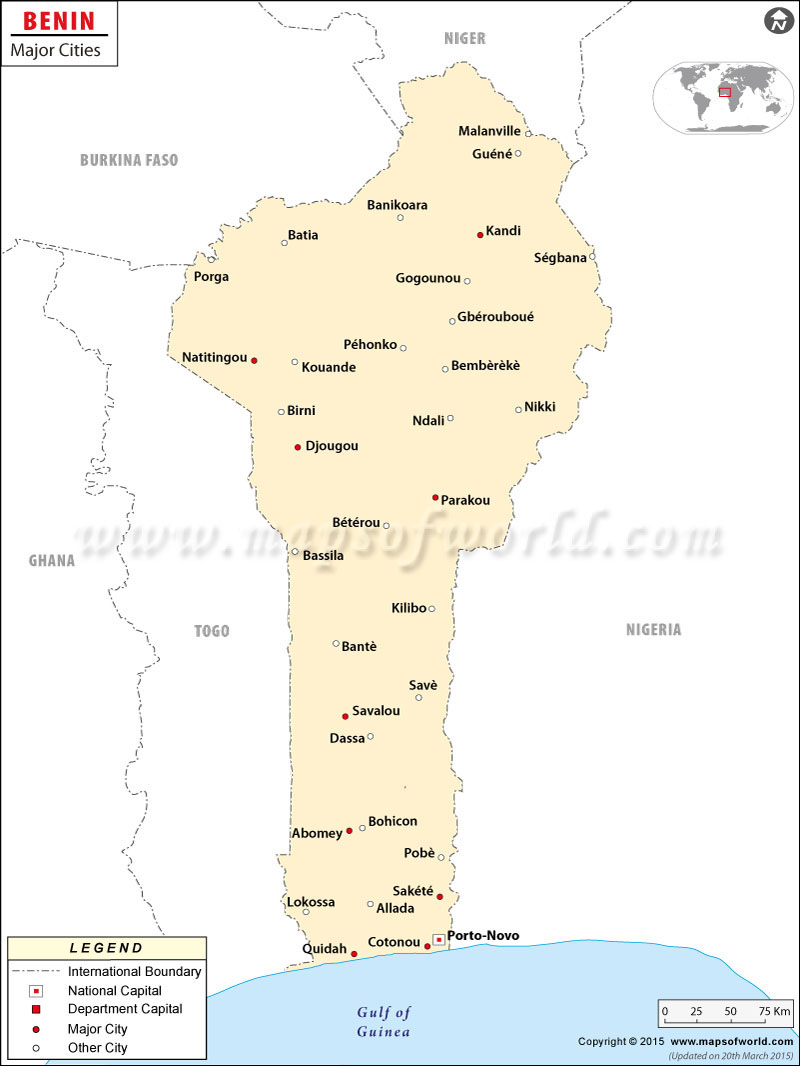 Benin Cities include the list of all the cities, small or large, which are placed in the west African
land of Benin and are a part of the various departments in the country.
The largest Benin Cities include the cities by the names of Cotonou, Porto Novo, Parakou, Djougou, Bohicon, Kandi, Abomey and Natitingou.
Among these Cities in Benin, Cotonou is the largest one from the perspective of number of people inhabiting the Benin Cities.
Some other the important Benin Cities include the following:
Abomey
Allada
Abomey-Calavi
Grand Popo
Athiémé
Aplahoué
Bassila
Banikoara
Gogounou
Bembèrèkè
Ganvie
Bori

Bohicon
Djougou
Bétérou
Boukoumbé
Dogbo-Tota
Cotonou
Comé
Dassa-Zoumé
Cové
Kandi
Natitingou
Kouandé

Karimama
Lokossa
Kétou
Kérou
Ndali (Benin)
Malanville
N'Dali
Nikki
Ouidah
Pobé
Parakou

Porto-Novo
Porga
Savalou
Péhonko
Segboroué
Sakété
Tanguiéta
Savé
Ségbana
Tanguietta
Tchaourou
The largest one among all the Benin Cities is at the three hundred and sixty fourth position in the entire African continent. The largest administrative divisions holding the Cities of Benin include the Zou, the Donga, the Littoral, the Alibori, the Oueme and the Borgou divisions.