How Far is East Coast to West Coast of the United States?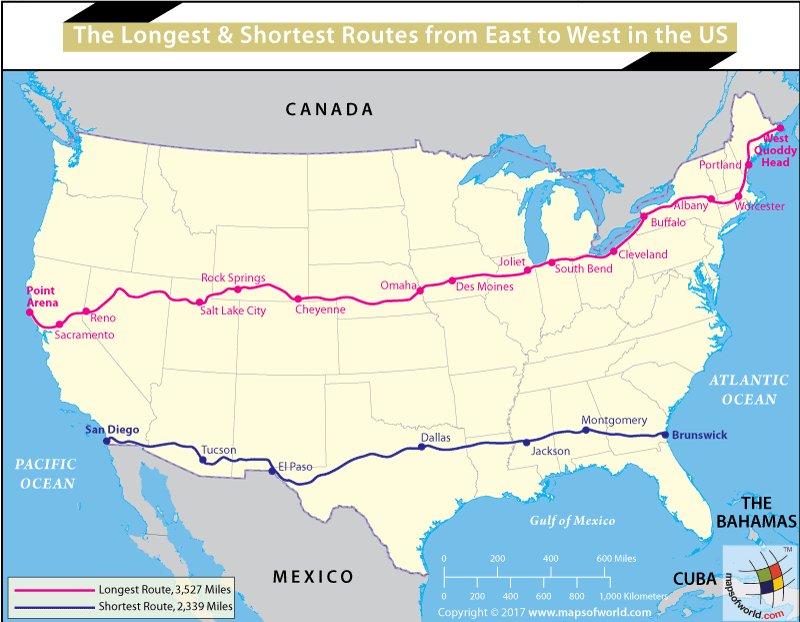 How Many Miles from Coast to Coast
The contiguous United States, or 'continental US,' stretches from the Pacific Coast in the west to the Atlantic Coast in the east. The distance between the two coasts, however, varies depending on the route taken from one end to the other. The shortest driving route will take you from California (approximately starting point of 12 miles south of San Diego) to the state of Georgia, (approximately endpoint, 10 miles south of Brunswick). This covers approximately 2,671 miles and is along Route 80. The longest route covers approximately 3,527 miles and is referred to as Route 50 (the Backbone of America). It takes you from Point Arena in the state of California (172 miles from Sacramento) to West Quoddy Head in the state of Maine. West Quoddy Head is also the easternmost point of the United States. For more informational maps related to the USA, check our Thematic Maps section.
The shortest coast-to-coast road trip across the United States will take you from a point close to the California–Mexico border, and then passes through the dry, desert region of Arizona, skirting the Gila National Forest in New Mexico, through Dallas, Texas, and then through Louisiana, near Jackson, Mississippi, through Alabama, and culminating in Georgia, and the Atlantic coast.
The longest route through the United States starts north of Santa Rosa, CA, and makes its way through Sacramento, then Nevada, Utah, Wyoming, Nebraska, Iowa, Illinois, Indiana, Ohio, Pennsylvania, New York, Massachusetts, New Hampshire, and finally Maine. This road trip would take well over a week, with a view window seat view of American landscapes and cultures.
Related Links:
Related Maps: