Where does it change from Central to Eastern time?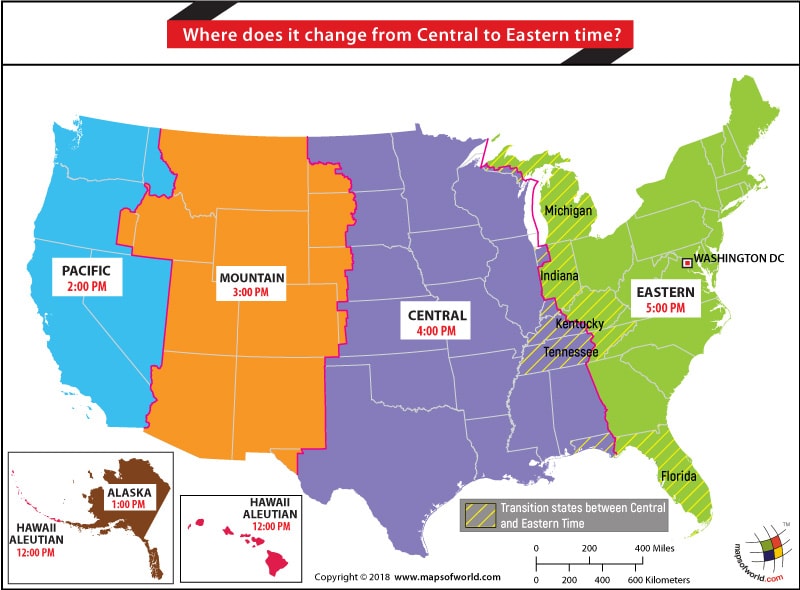 What is the Difference Between Eastern and Central Time?
The United States is divided into nine standard time zones. Of these nine time-zones, the Central Standard Time and the Eastern Standard Time together cover 37 states and the District of Colombia. But, there are five states that fall into both time zones. It is in these states that the change takes place from the Central Time Zone to the Eastern Time Zone or vice versa.
The five states that partly observe both Central and Eastern time zones are; Florida, Indiana, Kentucky, Michigan, and Tennessee.
Most of the state of Florida observes the Eastern Time. Central Time is observed in the region that lies west of the Apalachicola River. Most of the state of Indiana observes the Eastern Time, barring the Northwest and the Southwest corners that observe the Central Time. While the western half of Kentucky observes Central Time, the eastern half uses the Eastern Time. Most of Michigan observes the Eastern Time, but the Central time is observed in the counties that have a border with Wisconsin. West and Middle Tennessee, along with the Marion County observes the Central Time. The Eastern Time is used in East Tennessee, except Marion County.
Related Maps: