What are the Top 10 tallest buildings in US?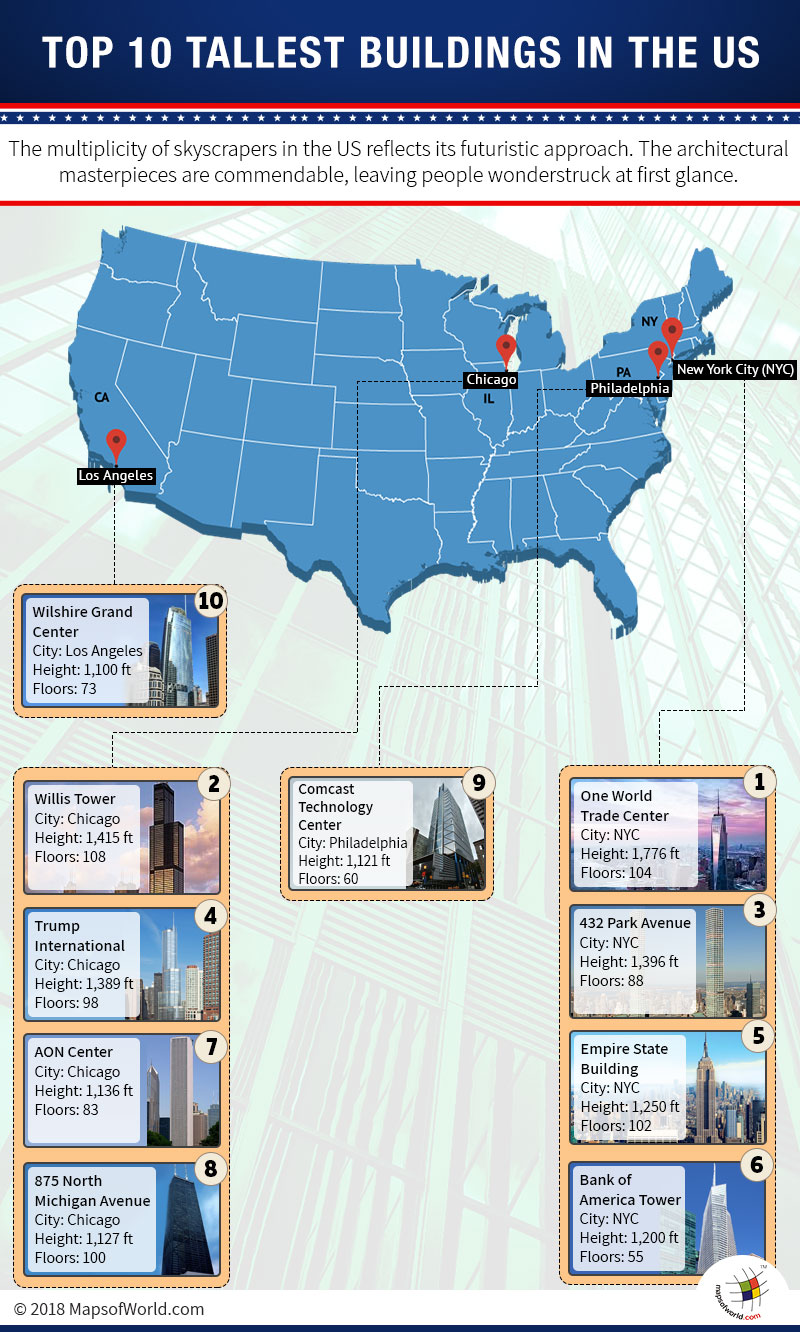 The multiplicity of skyscrapers in the US reflects its futuristic approach. The architectural masterpieces are commendable, leaving people wonderstruck on first glance.
One World Trade Center, New York City
The awe-inspiring 1WTC amazes the young and old people alike.
Situated in New York, One World Trade has a height of 1,776 feet. 1WTC has 104 floors with 5 below ground floors, 71 of which are office spaces. 1WTC was previously known as Freedom Tower.
One World Trade Center was planned after the destruction of the World Trade Center Twin Towers, and it is the safest office building in the world today. It is constructed with high-strength concrete, which can withstand seven times more pressure than standard concrete. 1WTC was built from recycled construction debris. There are 73 elevators which are the fastest in the western hemisphere with a speed of 23 mph.
Willis Tower, Chicago
Willis Tower, Illinois, brags itself as the second tallest in the list of top 10 tallest US buildings. It was built in 1974. It has 108 (+3 basement) floors and a height of 1,415 feet. For years it was known as the Sears Tower.
Architect Bruce Graham and structural engineer Fazlur Rahman Khan were inspired by a pack of cigarettes in designing the building.
A barrel-vaulted entrance pavilion to the west side and a small cut-away atrium inside the east entrance was added to it after the 1980s renovation. Its facade is built with aluminum and has been climbed twice: by Dan Goodwin in 1981, and by Alain Robert in 1999.
The pull factor of the building is its lobby which contains the moving sculpture "The Universe" by Alexander Calder.
432 Park Avenue, New York City
432 Park Avenue is a residential skyscraper with a height of 1,396 ft. and 88 floors. It is located in Manhattan, New York. The average price of an apartment in 432 Park Avenue is $21 Million, whereas the average apartment price in Manhattan is $2 Million. Architect Rafael Viñoly designed it and the interiors are designed by Deborah Berke and the firm Bentel & Bentel. The building features double-height windowless mechanical floors at 310, 512, 744, 961, and 1,178 feet. These open 'blow-through' floors are brilliantly illuminated at night.
Trump International Hotel and Tower, Chicago
Another skyscraper in Chicago, Illinois is Trump International Hotel and Tower. It stands at 1,389 ft. high and has 98 floors. It is one of the three five-star Forbes rated restaurants in the city. Its postmodern design and approach make it a building worth experiencing with your own eyes. Architects Adrian Smith of Skidmore, Owings, and Merrill were the masterminds behind the architecture of the building.
Empire State Building, New York City
The Empire State Building in New York City, NY has a height of 1,250 ft. with 102 floors. The building is highly acclaimed for its completion within 14 months which seems like sorcerer's work for that tall of a building.
For nearly 40 years, the Empire State Building stood as the world's tallest building until the completion of World Trade Center and is the ancestral skyscrapers for the rest. Its magnificent design is credited to its architects Shreve, Lamb & Harmon Associates.
Bank of America Tower, New York City
Bank of America Tower in Manhattan, New York stands tall at 1,200 feet, with 55 floors and three basements. It is designed by Cook+ Fox architects. The building is made largely of recycled and recyclable materials. Temperature control and the production of some of its energy are accomplished in an environmentally friendly manner for the tower. It proudly possesses the LEED Platinum Certified privilege. Drawing on concepts of biophilia— or humans innate need for connection to the natural environment—the vision at the occupant scale was to create the highest quality modern workplace by emphasizing daylight, fresh air, and an intrinsic connection to the outdoors. At the urban scale, the tower addresses its local environment as well as the context of midtown Manhattan, to which it adds an expressive new silhouette on an already-iconic skyline.
AON Center, Chicago
AON Center in Chicago, Illinois is the eighth tallest building with a height of 1,136 feet, and 83 rooms. It was completed in 1974 and was formerly known as the Standard Oil Building. AON Center is designed by architect firms Edward Durell Stone and The Perkins and Will partnership. The white Carrara marble beautified the building originally but it was less competent to withstand the weather. It was then replaced by more durable granite. The building follows the classic World Trade Center's architectural design.
875 North Michigan Avenue, Chicago
875 North Michigan Avenue is another building adding to the beauty of Chicago, Illinois. It has a height of 1,127 feet and holds 100 floors. The construction was completed in 1969. The John Hancock Center was its former name and even today this name has unbreakable ties with its new name.
It is both a residential as well as a commercial space. The unique X-brace design gives it a distinct identity amongst the skyscrapers and increases the flexibility of interior spaces by eliminating the need for regular columns between the core and perimeter.
Comcast Technology Center, Philadelphia
Comcast Technology Center has a height of 1,121 feet and is located in Philadelphia, Pennsylvania. It has 60 floors with restaurants on the top floor, while central floors contain offices for Comcast software developers and engineers, and the lowest floors have television studios and retail stores. The property, still under construction, will be co-owned by Comcast and Liberty Property Trust and has an estimated cost of $1.5 billion.
Wilshire Grand Center, Los Angeles
Wilshire Grand Center is 1,100 feet tall and has 73 floors. It is located in Los Angeles, California and was completed in 2016. It is primarily seen as a residential and an office space. It is a secondary site for shops, restaurants, and parking. The crown and the building's 'spine' are equipped with LED lights that can display neon colors, digital signs, and advertisements. Half Dome in Yosemite Valley was the inspiration behind its architectural design.
Visit the following to learn more about the USA:
Related Maps and Info: