Which of the 13 Colonies allowed Slavery?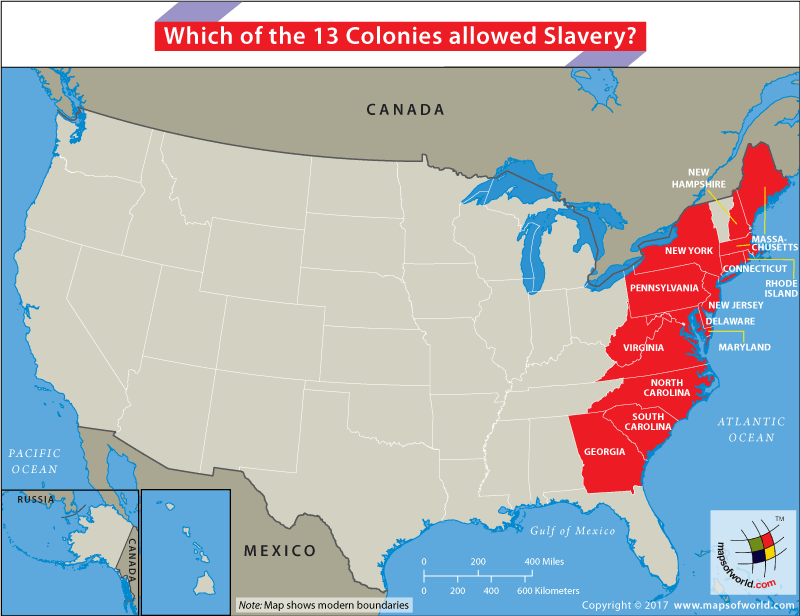 The 13 British colonies on the eastern side of North America where slavery was practiced in the 17th and 18th century were:
Province of New Hampshire
Province of Massachusetts Bay
Colony of Rhode Island and Providence Plantations
Connecticut Colony
Province of New York
Province of New Jersey
Province of Pennsylvania
Delaware Colony
Province of Maryland
Colony of Virginia
Province of North Carolina
Province of South Carolina
Province of Georgia
These colonies were divided into three sections, the New England, Middle, and Southern Colonies, from north to south. Connecticut, Rhode Island, Massachusetts, and New Hampshire constituted the New England section. The Middle section comprised of Delaware, Pennsylvania, New Jersey, and New York. While Maryland, Virginia, North Carolina, and South Carolina made up the Southern Colonies.
Originally, Africans were brought as immigrants to the British 'New World.' They weren't slaves, nor were they free.
The Africans were brought as indentured servants, who were required to serve until their obligation was complete. These indentured servants had to sign a contract to work for a fixed period, typically 5 to 7 years, in one of the 13 colonies in the British 'New World.' They were transported and given food, clothing, and lodging, but not any pay. When they had served their term as indentured servants, they were released from their contract. However, this indentured servitude was later replaced by slavery, as it was a much cheaper means of plentiful labor for the British owned plantations.
In 1619, a Dutch ship brought 20 Africans to the British colony at Jamestown as slaves. Soon slavery spread to all of the 13 British colonies in America. Virginia was the first colony to legally establish slavery in 1661. This was followed by Maryland and the Carolinas. The only colony to resist legalization of slavery was Georgia in the south. However, after 17 years, Georgia lifted the ban on slavery due to pressure from its citizens. The British belief in Africans being the best and the cheapest form of labor was reaffirmed, as all of the colonies allowed slavery.
Slave labor was particularly useful for farming, and specifically tobacco cultivation, which was quite labor intensive. The majority of Africans living in the Chesapeake area worked on tobacco plantations and large farms, while those in South Carolina worked on indigo and rice plantations. Tobacco is a delicate plant that required care for 11 months. At harvest, it was gathered and prepared for shipment to London.
It's important to note, that it was much later after 1619 that slavery, and slaves, came to represent a large portion of the North American population. It was in the last quarter of the 17th century, that the numbers of slaves in America grew exponentially; by 1776, 20% of the entire population in the 13 colonies was of African-American. By the time of American Revolution, between 1765 and 1783, 60% of the population in South Carolina and 40% of the population of Virginia comprised of slaves.
In cities and towns, where there was little agricultural work, slaves were employed as domestic servants, artisans, craftsmen, sailors, dock workers, laundresses, and coachmen. The ownership of slaves also demonstrated high social status. In both the agricultural south or the more urban north, slaves had the same fate; they could be bought and sold and constituted their owner's overall wealth.
During the American Revolution, (1765 to 1783) and immediately after it, there was a realization in American society that slavery was unjust. The states in the north and south handled the issue in their own way. States in the north passed laws that either eliminated slavery, or ensured its gradual extinction. The south resisted as it was much more economically invested in slavery. This divergence in approach between the north and the south grew into a national and divisive issue, that eventually led to the Civil War from 1861 to 1865.
Related Maps: