How many time zones are followed in Russia?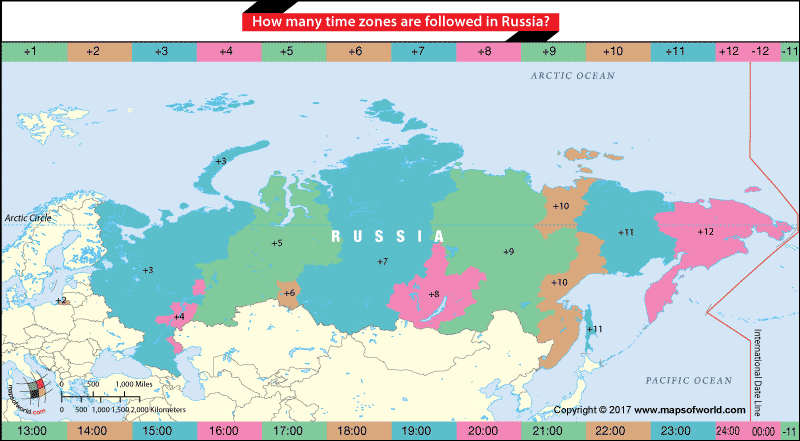 A time zone is a man-made division of approximately 15 degrees longitude. There are 24 time-zones across the world. Many smaller countries follow a single time, with larger nations spanning across numerous time zones. France (along with its dependencies and overseas territories) has 12 time-zones – the most of any country in the world has. Russia has 11 time-zones. The establishment of standardized time started in Russia in 1880, with the introduction of Moscow Mean Time (GMT +2.30 hours). Different parts of the country continued to follow their own local time until 1919 when different time zones were introduced in the country. Following the breakup of the Soviet Union, there have been numerous reshuffles and changes in the time zones followed by Russia. Until 2014, the country had nine time-zones but added two more. Currently, Russia follows 11 time-zones.
Time Zones of Russia
Offset
Time Zone Name
Abbreviation
UTC +2
Eastern European Time
EET
UTC +3
Moscow Standard Time
MSK
UTC +4
Samara Time
SAMT
UTC +5
Yekaterinburg Time
YEKT
UTC +6
Omsk Standard Time
OMST
UTC +7
Krasnoyarsk Time
KRAT
Novosibirsk Time
NOVT
UTC +8
Irkutsk Time
IRKT
UTC +9
Yakutsk Time
YAKT
UTC +10
Vladivostok Time
VLAT
UTC +11
Magadan Time
MAGT
Sakhalin Time
SAKT
Srednekolymsk Time
SRET
UTC +12
Anadyr Time
ANAT
Kamchatka Time
PETT
 Decree Time and Daylight Saving
In 1930, the USSR decided to turn forward all clocks by an hour, (across all its time zones) thus establishing DST (Daylight Saving Time) all year round. This measure was called Decree Time and was used as a measure to save energy. In 1991, again it was abolished only to be reinstated in some zones. In 2011, year-round summer time was enforced. In 2014, Russian President Vladimir Putin announced that the entire country would switch to permanent winter time and abolished the use of DST. This is because the Russian government has received reports linking permanent summer time to health issues and stress, particularly in northern Russia.
Train schedules in the country follow the Moscow Standard Time while flight schedules follow the time of their respective zones.
Related Maps: