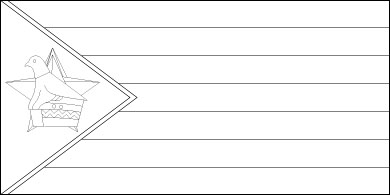 Download Picture of Blank Zimbabwe Flag For Kids to Color
Flag of Zimbabwe Description
The flag of Zimbabwe is divided down the center by a narrow black horizontal stripe.
There are a total of seven equal-width, narrow horizontal stripes on the flag of Zimbabwe. Above and below the black stripe are red stripes, and outside of these red stripes are yellow stripes. The outermost stripes on the edges of the flag are green. On the hoist side, a white triangle points inward from the outer corners. On the triangle is an image of the Zimbabwe soapstone bird statue, once found in the ruins of Great Zimbabwe. Behind the yellow statue is a large red star.
The colors used in the flag of Zimbabwe are the traditional pan-African colors. The green represents the fertility of the land and the nation's agriculture. The yellow symbolizes the minerals that are a major natural resources of Zimbabwe. Red shows the bloodshed of the war for independence in the Chimurenga, or wars. And the black represents the native people of Zimbabwe and their heritage. The white on the triangle symbolizes peace, and the red star is for the rising hopes of the nation. The soapstone bird is the national bird of Zimbabwe and a national symbol.
Zimbabwe Flag History
The flag of Zimbabwe was officially adopted on April 18, 1980. Prior to this flag, Zimbabwe was called Zimbabwe Rhodesia from June 1, 1979 until April 1980. Zimbabwe Rhodesia had its own flag, with horizontal stripes of red, white, and green from top to bottom, and a vertical black stripe along the hoist side. The bird statue was positioned at the top of the black stripe. When the country gained independence and changed to the name Zimbabwe, the current flag was adopted.
Before becoming Zimbabwe Rhodesia, the nation was known simply as Rhodesia, an was a British colony, using a flag with the British Union Jack.
| | |
| --- | --- |
| National symbol(s): | Zimbabwe bird symbol, African fish eagle, flame lily |
| National colors: | green, yellow, red, black, white |
| National anthem: | |
| Name: | "Kalibusiswe Ilizwe leZimbabwe" [Northern Ndebele language] "Simudzai Mureza WeZimbabwe" [Shona] (Blessed Be the Land of Zimbabwe) |
| Lyrics/Music: | Solomon MUTSWAIRO/Fred Lecture CHANGUNDEGA |
| Country | Zimbabwe |
| --- | --- |
| Designed by | NA |
| Adopted | 18. April 1980 |
| Revision | NA |
| Design and Colors | Seven horizontal stripes of green, gold, red and black with white triangle containing red 5 point star with Zimbabwe Bird |
| Size Ratio | 1:2 |