Botswana Map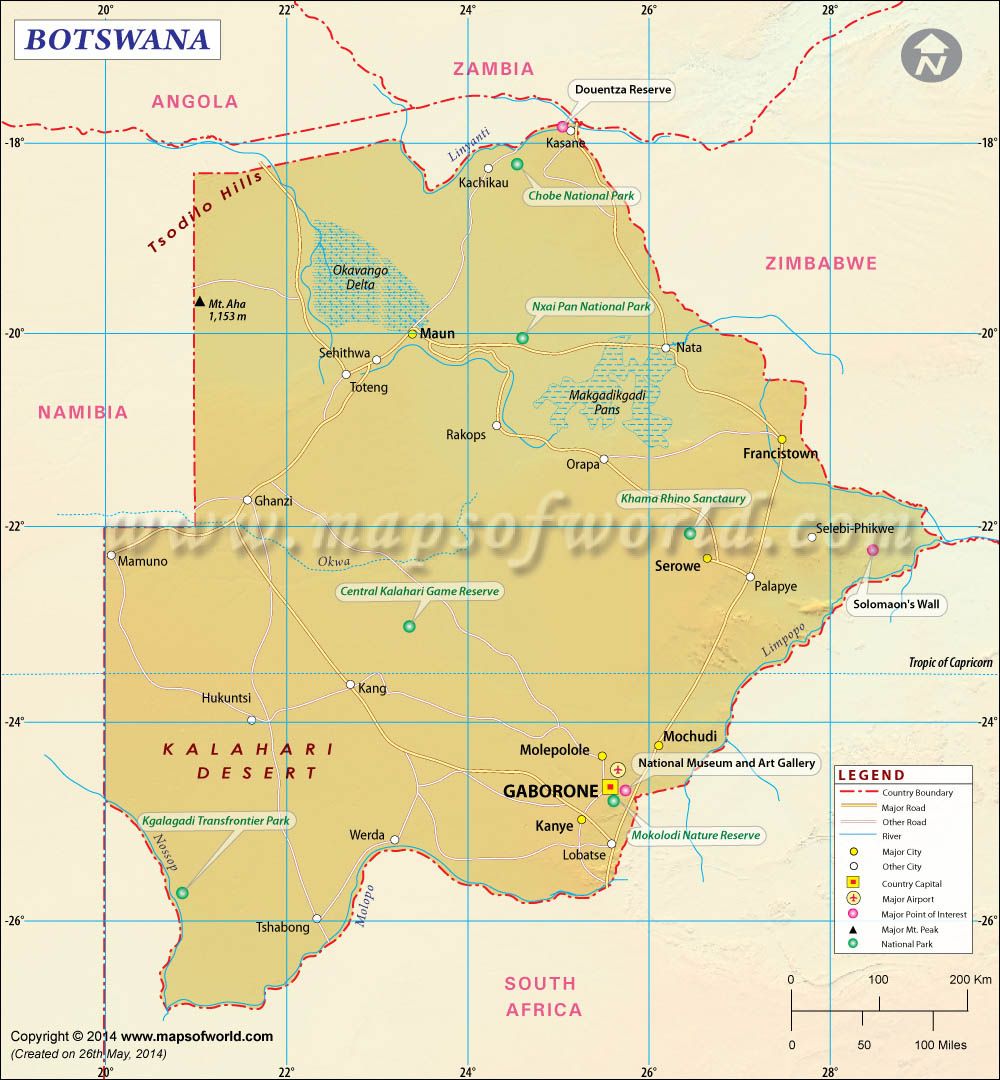 Explore this Botswana map to learn everything you want to know about this country. Learn about Botswana location on the world map, official symbol, flag, geography, climate, postal/area/zip codes, time zones, etc. Check out Botswana history, significant states, provinces/districts, & cities, most popular travel destinations and attractions, the capital city's location, facts and trivia, and many more.
| | |
| --- | --- |
| Official Name | Botswana |
| Capital | Gaborone |
| Population | 1.6 million |
| Area | 581,730 sq km or 224,607 sq mi |
| Currency | Pula ($1=5.77) |
| Religion | Christianity and traditional tribal beliefs |
| Literacy | 70% |
| Languages | English, Setswana and Sishona |
| Major Cities | Gaborone, Francistown, Lobatse |
| Climate | Semiarid subtropical climate |
Botswana, situated in Southern Africa, gained independence from the British rule in September 1996 and is the world's largest supplier of gem-quality diamonds, with two-thirds of production meeting gem standards.
A country constituting mainly of desert regions, Botswana is also heavily into the cattle industry.
Physical Map of Botswana
The country of Botswana is mainly a tableland with an average elevation of about 3,300 ft. The Kalahari Desert covers the central and southwestern portions of the country.
The main river is the Okavango River, which flows southeast from the Angola highlands into northwestern Botswana and drains into the Okavango Delta (Okavango Swamp), where it forms a vast marshland.
Botswana is a landlocked country, bounded on the north and west by Namibia, on the northeast by Zambia and Zimbabwe, and on the southeast and south by South Africa. The total area of Botswana is 581,730 sq km (224,607 sq mi).
Climate of Botswana
Botswana has a semiarid subtropical climate. The average annual rainfall varies from about 640 mm in the north to less than 230 mm in the Kalahari. The summer months usually see regular rainfall but cannot be depended upon and the country is often subject to drought.
The flag of Botswana is light blue in colour with a horizontal white-edged black stripe in the center.
Flora And Fauna of Botswana
Most parts of Botswana consist of Savanna vegetation, made up of grasslands and with trees. Main trees include acacia, bloodwood, and Rhodesian teak. Botswana has abundant wildlife with lions, giraffes, leopards, antelope, elephants, crocodiles,hippopotamuses and ostriches being found in many areas. The country is also inhabited by 550 species of birds. In fact, 18.5% of the country's land comprises of parks and reserves.
People of Botswana
Botswana is mainly made up of the ethnic Tswana group, who can be divided into eight tribes. In fact, the country even derives its name from this group. While 52 percent of the population resides in rural areas, the remaining section has abodes in urban areas; the majority of the population is concentrated in the eastern part of the country.
Apart from Tswana group, several other people are also found, including a small section of San (Bushmen), who have inhabited the region for many centuries. Though English is the official languages, Setswana, the language of Tswana, is widely spoken.
Economy of Botswana
Taking full advantage of the discovery of mineral resources, mainly diamonds, in the late 1960s, Botswana shifted its focus from cattle industry to the diamond industry. Today, Botswana is the world's largest supplier of gem-quality diamonds, with two-thirds of the production meeting gem standards.
Diamonds account for four-fifths of Botswana's annual export revenue. After the diamonds were discovered in northern Botswana in the late 1960s, the first mine was opened at Orapa in 1971, followed by a smaller mine at Letlhakane.
In 1982 another mine was opened at Jwaneng, which went on to become the world's richest mine. Important deposits of copper and nickel found in the Selebi-Pikwe area are also exported, as well as soda ash and small quantities of gold. In the year 2001, some 20 million carats of gem-quality diamonds were extracted.
Apart from the diamonds, income is also derived from the export of labor to South Africa and also a slaughterhouse opened at Lobatse in 1954 helped modernize Botswana's livestock industry. The livestock industry also has a fair share of contribution towards the economy. In 2002 the number of cattle was 2.4 million; goats, 2.3 million; and sheep, 370,000. The estimated budget in 1997 included revenues of $2.2 billion and expenditures of $1.7 billion.