Switzerland Cities Map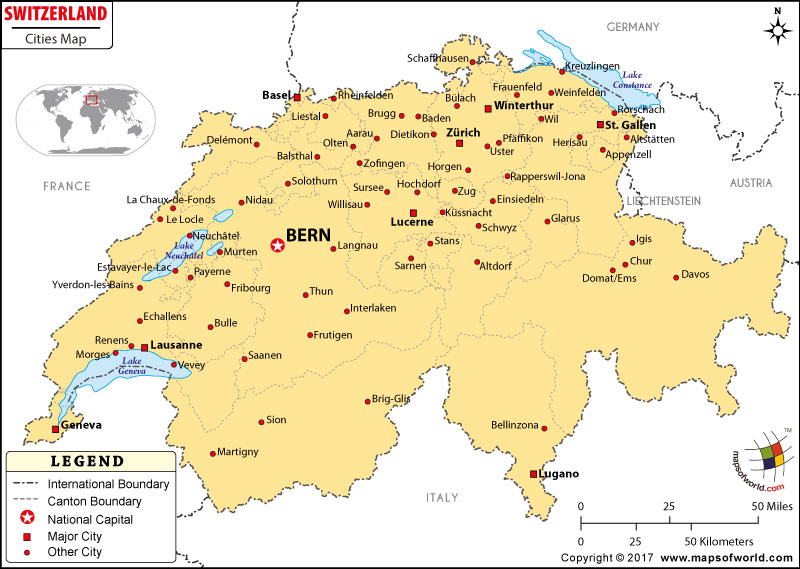 Switzerland (German: Schweiz Karte) is located in the central part of Europe and is surrounded by Germany in north, Italy in south, France in the west and Liechtenstein and Austria in the east. It is a landlocked country and is officially known as the Swiss Confederation. The official languages of Switzerland are German, Italian, French and Romansch. 63.7 percent of people speak German in Switzerland and 20.4 percent speak French. 6.5 percent people speak Italian and 0.5 percent people converse in Romansch. 1.5 percent Swiss people speak in Serbo-Croatian and 1.3 percent talk in Albanian. 1.2 percent people in Switzerland speak in Portuguese, 1 percent in English and 1.1 percent in Spanish.
The government of Switzerland is a confederation from a formal point of view but it also has similarities with a federal republic from a structural context. Administratively Switzerland is divided into 26 cantons. In Switzerland the age for obtaining the right to vote is 18 years. The President is the chief of the state. He heads the Federal Council as well.
In Switzerland the president and his/her deputy are selected from the members of the Federal Council by the Federal Assembly. They are supposed to serve terms of a year each. At present the President of Switzerland is Hans-Rudolf Merz and the Vice President is Doris Leuthard. Both of them assumed their offices on the 1st of January 2009.
Top Cities of Switzerland
Some of the top cities of Switzerland can also be regarded as one of the best cities of the world:
Zurich : It is the largest city of Switzerland besides being a prominent banking destination. The nightlife of this city is fantastic as well.
Geneva : It is the cultural hub of Switzerland. It could be described as the capital of the world as there are in excess of 200 governmental and non-governmental entities functioning here.
Berne : It is the capital of Switzerland. The old town here has been preserved really well. It is well known for its Einstein sites as well as the various eateries.
Basel : It is the third biggest city in Switzerland.
Lausanne : It is among the most attractive tourist destinations in the country. It is located in the French speaking part of Switzerland.
Lugano : It is at the Italian speaking part of Switzerland. It is the most often visited tourist destination in this part of Switzerland.
Lucerne : It is the most prominent city in central Switzerland. It is linked to all the major historic sites of the early ages of Swiss history.
Zermatt : It is one of the top mountain resorts of Switzerland.
Solothurn : It is known as the best baroque town of Switzerland.
Interlaken : This is the action and outdoor sports hub of Switzerland.