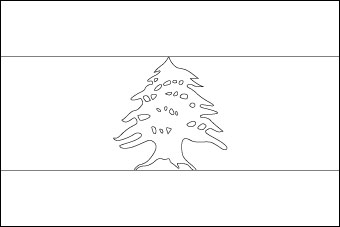 Download Picture of Lebanon Flag Outline for kids to color
The cedar tree touches the red bands on both sides. The colors and the cedar tree have their own significances.
Red color signifies bloodshed in freedom struggle, white represents peace and the cedar tree is the symbol of steadiness and immortality.
| | |
| --- | --- |
| Official Name: | Jamhouriya Al lubnaniya |
| Capital: | Beirut |
| Location: | On the eastern coast of the Mediterranean, Lebanon has borders with Syria and Israel. |
| Area: | 10, 400 Sq. km. |
| Official Languages: | Arabic |
| National Flag: | Three horizontal stripes of red white red with the white of double width and bearing in the center a green cedar of Lebanon. |
| National symbol(s): | cedar tree |
| National colors: | red, white, green |
| National anthem: | |
| Name: | "Kulluna lil-watan" (All Of Us, For Our Country!) |
| Lyrics/Music: | Rachid NAKHLE/Wadih SABRA |
| Country | Lebanon |
| --- | --- |
| Designed by | NA |
| Adopted | 7. December 1943 |
| Revision | NA |
| Design and Colors | A horizontal triband of red, white (double height) and red; charged with a green Lebanon Cedar. |
| Size Ratio | 2:3 |