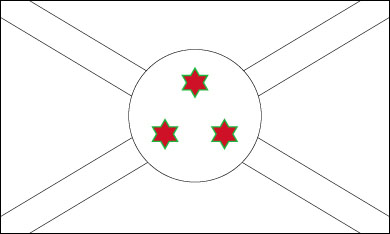 Download Picture of Blank Burundi Flag For Kids to Color
The official flag of Burundi comprises a white saltire that divides the field into alternating red and green segments. In the center of the saltire is a white disk, on which there are three red solid six-pointed stars outlined in green.
These stars are positioned in a triangular arrangement and refer to the National motto of Burundi which is "Unity, Work, and Progress". The stars also represent the three ethnic groups in the country – the Hutu, Tutsi, and the Twa. The white color epitomizes peace, green stands for optimism and hope, and red stands for the bloodshed of the soldiers in the struggle for independence. The ratio of the flag is 3:5.
| | |
| --- | --- |
| Official Name: | Republic of Burundi |
| Proportion: | 3:5 |
| Adopted on: | March 28, 1967 |
| Location: | The Republic of Burundi is bordered by Rwanda, Tanzania, and the Democratic Republic of the Congo |
| Capital City: | Gitega |
| Major Cities: | Bubanza, Bujumbura Mairie, Karuzi |
| Area: | 10,745 square miles |
| Population: | 10,216,190 |
| Currency: | Burundi franc (FBu) (BIF) |
| Official Languages: | French, Kirundi |
| National Anthem: | Our Burundi |
| National symbol(s): | lion |
| National colors: | red, white, green |
| National anthem: | |
| Name: | "Burundi Bwacu" (Our Beloved Burundi) |
| Lyrics/Music: | Jean-Baptiste NTAHOKAJA/Marc BARENGAYABO |
| | | |
| --- | --- | --- |
| | Facts about the Burundi flag | |
| Country | Burundi |
| --- | --- |
| Designed by | NA |
| Adopted | June 28, 1967 |
| Revision | 1961, 1962, 1966, 1967, 1982 |
| Design and Colors | A white saltire on a red and green field with a white disk, consisting of three red solid six-pointed stars outlined in green, being in the center. |
| Size Ratio | 3:5 |