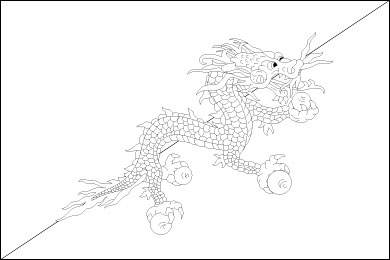 Download Picture of Blank Bhutan Flag For Kids to Color
One of the national symbols of the Kingdom of Bhutan, the Bhutanese national flag was officially adopted in 1969. The flag of Bhutan is diagonally separated in two halves: the upper left half is orange/ yellow and the lower right half is orange.
In the middle of the flag is an emblem of a white dragon facing to the right. The dragon is seen holding jewels in its claws and these signify the nation's wealth.
The snarling mouth of the dragon represents the strength of the people protecting the country. The orange color represents the Drukpas monasteries and Buddhist religion, and the orange/ yellow symbolizes the secular authority of the King.
The white color stands for purity and loyalty.
| | |
| --- | --- |
| Official Name: | The Kingdom of Bhutan |
| Proportion: | 2:3 |
| Adopted on: | 1969 |
| Location: | Eastern end of the Himalayas bordered by the Republic of India, and China |
| Capital City: | Thimpu |
| Major Cities: | Paro, Atsho Chhubar, Zhemgang |
| Area: | 14,824 square miles |
| Population: | 708,427 |
| Currency: | Ngultrum (BTN) |
| Official Language: | Dzongkha |
| National Anthem: | Druk Tsendhen |
| National symbol(s): | thunder dragon known as Druk Gyalpo |
| National colors: | orange, yellow |
| National anthem: | |
| Name: | "Druk tsendhen" (The Thunder Dragon Kingdom) |
| Lyrics/Music: |  Gyaldun Dasho Thinley DORJI/Aku TONGMI |
| Country | Bhutan |
| --- | --- |
| Designed by | Mayeum Choying Wangmo Dorji |
| Adopted | 1969 |
| Revision | 1949, 1956 |
| Design and Colors | Divided diagonally from the lower hoist-side corner; the upper triangle is yellow and the lower triangle is orange; centered along the dividing line is a large black and white dragon facing away from the hoist side |
| Size Ratio | 2:3 |