What are SAARC countries?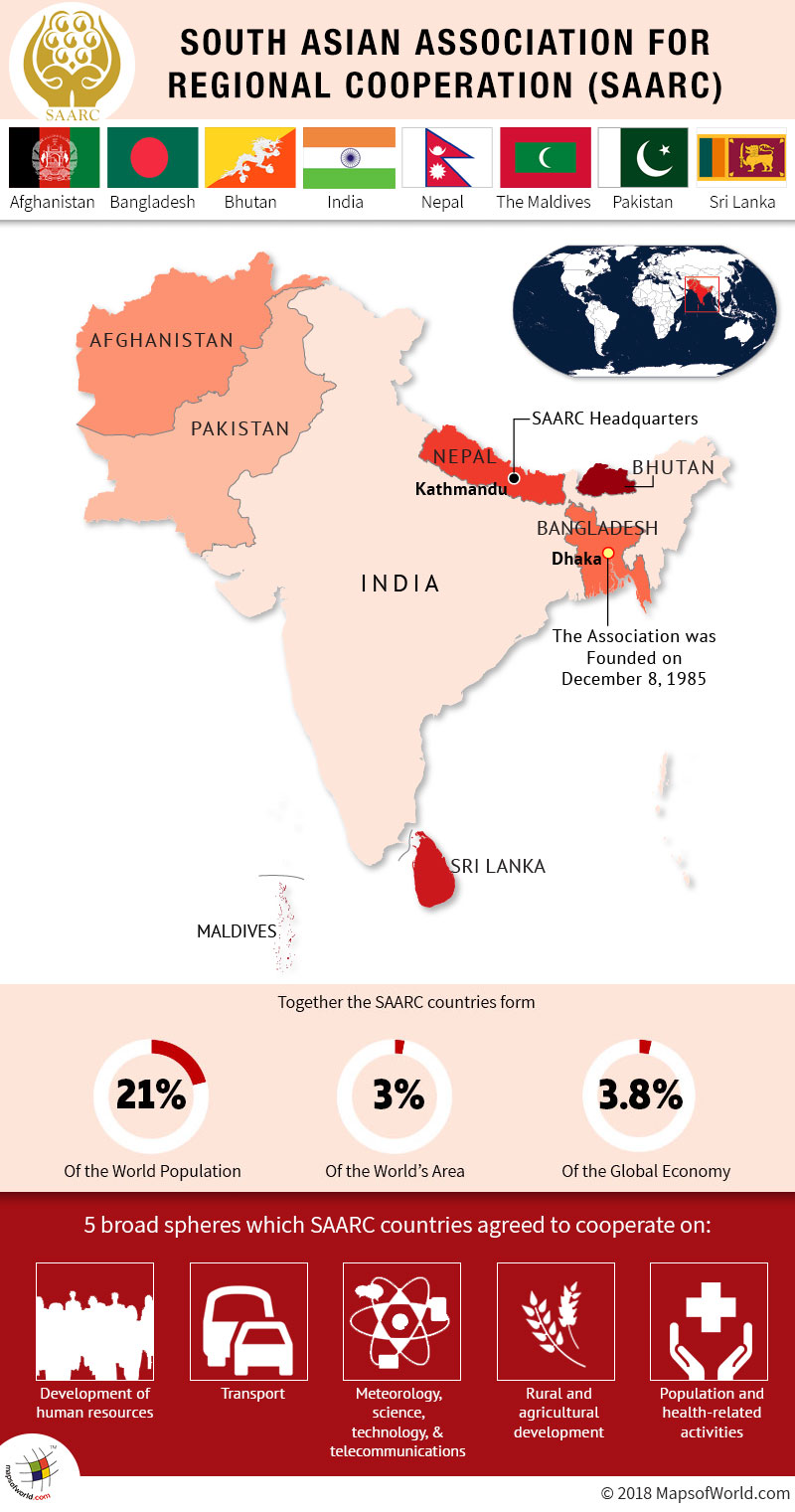 SAARC stands for South Asian Association for Regional Cooperation. The association has eight South Asian nations under its umbrella; Afghanistan, Bangladesh, Bhutan, India, Nepal, Maldives, Pakistan, and Sri Lanka. Together, they form 21% of the world's population, 3% of the world's land area, and 3.8% of the global economy. To learn about the groups, check our Country Groups section.
The association was founded in Dhaka on December 8th, 1985. Its headquarters are located in Kathmandu, Nepal. The organization's motto is to promote the development of regional and economic integration.
There are Five broad spheres in which SAARC countries agreed to cooperate:
Development of human resources
Transport
Meteorology, science, technology, and telecommunications
Rural and agricultural development
Population and health-related activities
The formation of SAARC evolved over time, and then it started with strengthening trade relations. The idea of forming an organization was conceived in late 1970 by the then Bangladesh president Ziaur Rahman. He put forward a proposal for creating a trade bloc for the countries in South Asia. The proposal gained momentum when it was accepted by three countries, India, Pakistan, and Sri Lanka, in a meeting held in Colombo. Later in 1983, Bhutan, Maldives, and Nepal joined as well. Finally, the organization was official after the adoption of the charter on December 8th, 1985. The final addition to the organization came after 20 years. As requested by India, Afghanistan joined the SAARC on November 13th, 2005.
SAARC provides a platform for conducting a range of political dialogues. Fighting terrorism was strongly emphasized during the 12th and 13th SAARC summits.
The organization also maintains diplomatic relations with the UN (United Nations). Over time SAARC has developed relations with several multilateral entities, the European Union being prominent among them.
Visit the following to learn more about International Organizations:
Related Maps: