Why is the Confederacy in the news these days?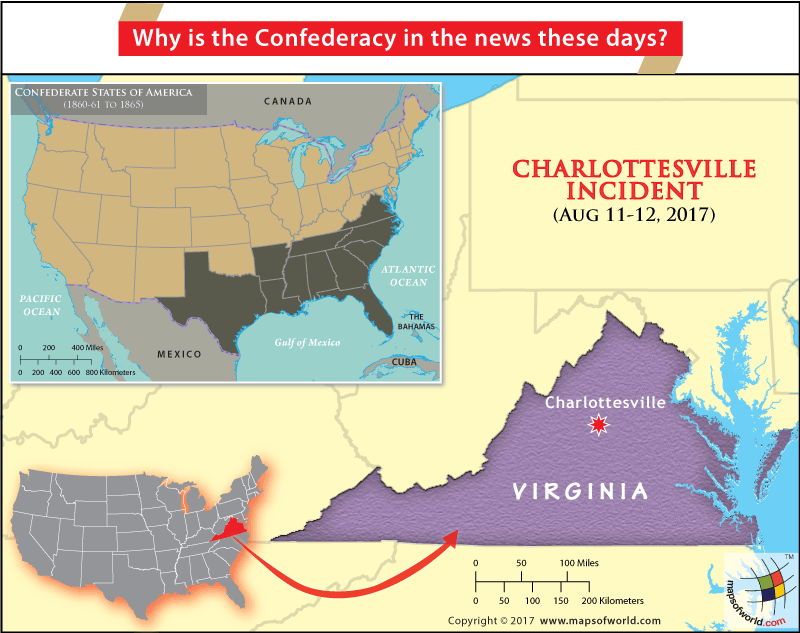 The recent incident of violence in Charlottesville, Virginia has sparked a nationwide movement to remove Confederate monuments and statues that remain as memories of America's Civil War. The incident also shines the spotlight on the continuing battle against Neo-Nazi sentiments of White supremacy.
Clashes broke out in Charlottesville last weekend when right-wing groups organized a march to protest the removal of a statue of General Robert E Lee, the military leader of the South during the Civil War. Both White supremacists and anti-racism protesters poured into the city, and violence broke out between the two groups, and matters escalated when a car ploughed into the anti-racist group. A 32-year-old woman was killed, and a number of others were critically injured. Following the incident, government officials from across the country have called for the removal of other Confederate monuments and statues.
White supremacy groups have announced that more rallies and protests will be held in different parts of the country. President Trump has blamed both sides for the violence in Charlottesville, drawing flak from around the country. The US is now plunged into a debate regarding the removal of all Confederacy related structures.
Some argue that the secession of the Confederate States from the Union, and the outbreak of the Civil War (1861 to 1865) is an important part of American history and the removal of these structures is an affront to White cultural identity, other claim that these are mere reminders of the gory past when racism and inequality dominated American society and consciousness. These statues and monuments remain a testimony to the Neo-Nazi ideology that promotes Whites to claim dominance, and goes against the fundamental values of the US, the latter believe.
Recently incidents of racial attacks and right-wing demonstrations have indeed reached a new high. Some blame the current administration and political climate for a surge in anti-tolerant behavior.
Regardless of reason, it's clear that racial intolerance continues in the United States, and must not be allowed to flourish.
Related Maps: