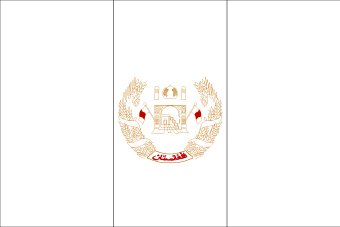 About Flag of Afghanistan
Also known as the King's Flag, the national flag of Afghanistan is composed of three equal vertical stripes of black, red, and green. In the center is the white coat of arms of Afghanistan. The center emblem is the classical ensign of Afghanistan – a mosque with its mihrab facing toward Mecca. The mosque is circled by two sheaves of wheat. Over the emblem, the sacred line is written, "There is no God but Allah and Mohammad is His prophet, and Allah is great." Below the insignia is written "Afghanistan 1298."
The flag of Afghanistan incorporates the pan-Arab colors of black, green, red, and white, which represent the historical dynasties that once ruled the region.
History of the Flag of Afghanistan
The flag of Afghanistan was officially adopted on January 4, 2004. Before this, Afghanistan went through a long list of other flags. In fact, in the twentieth century, Afghanistan has the most variations in its flag compared to any country in the world. The flag just prior to the current flag was very similar to today's flag, but had different proportions. Before this, Afghanistan went through a variety of flags using a similar color scheme in different combinations of white and black, green and red.
| | |
| --- | --- |
| National Symbol(s): | lion |
| National colors: | red, green, black |
| National Anthem: | |
| Name: | "Milli Surood" (National Anthem) |
| Lyrics/Music: | Abdul Bari JAHANI/Babrak WASA |
Facts about Afghanistan flag
| Country | Afghanistan |
| --- | --- |
| Designed by | NA |
| Adopted | January 4, 2004 |
| Revision | 20 different flags |
| Design and Colors | A vertical tricolor of black, red, and green charged in the center with the national emblem |
| Size Ratio | 2:3 |