Washington University Campus Map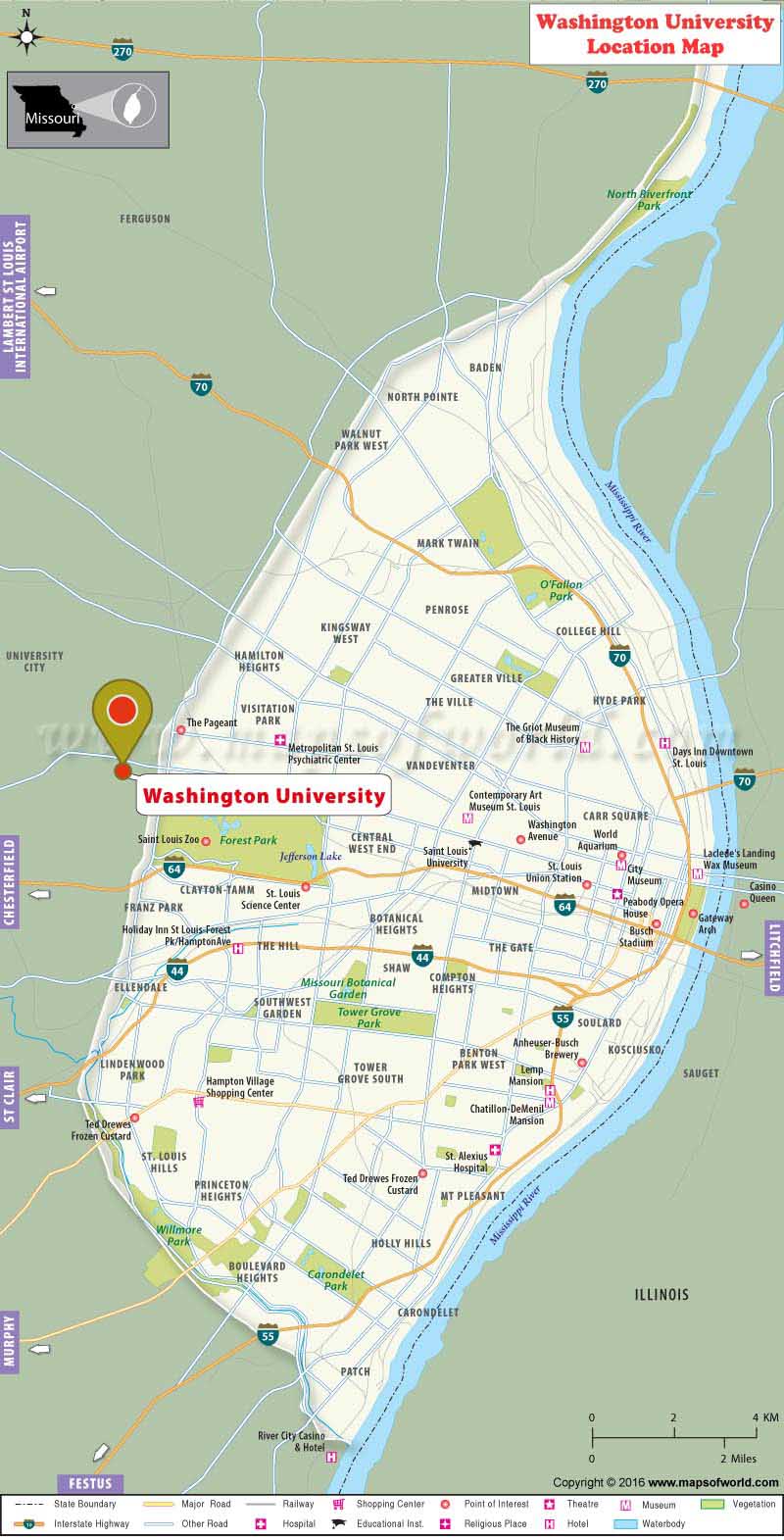 | | |
| --- | --- |
| Description: Map of Washington University, St. Louis, Missouri. | Disclaimer |
×
Disclaimer : All efforts have been made to make this image accurate. However Compare Infobase Limited, its directors and employees do not own any responsibility for the correctness or authenticity of the same.
About Washington University in Missouri
Washington University in St. Louis is a mid-sized independent university located in Missouri. Seven schools within Washington University (also known as Wash U) offer a variety of undergraduate and graduate programs to its nearly 14,117 students, which are divided about equally between undergraduate and graduate programs.
Washington University was the result of the efforts of Wayman Crow and William Greenleaf Eliot Jr., a merchant and a pastor respectively, who saw the need for a university in the Midwest. Washington University was chartered in 1853, unusually for a university of its national ranking today, without the support of a church, single wealthy donor, or a government program. The institute started in 1854 with an evening program which was especially for immigrant workers to gain an education and advance themselves. The university grew over the years, and began offering full-time education programs, adding a law school in 1867, followed by a fine arts school and a medical college.
In the late 1800s, the school board began looking to expand the school and move to a new campus, beginning construction in 1900. Before the university's new campus opened, these newly built structures were used by the 1904 World's Fair. Today, this campus is known as the Danforth Campus, and is the main campus of the university.
Academic Achievement
Though Wash U is a medium-sized school, it has a student to faculty ratio of just seven to one, and the average class size is eighteen students. More than 80 percent of courses at Wash U have fewer than twenty-four students. An acceptance rate of about 21 percent makes Washington University a selective school.
Across the colleges of Wash U there are over ninety programs available to students. The College of Arts and Sciences and Graduate School of Arts and Sciences, which are home to the majority of academic programs. Other schools at Washington University are the College and Graduate school of Architecture and Design, the College and Graduate School of Art, Sam Fox School of Design and Visual Arts, Olin Business School, and the School of Engineering and Applied Science.
Around 1,500 courses are available to students at Washington University. An additional academic opportunity at Wash U is the option for combined studies, that is, earning a degree from two separate schools at the same time, having multiple majors, or combined undergraduate and graduate work, among other combinations. These allow students to explore diverse areas of their interests and earn degrees along the way.
Wash U emphasizes undergraduate research with its Summer Scholars Program in Biology and Biomedical Research, which students can begin even before their first semester at Wash U. The twelve libraries provide a vast supply of resources for students to study, research, and learn.
Bang For Your Buck
Tuition costs at Washington University are about $42,500 per year, with room and board costs estimated at $13,118. The total cost of attending one year at Wash U, including fees, is about $56,823, not including a budget for books, supplies, and other expenses.
Washington University has eliminated need-based loans for low- and middle-income families, replacing them with assistance packages which include need-based grants and scholarships. The university also offers merit-based scholarships, which students can apply to receive either from the specific school they attend within Wash U, or from the university. These forms of financial assistance are in addition to the need-based financial aid given by the federal government after students fill out the FAFSA.
Social Scene
Freshmen from farther than 25 miles away are required to live on campus, though after the first year, students can choose to live off campus or in Village housing on campus. Most students decide to live on campus in one of the thirty-one residential buildings on campus, which vary between single, double, and triple rooms, suites, or apartment-style housing. There are also off-campus, but university owned and operated, housing units, like apartments available to upperclassmen. Ten houses for fraternities are situated on campus, though there are no sorority houses.
Students come to Wash U from all fifty states, and over a hundred countries around the world. The student body is geographically diverse, with over 65 percent of students coming from more than 500 miles away. Around 35 percent of the student body are international or multicultural students, though about 58 percent of students at Wash U are Caucasian. Study abroad programs are offered in each undergraduate school, and range from summer stints to full year programs in over fifty countries.
Over 300 student organizations can be found on the Wash U campus, ranging from community service, to student government or cultural and religious groups. One fun opportunity available at this school is the Washington University Student Entrepreneurial Program (StEP ) allows students the opportunity to own and operate a business.
Sports are important at Wash U, with ten women's and nine men's varsity intercollegiate teams, who play in NCAA Division III. Club and intramural sports also play a big role in student life at Wash U, with about 75 percent of students participating in intramural sports.
Where is Washington University Located in Missouri
Washington University is located in the St. Louis metropolitan area. With more than twenty-five universities in the region, plenty of young college students are around, making this city lively and fun. Cultural activities can be found all around town, such as live music performances including classical, jazz, blues, and rock and roll, several theater and art museums. Shopping and dining options are also available to students, in addition to several professional sports teams that play nearby.
A low cost of living makes St. Louis a great place for students in college and beyond college, should they choose to remain in the area. St. Louis is also home to natural beauty and scenic vistas, with the confluence of two of the largest rivers in the nation: the Mississippi and the Missouri. For weekend getaways, Chicago and Memphis are only about five hours drive away, and only four hours to Kansas City.
The main campus, Danforth Campus, is adjacent to Forest Park on its east side, which was the site of the 1904 World's Fair, and is today one of world's largest metropolitan parks. The main campus itself sits on 169 acres, and is ornate with Collegiate Gothic architecture. The Washington University Medical Center is located across Forest Park from the main campus.
Why Washington University of St. Louis Made Our List
Washington University is a great Midwestern university with a variety of strong programs, professors, and opportunities for students to excel. Research and entrepreneurial opportunities set Wash U ahead of other schools, with the skills and experiences it seeks to give its students.The relatively low cost of living in St. Louis and its proximity to many other major cities, also make the university a great place to build networks and plant roots.