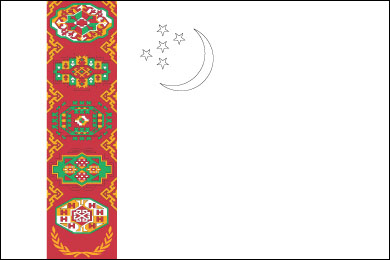 Download Picture of Blank Turkmenistan Flag For Kids to Color
At the hoist-side of the flag there is a vertical red strip that features five popular carpet designs. The carpet motif represents the famous carpet industry of the country.
Just below the red strip there are two crossed olive branches.
The flag of Turkmenistan also bears the Islamic symbols of the white crescent and five stars. The five white five-pointed stars represent the five regions of Turkmenistan.
| | |
| --- | --- |
| Official Name: | Turkmenistan |
| Capital: | Ashgabat |
| Location: | South west of Central asia |
| Area: | 448, 100 Sq. km. |
| Official Languages: | Turkmen |
| National Flag: | Green with a white crescent and 5 white stars and a red white and black stripe of 5 carpet patterns near the hoist. |
| National Anthem: | Garashciiz Bitarap Tukmenistaniin Devlet Gimni Independent Neutral Turkmenistan State Anthem (1997). |
| National symbol(s): | Akhal-Teke horse |
| National colors: | green, white |
| National anthem: | |
| Name: | "Garassyz, Bitarap Turkmenistanyn" (Independent, Neutral, Turkmenistan State Anthem) |
| Lyrics/Music: | collective/Veli MUKHATOV |
| | | |
| --- | --- | --- |
| | Fact about Turkmenistan flag | |
| Country | Turkmenistan |
| --- | --- |
| Designed by | NA |
| Adopted | February 19, 1992 (Ratio 1:2) January 24, 2001 |
| Revision | NA |
| Design and Colors | A green field with a vertical red stripe near the hoist side, containing five carpet guls stacked above two crossed olive branches; a white waxing crescent moon and five white five-pointed stars appear in the upper field, to the fly side of the red stripe |
| Size Ratio | 2:3 |