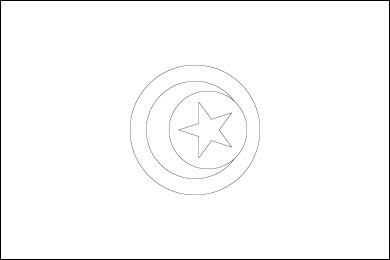 Download Tunisia Flag Outline Picture for kids to color
The Tunisia flag has a bright red background with a white disk in the center which holds a crescent and a star. The red color is symbolic of Islam.
The crescent and the star in the flag of Tunisia is a popular motif of the Islamic world. This motif is considered to be a symbol of good luck.
The crescent and star is also symbolic of the connection between Tunisia and the Ottoman Empire.
| | |
| --- | --- |
| Official Name: | Jumhuriya at Tunisiya |
| Capital: | Tunis |
| Location: | In northern Africa on the coast of the Mediterranean Sea. The country is bordered by Libya to the southeast and Algeria to the west. |
| Area: | 163, 610 Sq. km. |
| Official Languages: | Arabic |
| National Flag: | Red background containing a red five pointed star surrounded by a red crescent on a white circle. |
| National Anthem: | Himat AL Hima Defenders of the Homeland (1987) |
| National symbol(s): | encircled red star and crescent |
| National colors: | red, white |
| National anthem: | |
| Name: | "Humat Al Hima" (Defenders of the Homeland) |
| Lyrics/Music: | Mustafa Sadik AL-RAFII and Aboul-Qacem ECHEBBI/Mohamad Abdel WAHAB |
| Country | Tunisia |
| --- | --- |
| Designed by | NA |
| Adopted | 1831 |
| Revision | NA |
| Design and Colors | A red field with a centered white sun-disc containing a red five-pointed star surrounded by a red crescent |
| Size Ratio | 2:3 |