Map of Tunisia with Cities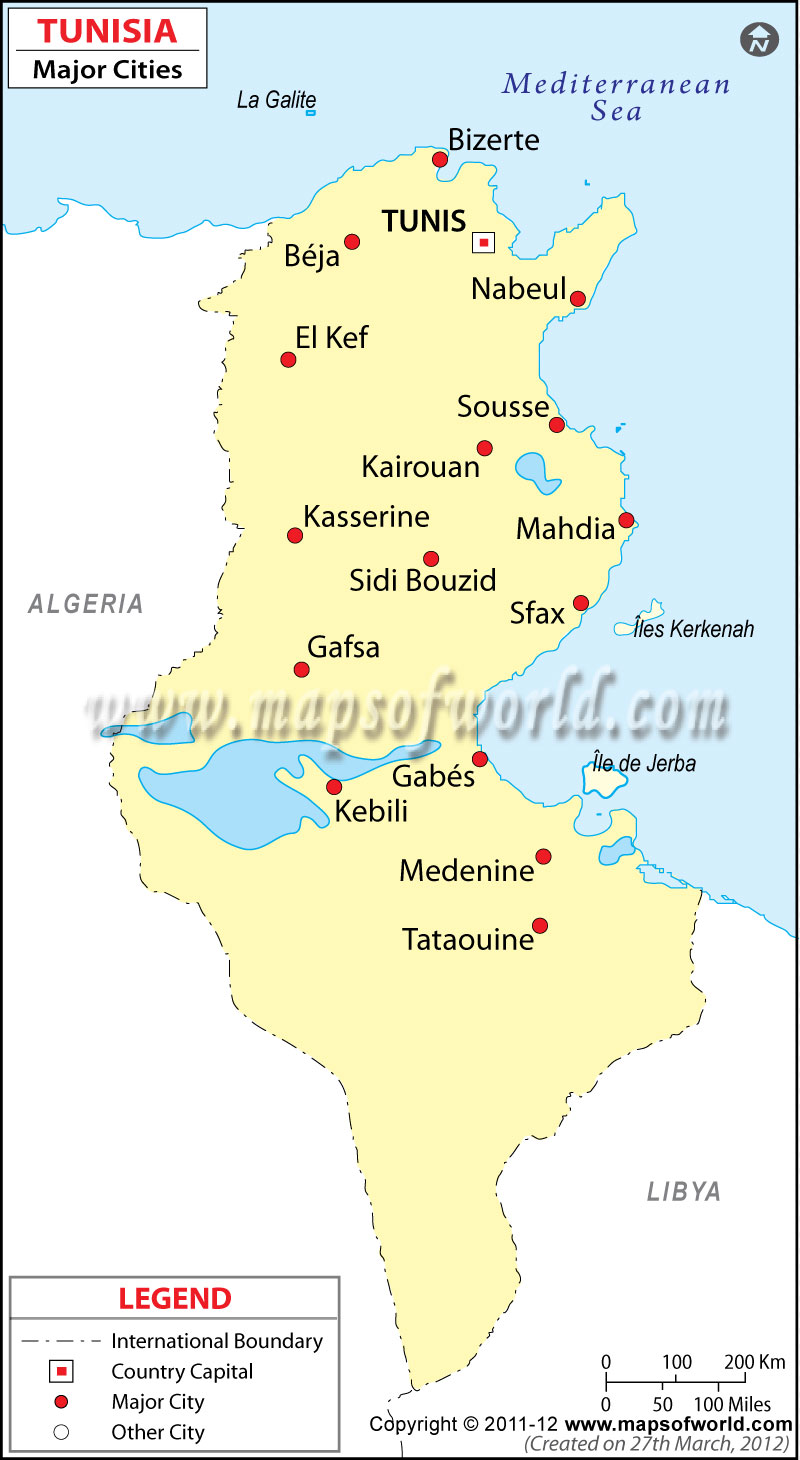 Tunisia cities are the home to a large section of the Tunisian population. Tunis is the capital city of Tunisia. As a sizable potion of the total land area is occupied by the Sahara desert,
the population is concentrated in the cities in Tunisia. The capital is also close to the ancient city of Carthage. The other cities of Tunisia like Hammamet are known for its exotic beaches. These places are thronged by tourists each year. The city of Sousse is known as the ' pearl of the Sahel'. The climate, the beautiful surroundings of the city and the warm hospitality of its inhabitants make it ideal as a tourist destination. The city of Djerba is a tourist resort. It is a big island and therefore has been developed as major tourist destination owing to its scenic beauty. Monastir is a marina with a beautiful landscape. It wonderfully combines the old and the new. All the cities of Tunisia have something to offer to the tourists.
Famous Cities to Visit in Tunisia
| City Name | Population (2005) | City Name | Population (2005) |
| --- | --- | --- | --- |
| Tūnis [Tunis] | 728453 | Al-Murūj (El Mourouj) | 81986 |
| Ṣafāqis (Sfax) | 265131 | Al-Marsā (La Marsa) | 77890 |
| Sūsah (Sousse) | 173047 | Al-Qaṣrayn (Kasserine) | 76243 |
| At-Taḍāman (Ettadhamen-Mnihla) | 118487 | Dawwār Hīshar (Douar Hicher) | 75844 |
| Al-Qayrawān (Kairouan) | 117903 | Bin 'Arūs (Ben Arous) | 74932 |
| Qābis (Gabès) | 116323 | Mūḥammadiyat Fushānah (Mohamedia-Fouchana) | 74620 |
| Binzart (Bizerte) | 114371 | Al-Munastīr (Monastir) | 71546 |
| Aryānah (Ariana) | 97687 | Jarjīs (Zarzis) | 70895 |
| Sukrah (La Soukra) | 89151 | Bārdaw (Le Bardo) | 70244 |
| Qafṣah (Gafsa) | 84676 | Jarbah Ḥawmat as-Sūq (Djerba Houmt Souk) | 64919 |