Neighboring Countries - Western Sahara, Algeria, Mali, Senegal, Morocco
Continent And Regions - Africa Map
Other Mauritania Maps - Mauritania Map, Where is Mauritania, Mauritania Blank Map, Mauritania Road Map, Mauritania Rail Map, Mauritania Cities Map, Mauritania Physical Map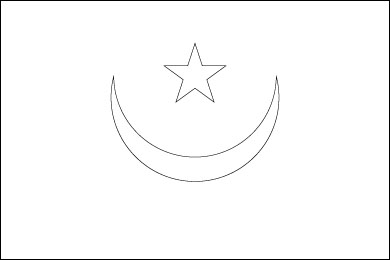 Download Picture of Blank Mauritania Flag For Kids to Color
Flag of Mauritania Description
The flag of Mauritania is a green field with a crescent moon and a star at the center.
The crescent faces upward, making a U, with its ends pointing upward, and the five-pointed star centered above the crescent. The Mauritanian flag uses the traditional pan-African colors, green and gold, which have been used along with red and black to represent many of the nations of Africa.
Green is a traditional representation of Islam showing that the nation is the Islamic Republic of Mauritania. The star and crescent have been used to represent the Ottoman Empire and later its successor states, and began to be used as symbols of Islam during the 1950s or 1960s.
History of the Flag of Mauritania
The flag of Mauritania was introduced by Moktar Ould Daddah, and outlined in the constitution of March 1959. The flag was officially adopted on April 1, 1959.
| | |
| --- | --- |
| National symbol(s): | star and crescent |
| National colors: | green, yellow |
| National anthem: | |
| Name: | "Hymne National de la Republique Islamique de Mauritanie" (National Anthem of the Islamic Republic of Mauritania) |
| Lyrics/Music: | Baba Ould CHEIKH/traditional, arranged by Tolia NIKIPROWETZKY |
| | | |
| --- | --- | --- |
| | Fact about Mauritania flag | |
| Country | Mauritania |
| --- | --- |
| Designed by | NA |
| Adopted | 1. April 1959 |
| Revision | NA |
| Design and Colors | A green field; charged with a golden upward-pointed crescent and star |
| Size Ratio | 2:3 |