Neighboring Countries - Jordan, Syria, Kuwait, Saudi Arabia, Iran
Continent And Regions - Asia Map
Other Iraq Maps - Iraq Map, Where is Iraq, Iraq Blank Map, Iraq Road Map, Iraq Rail Map, Iraq River Map, Iraq Cities Map, Iraq Political Map, Iraq Physical Map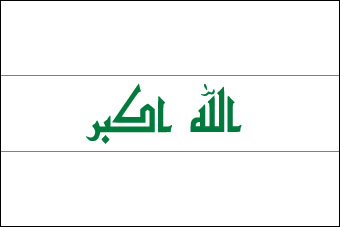 Download Iraq Flag Outline Picture for kids to color
Design
The flag of Iraq has been in use since 1963, although the design has undergone many changes since then.
The current one uses three bands of red, white, and black as the background, with the takbir written on it in green.
History
The first flag of Iraq was adopted in 1921, by the Kingdom of Iraq. It was inspired by the Flag of Arab Revolt. It changed in 1958 with the establishment of United Arab Republic.
In 2008 the parliament launched a flag contest. Several designs were proposed, and the present one got selected and adopted.
| | |
| --- | --- |
| National symbol(s): | golden eagle |
| National colors: | red, white, black |
| National anthem: | |
| Name: | "Mawtini" (My Homeland) |
| Lyrics/Music: | Ibrahim TOUQAN/Mohammad FLAYFEL |
| Country | Iraq |
| --- | --- |
| Designed by | NA |
| Adopted | 22. January 2008 |
| Revision | 1921, 1958, 1959, 1963, 1991, 2004, 2008 |
| Design and Colors | A horizontal tricolour of red, white, and black, charged with the takbīr (Allahu akbar, "God is great") in green Kufic script, centered on the white stripe. |
| Size Ratio | 2:3 |