Neighboring Countries - Bangladesh, Nepal, Bhutan, Pakistan, Sri Lanka
Continent And Regions - Asia Map
Other India Maps - India Map, Where is India, India Blank Map, India Road Map, India Rail Map, India River Map, India Cities Map, India Political Map, India Physical Map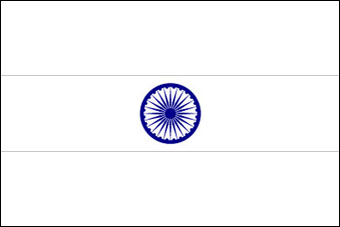 Download Picture of Blank India Flag For Kids to Color
Designed by a freedom fighter by name of Pingali Venkayya, the national flag of India is a horizontal tricolor featuring three equal horizontal bands of saffron (top), white (middle), and green (bottom). The middle stripe of the flag features the national emblem, that is, a blue spinning wheel, the "Ashoka Chakra ".
The Ashoka Chakra has twenty-four spokes and represents the eternal wheel of progress and righteousness. The wheel is found in Ashoka's Lion Capital from Sarnath.
The colors used in the flag represent ideals cherished by the constitution of the country. Saffron, the color topmost in the flag represents courage, sacrifice, valor, and the spirit of renunciation. White represents truth, peace, and purity of thought. The green stripe symbolizes culture, fertility, and faith.
The National Flag of India was adopted at the meeting of the Constituent Assembly on July 22, 1947. The constitution of India lays down strict rules and guidelines that need to be followed when using or displaying the flag. The various instructions on the use of the flag are outlined in the Flag Code of India.
The Indian National Flag is a matter of pride for its citizens. The late Prime Minister Pandit Jawahar Lal Nehru called the flag a symbol of freedom for the Indians. The colors used in the flag represent the unity and the democratic nature of the country and celebrate secularism. The Indian National Flag is also known as the Tiranga or the Tricolor.
| | |
| --- | --- |
| Official Name: | Republic of India |
| Flag Proportion: | 2:3 |
| Adopted on: | March 7, 1866 |
| Designed by: | Pingali Venkayya |
| Location of India: | Located in South Asia; Bordered by Pakistan, China, Nepal, Bhutan, Bangladesh, and Myanmar |
| Capital City of India: | New Delhi |
| Major Cities: | Mumbai, Kolkata, Chennai, Bengaluru |
| Area: | 1,269,219 square miles |
| Population: | 1.38 billion |
| Currency: | Indian Rupee (INR) |
| Official Language: | Hindi, English |
| National Anthem: | Jana Gana Mana |
| National symbol(s): | The Lion Capital of Ashoka, which depicts four Asiatic lions standing back to back mounted on a circular abacus, is the official emblem; Bengal tiger; lotus flower |
| National colors: | Saffron, white, green |
| National anthem: | |
| Name: | "Jana-Gana-Mana" (Thou Art the Ruler of the Minds of All People) |
| Lyrics/Music: | Rabindranath TAGORE |
Fact about the India flag
| Country | India |
| --- | --- |
| Designed by | Pingali Venkayya |
| Adopted | 22. July 1947 |
| Revision | NA |
| Design and Colors | A horizontal triband of India saffron, white, and India green; charged with a navy blue wheel with 24 spokes in the center |
| Size Ratio | 2:3 |