What are the popular places to visit in Mahabaleshwar, Maharashtra?

Located in the Western Ghats, Mahabaleshwar is a popular travel destination in Maharashtra, known for its scenic beauty, rich history, numerous sightseeing points, and temples. Behold one of the largest volcanic features on earth, get intoxicated by the smell of berries, watch the sunrise from the Wilson Point, and get into the skin of this layered beauty. Pleasant weather, a riot of greenery, and nature's finer pleasures are all to be discovered in Mahabaleshwar.
It is located in the Satara district of Maharashtra, India. Mumbai is about 229 km (about 142 miles) away, which calls for a five-hour drive.
Facts
The city is located 1,372 m (about 4,501 feet) above sea level.
Mahabaleshwar was once the summer capital of the Bombay Presidency during the British Raj.
The city is famous for its strawberry fields.
Mahabaleshwar is a Sanskrit word that means 'God of Great Power.'
The first historical mention of this place dates back to 1215 AD when King Singhan of Deogiri visited the place.
Mahabaleshwar's volcanic plateau is the second largest in Asia after the Tibetan Plateau.
Wilson point, the highest point at 1,439 m (about 4,721 feet), is the only location from where you can see both sunrise and sunset.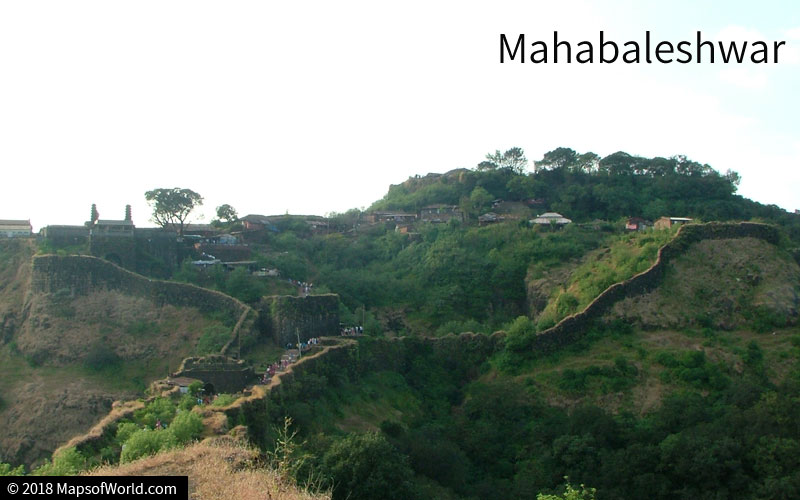 Places to Visit in Mahabaleshwar
Mount Malcolm: Named after the British Governor, Sir John Malcolm, it was built as his personal bungalow in 1829 because he was besotted with the place. It is a fine example of colonial architecture and offers breathtaking views of the surrounding areas.
Holy Cross Church: Generally known as the "Church in the Hills," it is the only Catholic Church in the region. Built in 1831, the church is known for its beautiful stained-glass windows.
Pratapgad Fort: Also known as 'Valor Fort,' it was built by Chhatrapati Shivaji Maharaj in 1656. The entire structure is brimming with history.
Rajpuri Caves: Located a few miles from Mahabaleshwar, these caves are very popular among the devotees of Lord Kartikeya. It is believed that the Lord used these caves for performing rituals and penitence. The complex is made up of four caves that are interconnected with underground tunnels. Near the entrance of the cave, there are inscriptions carved on stone plates.
Arthur's Seat: This is a tourist-popular vantage point known for offering panoramic views of rivers and mountains set in its proximity. It's also a famous sunset spot.
Panchganga Temple: The temple is named so because it was built at the confluence of five rivers: Krishna, Veena, Savitri, Koyna, and Gayatri. At the entrance of the temple is a 'Gaumukh' which is said to be the spot from where the five rivers flow out. An idol of Lord Krishna is placed within the temple as he is the chief deity. Due to its aesthetic beauty, rich history, and scenic location, the Panchganga Temple retains its popularity.
Lingmala Waterfalls: Located just a few miles away from Mahabaleshwar, Lingmala Waterfalls are very popular amongst those who come in droves to watch water cascade down from a height of about 600 feet. Also located close to the Lingmala Waterfall are the Dhobi Waterfall and the Chinaman's Waterfall.
Mahabaleshwar Temple: This Hemadant-architectural-style built temple is dedicated to Lord Shiva. The temple is divided into two parts – the central hall and sanctum sanctorum. The hall has articles dedicated to the lord which are more than 300 years old. In the sanctum sanctorum, there is a self-originated 6 feet long linga.
Elephant's Head Point: This is another popular vantage point that offers picturesque views of elevated mountains. There are also wandering local food vendors.
Bombay Point/ Sunset Point: Like its name hints, it's one of the best places on the planet to behold the sight of the sunset. It also makes for a nice place for those late afternoon picnics.
Pratap Singh Park: This is a beautiful place where you can experience tranquility and nature's beauty. Amidst the lovely garden plantations, there are also a few basic children rides.
Viewpoints: There are a number of spots around Mahabaleshwar. Some of the most popular ones are Elphinstone Point, Wilson Point, Kate Point, Lodwick Point, Babington Point, and Helen's Point.
Things to Do in Mahabaleshwar
The Venna Lake is one of the biggest tourist attractions in the city, and for a good reason. The lake is stunning and is always buzzing with activity. Visitors can choose to take a boat ride on the lake or a horse ride along its banks.
There is a shopping hub around the lake with quite a few restaurants.
Visiting the Mapro Gardens is always a wise decision. Step into the world of strawberries, raspberries, and mulberries and buy farm-fresh stuff. Hiking and trekking at the Tiger Trail or cycling around the hill station is a unique way of enjoying your sojourn in Mahabaleshwar.
Hotels in Mahabaleshwar
While the Hotel Savoy Village and Hotel Shree Paradise offer decent budget accommodation, the Hotel Dwarka and Hotel Amir Lodge are on par with mid-range accommodations. For those who are on the lookout for a more luxurious experience, should check out Le Meridien Mahabaleshwar Resort & Spa and Citrus Chambers.
Restaurants in Mahabaleshwar
Grapevine restaurant is the favorite food joint for locals as well as the tourists visiting Mahabaleshwar. The restaurant serves a range of Indian, Thai, and Continental cuisines. Grapevine's signature dishes – dhansak and chicken sticks grilled and coated in cinnamon – are a foodie's delight. Hotel Rajmahal, Elsie's Dairy & Bakery, and Aman Restaurant are some of the other popular eateries.
Best Time to Visit Mahabaleshwar
The best time to visit Mahabaleshwar is between October and June. During the remaining months, the city faces torrential rainfall and most tourists' attractions remain closed.
How to Reach?
By Air – Pune Airport is the closest airport to Mahabaleshwar and is about 132 km (about 82 miles) away. Driving to this hill station will take about three and a half hours.
By Rail – The closest major railway station to Mahabaleshwar is Pune Junction Railway Station, which is about 120 km (about 74.5 miles) away. A drive will take about three hours.
By Road – There are a number of buses that ply to nearby cities such as Pune and Mumbai.
Know more:
Related Maps: