What are the popular places to visit in Nainital?

Nainital is a very popular hill station in the state of Uttarakhand, India. Regarded as the 'Lake District of India', the place is famous for its idyllic beauty and placid lakes. Linked to famous personalities such as Ruskin Bond, Jim Corbett, and British actor Eric Maturin, Nainital is a dream destination for nature lovers. It is situated 2,084 meters (6,837 feet) above sea level.

This resort town is located in the Kumaon region of Uttarakhand.
Nainital History
Nainital was founded in 1841 by a European businessman P. Barron. The first house, a pilgrimage lodge, was built by him. Within the next few years, Nainital became a popular hill resort. The St. John in the Wilderness Church is one of the oldest structures here. Several 'European' schools came up in the town during the latter half of the 19th century. In 1862, Nainital became the summer retreat for the North-Western Provinces.
Facts
Nainital is named after the Goddess Naina Devi.

Since lakes dot the region, it is sometimes called the 'Lake District of India.'

Nainital was founded by a European businessman P. Barron as a summer retreat.

According to Hindu mythology, Goddess Sati's eyes fell here when Lord Shiva was carrying her, and hence, the temple of Naina Devi came into existence.

Jim Corbett National Park in Nainital is the oldest national park in India.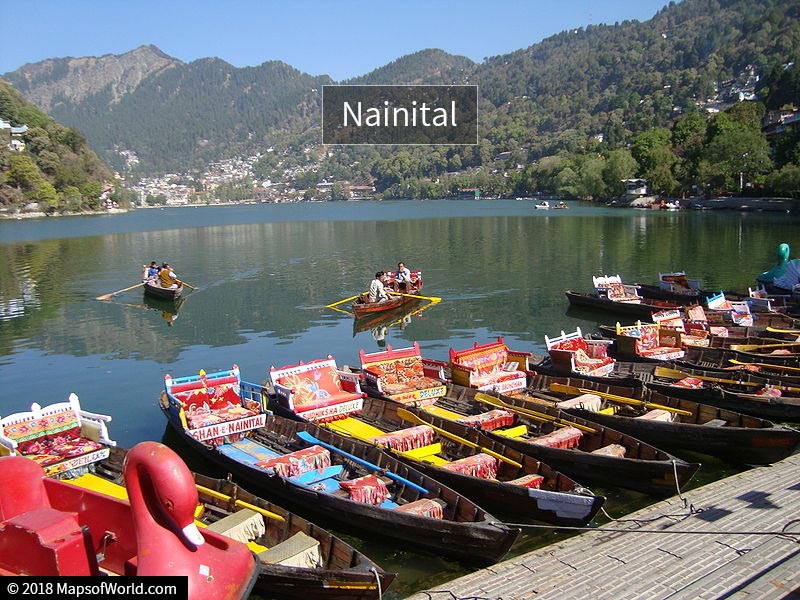 Places to Visit in Nainital
Naini Lake: Also known as Nainital Lake, it is the most popular tourist attraction in the town. The north end of the lake is called Mallital, while Tallital is the name given to its southern end. Boating in the lake is the most popular activity here, and you can hire paddleboats, rowboats, or yachts. Travelers prefer to take a stroll around the lake.
Naina Devi Temple: The Temple is dedicated to Maa Naina Devi, who is represented by two eyes (nainas). The Temple was rebuilt after it got destroyed in a landslide. It is located along the northern edge of the lake and is popular amongst tourists and devotees due to its history and the views it offers.
High Altitude Zoo: It is situated at an altitude of 2,100 meters (6,890 feet) above sea level. It was established in 1984 to conserve and protect the biodiversity of Uttarakhand. It has more than 50 bird species such as Babblers, Tits, Magpies, Jays, Barbets, Woodpeckers, Thrushes, Hill partridge, Himalayan griffon, and Lammergeier vulture. It's not difficult to spot leopards, rose-ringed parakeets, hill foxes, Tibetan wolf, leopard cat, Himalayan bear, and more.
Snow View Point: It is located at 2,270 meters (7448 feet) above sea level and offers a panoramic view of the surrounding area, including Nanda Devi – India's second-highest mountain peak. While there are motorable roads that lead to Snow View Point, the Aerial Ropeway is the most popular amongst visitors. This cable car connecting Snow View Point with Nainital is a tourist attraction in its own right.
Raj Bhavan: The official residence of the Governor of Uttarakhand exudes the charm of European architecture. This 19th-century building, spread over an area of 205 acres, resembles Gothic architecture. It has a swimming pool, a large garden, as well as a golf course. It is a must-see for visitors interested in the history of Nainital.
Naina Peak: The Peak is located about 2,615 meters (8,579 feet) above sea level and is the highest point of the town. To reach the peak, you have to trek 6 km (3.7 miles) or ride a pony from Mallital or Snow View Point.
Tiffin Top: This popular picnic spot is situated on Ayarpatta Hill at the height of 2,292 meters (7,519 feet). Here, you can also find Dorothy's Seat – a memorial of English Painter Dorothy Kelly – built by her husband and admirers after she passed away in a plane crash.
Jim Corbett National Park: Established in 1936, it is the oldest national park in the country and a part of the larger Corbett Tiger Reserve. Within the park, one can spot a plethora of animals such as elephants, Chital, flying fox, tigers, and rare species such as Otters and the endemic fish-eating crocodile. Much to birdwatchers' delight, the park is home to more than 650 species of residents and migratory birds.
Bhimtal: Located a few miles from Nainital, Bhimtal is said to date back to the age of the Mahabharata. Aside from its history, Bhimtal's popularity lies in its lake. The place is a massive draw for those who wish to avoid the hustle and bustle.
Sattal: Also known as Sat Tal, the place is famous for its seven interconnected lakes. Flora and fauna of the place have made it very popular amongst eco-tourists.
Kainchi Dham: Thousands of people visit this place owing to the famous Shri Neem Karoli Baba Maharajji's ashram situated here. On June 15, each year, Pratishtha Divas is celebrated here, and devotees flock here to get the 'Prasad.'
Cave Garden: This is a multiple-utility garden having a wide range of entertainment opportunities. Here, you can find shade trees, a mechanical bull ride and multiple caves for exploring.
Things to Do
Take the Nainital Ropeway ride which connects Snow View Point to Nainital flats. This ride provides you with panoramic views of the city. However, after you're done with your sightseeing, it's time to collect souvenirs. Visit Bara Bazaar, which is a popular marketplace, located in the bustling region of Mallital. From handmade candles to wooden showpieces, it's a great market to take a little of Nainital home. You can also try the Mall Road which connects the north end of the lake with its southern end. For some months, all vehicular traffic to the road is stopped, which makes the entire stretch ideal for walking and sightseeing. Mall Road is dotted with souvenir shops, restaurants, hotels, and much more.
How to Reach?
By Air – Pantnagar Airport is about 58 km (about 36 miles) from Nainital, and it takes about one and a half hours to reach Nainital from there.
By Rail – Located about 24 km (about 15 miles) away, Kathgodam Railway Station is the closest railway station to Nainital. Driving to the station will take less than an hour.
By Road – Nainital is well connected to all nearby towns and cities. Many state-run and private buses ply from Nainital to nearby cities like Delhi.
Hotels in Nainital
Those looking for decent budget accommodations should check-in at the Traveller's Paradise, Hotel Anamika, and Vikram Vintage Inn. High-end travelers can put up at Shervani Hilltop, Ashok Hotel, and Arif Classic Hotel.
Nainital Restaurants
If the legendary steamed momos and other Tibetan dishes whet your appetite, head to the Sakley's Restaurant & Pastry Shop in Mallital and try some of the best sweets at Shiva Restaurant in Bara Bazaar. For exclusive Punjabi cuisine, head to Sher-e-Punjab.
Best Time to Visit Nainital
March and June are considered to be the best months to visit Nainital. Nainital can be visited at any time, but between March to June, the days are pleasant for sightseeing. Sometimes, during May and June, weather in the afternoon can be quite hot, so it is advised to enjoy boating.
In between July and September, there is rainfall that might continue whole day causing blockage, but October is considered to be the best season as days are neither hot nor cold but the nights might be chilly.
Know more:
Related Maps: