Guinea Bissau Map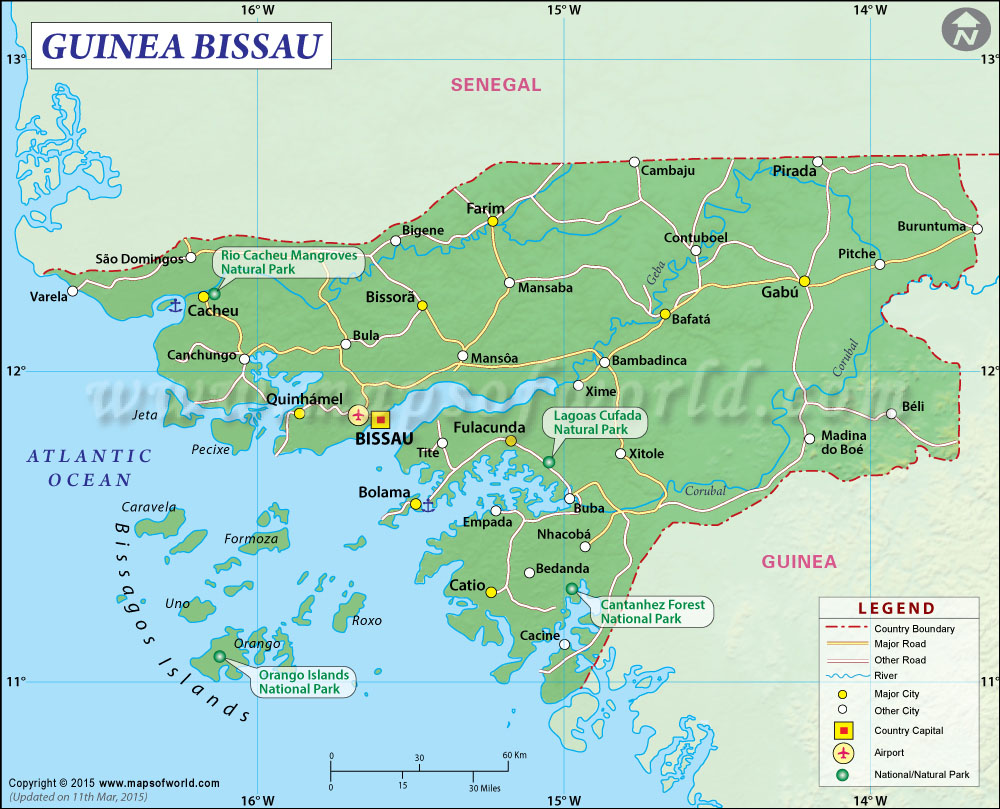 Guinea-Bissau is an African nation located at the North West of the continent, bordering Guinea and Senegal.
History of Guinea-Bissau
The small West African nation of Guinea-Bissau was historically part of the Mali Empire that existed from about 1230 to 1600, and upon its collapse, became part of the Kaabu Empire. The former Mali Empire was divided among many leaders, but Kaabu's ruler, Sami Koli, found the most success in his kingdom. The Kaabu Empire remained in control over some of its lands until the 18th century.
However, Europeans from several countries arrived in West Africa around 1455. The Portuguese established colonies in Guinea-Bissau, but the locals resisted their movement inland, continuing to allow trade at its ports. The Portuguese, however, established the territory as Portuguese Guinea, which was an important trading post for the Atlantic Slave Trade, as well as gold, ivory, and other goods.
The people of Guinea-Bissau began the fight for independence in 1950, with the formation of the African Part for the Independence of Guinea and Cape Verde. The African Party for the Independence of Guinea and Cape Verde (PAIGC) strengthened its power throughout the 1960s, Guinea-Bissau was granted independence in 1974. After independence, the new leadership massacred the Portuguese Army that remained, but the new regime was overthrown and replaced by a government headed by Joao Bernardo Vieira in 1980. The country's first multiparty democratic elections were held in 1994.
Neighboring Countries
Guinea-Bissau shares borders with Senegal and Guinea, and has coastline along the Atlantic Ocean.
Major Cities
Bissau
Bafata
Bolama
Gabu
Geography
Guinea-Bissau is a small country with a coastline of mangrove swamps, and an interior of forests and savannas. The terrain is quite flat, with its highest point sitting at just 300 meters (984 feet) above sea level. Rivers play an important role as trade routes in Guinea-Bissau. Some of commercially important rivers are the Cacheu, Geba and Rio Grande de Buba which has an estuary along the Atlantic coast.
Guinea-Bissau has about 350 kilometers of coastline, and its territory includes the archipelago of the Bijagos Islands, which contains about 88 islets off the coast. These islands are mostly uninhabited, but there are about 20 that do have a year-round population. These islands are a UNESCO Biosphere Reserve, and serve as a habitat for a variety of plant and animal species, including hippos and turtles.
Points of Interest
Guinea-Bissau features plenty of natural beauty alongside quaint colonial towns, resorts, and historical destinations, including sites from the slave trade, markets, and old forts. The capital, Bissau, is the largest city of the country, and is home to the historical town center, with colonial architecture, museums, markets, and the Fortaleza d'Amura, a historic fort with artifacts from the revolution. The town's port is still used by fishermen, and was the site of revolutionary battles, commemorated with a sculpture of a black fist.
The Bijagos Islands are another great destination in Guinea-Bissau, with tropical forests, unspoiled nature, beaches, and fishing lodges.
Transportation
Guinea-Bissau's major airport is located in its capital, Bissau, and is called Osvaldo Vieira International Airport. This airport has direct flights from Portugal several times per week, as well as flights to other regional airports in Africa, and some destinations in Europe and the United States. There are several ports in Guinea-Bissau, so reaching Bissau, Buba, Cacheu, or Farim by boat is another option.
There is no railway service in Guinea-Bissau, but there are many roads. The Trans-West African Coastal Highway traverses the country, reaching the Gambia and Guinea.
Around town, shared taxis are a popular mode of transportation, as well as minibuses, known as toca-toca. Boats and ferries can transport passengers to the islands. Bicycles are a good way to get around town as well.