We offer our services to companies, publishers, and individuals looking for detailed, large scale custom wall maps, and folded maps. These maps are designed according to the customer's inputs; including the area and features he wants to cover on a map, the dimensions he needs and the details he wants to show on the map. This service is mostly used by folded map publishers, real estate companies, and businesses with large sales force or distribution networks, corporate houses for their board rooms and reception areas and many others. The usual process followed by our team is to get an initial brief from the client, show a sample, freeze his requirements and then start creating the maps. The maps are sent to the client for two or three rounds of iteration before finalization; thus, ensuring total client satisfaction.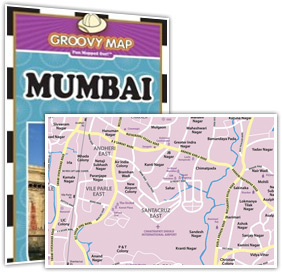 Groovy Guide to Mumbai Groovy Map, Bangkok, Thailand Aaron Frankel, the author and editor of Groovy series of maps, approached us for a series of maps on Mumbai. With an intention of "Fun Mapped Out!", the Groovy team spends lots of time in researching a city while producing their guides. They have their own sets of icons and styles for a map and also have a special section called "A Groovy day" for each city guide. We supplied 5 maps of Mumbai to Aaron which includes one map for "Greater Mumbai" the upcoming suburb of Mumbai less frequented by tourist but by far the most happening place in the city. The other maps are of traditional tourist destinations like Colaba, Bandra and the famous Juhu beach. Our team of cartographers worked in tandem with groovy in finalizing these maps according to their requirements.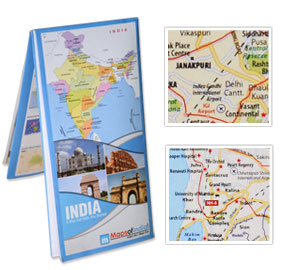 India Folded map Compare Infobase Limited, New Delhi, India The India map has designed for visitors of www.mapsofindia.com Mapsofindia.com has distributed this map free of cost to all those visitors who register on our website. The map covers India at a scale of 1:4.2 Million and illustrates all the newest highways right from the Golden quadrilateral to the East–west and North-south corridors. The map also shows all the major towns, cities and tourist places of interest across India including national parks, places of worship etc. With an accurate and detailed distance chart this folded map allows the readers to plan out their trip by sitting in their homes. The map also carries some of the satellite maps of the metro cities namely Delhi, Mumbai, Chennai, Kolkata, Hyderabad and Bangalore.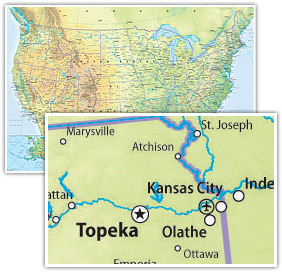 USA Wall Map Compare Infobase Limited, New Delhi, India Designed in the same lines as the India folded map, this wall map has been made for visitors to our website www.mapsofworld.com. With the size of 28 inch width x 19 inch height, this wall map illustrates the states, rivers, lakes, mountain peaks, and 7 categories of cities classified according to their population. The map also has detailed elevation at the background showing the physical features. The combination of both political and physical features makes the map very informative interactive for all.