Which Are The World's Newest Countries?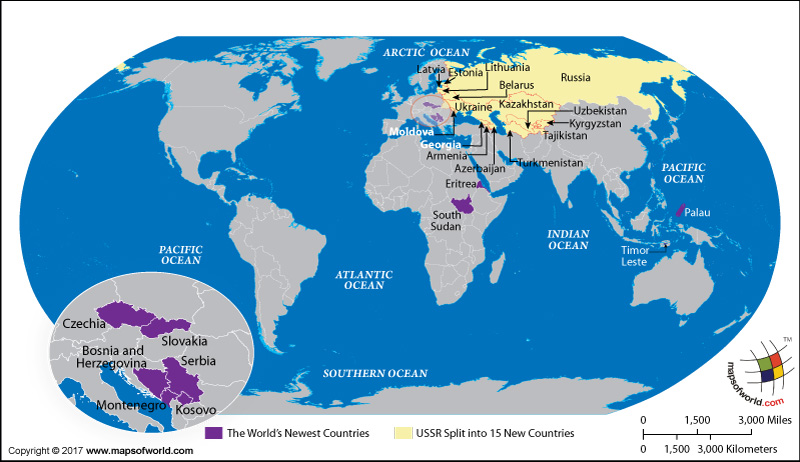 Given the existence of several disputed territories and the matter of international recognition, the exact number of countries in the world is a subject of considerable debate. The following, however, is a list of the newest countries to find popular recognition.
South Sudan – After a bloody civil war that wrecked the Republic of Sudan in Africa, South Sudan managed to break away from Sudan on July 9, 2011, and declared its independence. It is the newest sovereign country in the world and is a member of the United Nations.
Kosovo – Kosovo existed as an autonomous province in erstwhile Yugoslavia. In 2008, Kosovo broke away from Serbia and unilaterally declared its independence on February 17, 2008. While Serbia, Russia and a few other nations refuse to recognize Kosovo, many other UN members, including the USA, the UK, France, Germany, and Australia do recognize Kosovo. It is not a UN member, though.
Montenegro – The final vestiges of the collapse of the Socialist Federal Republic of Yugoslavia fell on Serbia and Montenegro which joined together in a union to form the Federal Republic of Yugoslavia (FRY) in 1992. This federation too broke up when Montenegro withdrew on May 21, 2006, following a referendum.
Serbia – The withdrawal of Montenegro from the FRY also led to the formation of Serbia as we now know it on May 21, 2006.
Timor Leste – East Timor or Timor Leste was a Portuguese colony since the 16th century. In 1975, it declared its independence, but this lasted only a few days. Indonesia invaded and occupied East Timor, triggering a very violent conflict that lasted years. Finally, East Timor gained independence on May 20, 2002.
Palau – Having gone through several colonial regimes, Palau finally became independent on October 1, 1994. It now exists in free association with the US, meaning that the United States is responsible for its defense and foreign affairs.
Eritrea – Eritrea's road to independence was also a long one. The long civil war since Ethiopia annexed the region in 1962 ended with a referendum and its eventual independence on April 27, 1993.
Slovakia – The dissolution of Czechoslovakia gave birth to Slovakia on January 1, 1993.
Czech Republic – The other country that was created by the disintegration of Czechoslovakia on January 1, 1993, is the Czech Republic.
Bosnia and Herzegovina – The disintegration of SFR Yugoslavia gave rise to many states in the Balkan Peninsula. The country of Bosnia and Herzegovina declared its independence from SFRY on March 1, 1992.
Before this, the disintegration of the USSR gave rise to 15 new countries – Armenia, Azerbaijan, Belarus, Estonia, Georgia, Kazakhstan, Kyrgyzstan, Latvia, Lithuania, Moldova, Russia, Tajikistan, Turkmenistan, Ukraine, and Uzbekistan.
Related Maps: