What are the Largest Countries in the World by Area?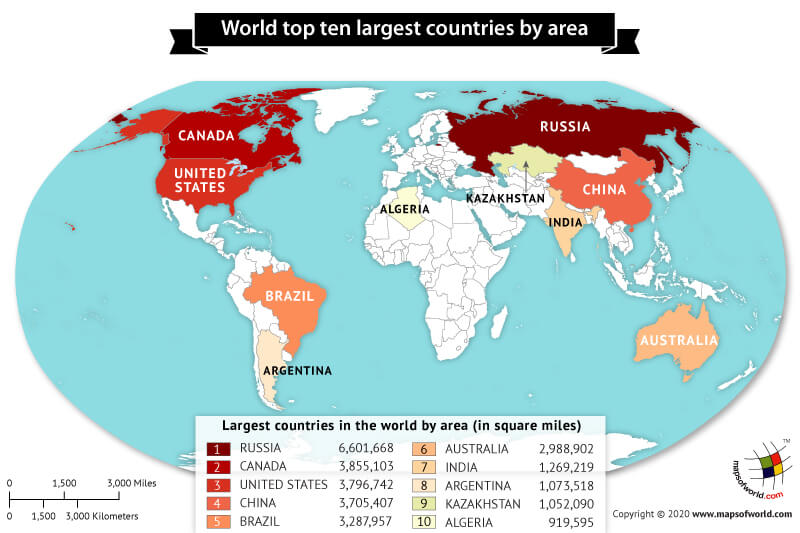 The numbers shown are based on the total land area of each country, including both land and water areas within the international boundaries. The world's ten biggest countries by size are ranked based on the information sourced from the CIA World Factbook.
Russia is the largest country in the world by a wide margin, covering 6,601,668 square miles. Russia stretches across Europe and Asia, spanning nine time zones and covering about an eighth of the inhabited land area on Earth.
Canada is the second-largest country with an area of 3,855,103 square miles. It covers the northern part of the Western Hemisphere.
The United States is third on the list covering 3,796,742 square miles. The United States shares land borders with Canada, and Mexico and maritime borders with Russia, Cuba, the Bahamas, and other countries in addition to Canada and Mexico.
China next on the list covering 3,705,407 square miles. The People's Republic of China is either the third or fourth largest country in the world, being either slightly larger or slightly smaller than the United States.
Brazil is just behind China and USA in the largest country list. It has an area of 3,287,957 square miles.
The sixth-largest country is Australia, with an area of 2,988,902 square miles. It is the only country that is also a continent.
India lies on the northern part of the Indo-Australian Plate, whose continental crust forms the Indian subcontinent. It covers an area of 1,269,219 square miles.
Argentina is located in the southern South America, it covers an area of 1,073,518 square miles. It is adjoined by the Andes in the west and the South Atlantic Ocean to the east, neighboring countries are Chile to the west, Bolivia and Paraguay to the north, and Brazil and Uruguay to the northeast.
Kazakhstan is located in Central Asia and Eastern Europe with an area of 1,052,090 square miles. The country borders Turkmenistan, Uzbekistan, and Kyrgyzstan to the south; Russia to the north; Russia and the Caspian Sea to the west; and China's Xinjiang Uygur Autonomous Region to the east.
Algeria comprises 919,595 square miles of land, more than four-fifths of which is desert, in northern Africa, between Morocco and Tunisia. It is also the largest country in the world.
Here is a tabular representation of the largest countries by area:
| | | | |
| --- | --- | --- | --- |
| Country | Capital City | Continent | Area (square miles) |
| Russia | Moscow | Europe | 6,601,668 |
| Canada | Ottawa | North America | 3,855,102 |
| The United States of America | Washington DC | North America | 3,794,100 |
| China | Beijing | Asia | 3,705,406 |
| Brazil | Brasilia | South America | 3,287,612 |
| Australia | Canberra | Australia | 2,988,901 |
| India | New Delhi | Asia | 1,269,219 |
| Argentina | Buenos Aires | South America | 1,073,518 |
| Kazakhstan | Astana | Asia | 1,052,090 |
| Algeria | Algiers | Africa | 919,595 |
Related Links:
Related Maps: