What US State Shares Its Borders with Most States?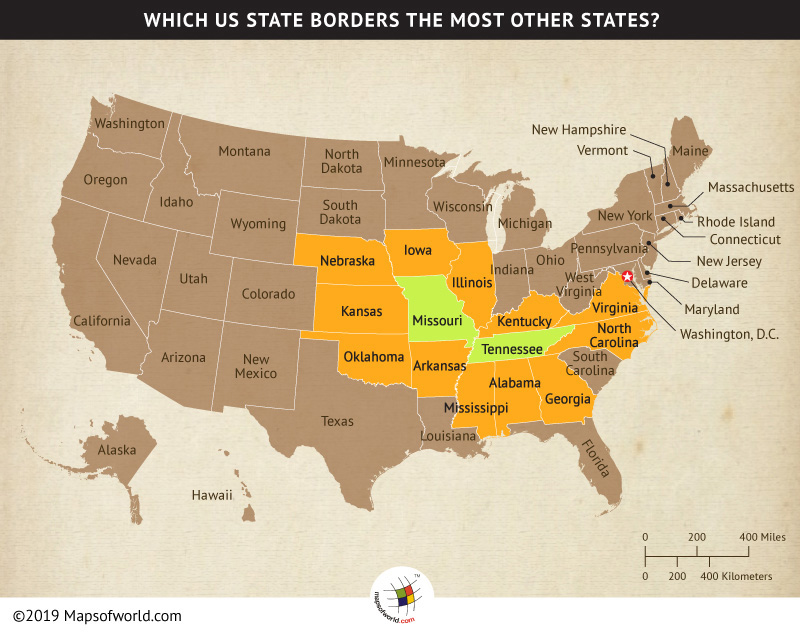 The United States comprises 50 states. Of these 48 are contiguous, while two are non-contiguous – Alaska and Hawaii. While Alaska is situated in the northwest extremity of North America, Hawaii lies in Oceania. Since both of these states are not located in mainland US, they do not share their boundaries with any other state of the country. But there are two states that share their borders with the maximum number of states. Both Tennessee and Missouri share their borders with eight other states and also with each other.
Located in the southeastern region of the country, Tennessee is the 36th largest state of the country covering an area of 42,143 square miles. To the north are situated Virginia and Kentucky. Arkansas and Missouri are located to the west on the Mississippi River. On the south are Alabama, Georgia, and Mississippi, while to the east is North Carolina. The state is noted for its picturesque locations and amazing tourist attractions such as The Great Smoky Mountains National Park, Memphis Zoo, National Civil Rights Museum in Memphis, Graceland residence and tomb of Elvis Presley, etc.
Missouri is tied with Tennessee as it too shares borders with eight states. Located in the Midwestern United States, Missouri covers an area of 69,715 square miles. Apart from its neighbor Tennessee, Kentucky and Illinois are also located on the east across the Mississippi River. On the north is Iowa and on the south is Arkansas. Kansas, Oklahoma, and Nebraska lie to the west of Missouri. The state has been the birthplace of famous personalities like President Harry S Truman, Writer Mark Twain, singer, and songwriter Nelly, among others.
At the second place are Colorado and Kentucky which share their borders with seven states. For a clear idea, refer to the map above which shows the borders shared between the states.
Related Maps: