Which Country has the Most Borders with other Countries?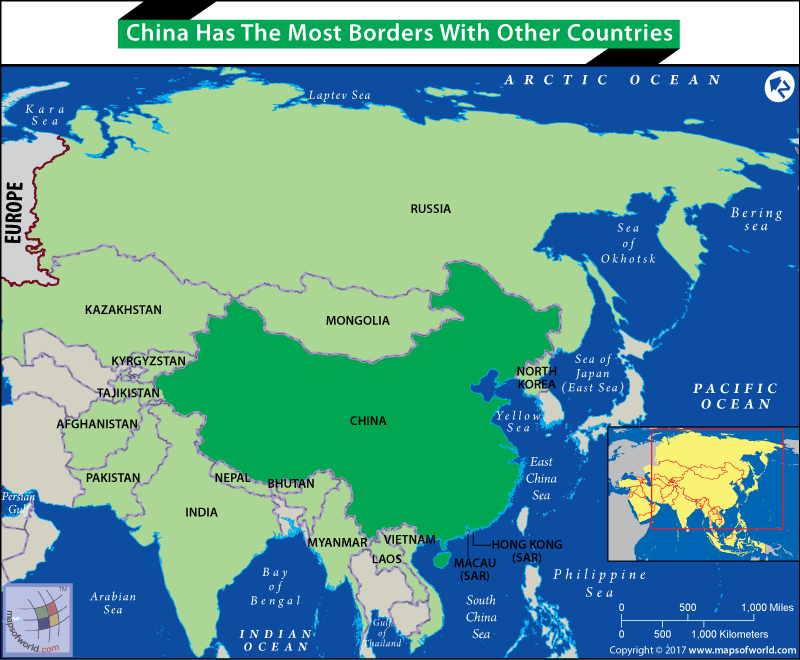 The country is China and it shares its borders with 16 neighbors, 14 of which are sovereign states and two are special territories. The total length of its land borders is 13,743 miles.
China has Mongolia to its north, Russia to its northeast, Kazakhstan, Kyrgyzstan, Tajikistan and Afghanistan to its west, Pakistan, India, Nepal and Bhutan to its southwest, Myanmar, Laos and Vietnam to its south, North Korea to its northeast.
The two special territories it shares borders with are Hong Kong and Macau, both are Special Administrative Regions of China.
The length of border between China and its respective neighbors are
Mongolia: 2,877 miles
Russia: 2,597 miles
Kazakhstan: 1,097 miles
Kyrgyzstan: 660 miles
Tajikistan: 296 miles
Afghanistan: 56 miles
Pakistan: 272 miles
India: 1,652 miles
Nepal: 863 miles
Bhutan: 296 miles
Myanmar: 1,323 miles
Laos: 295 miles
Vietnam: 806 miles
North Korea: 840 miles
Special territories
China – Hong Kong: 20 miles
China – Macau: 1.8 miles
Related Maps: