What countries comprise Oceania?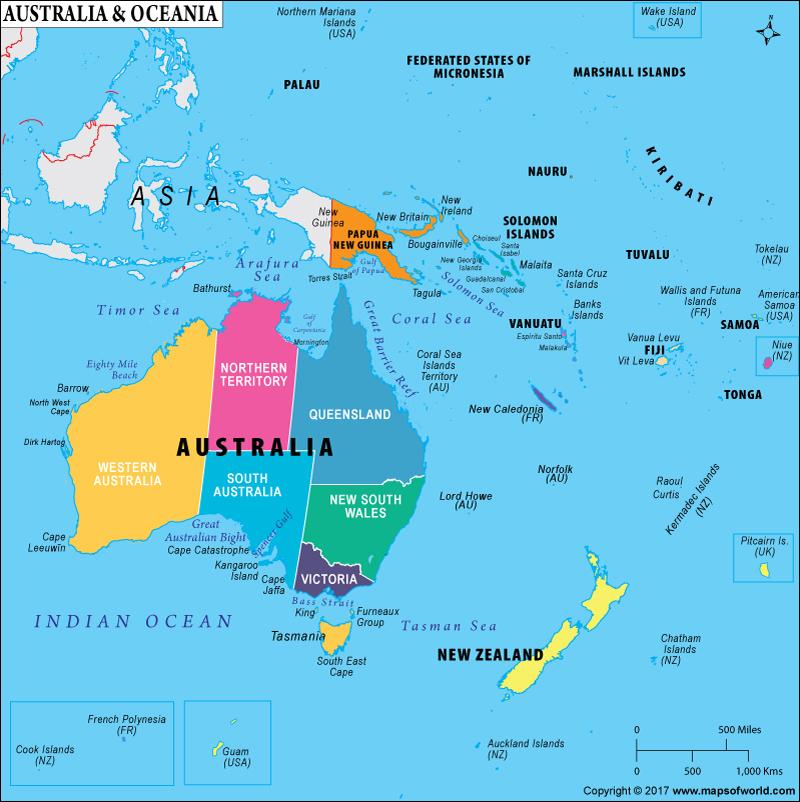 Oceania is often mistakenly called a continent. Oceania is, in fact, the name used to refer to a collection of islands scattered across the Pacific Ocean. While different accounts of Oceania vary about its spread and limit, the most commonly accepted definition excludes Japan, the Philippines, Indonesia, and Taiwan. Traditionally, the region of Oceania is divided into – Melanesia, Micronesia, Polynesia, and Australasia.
Here is a list of the sovereign countries that are part of Oceania (according to the area) –
Country Area (in square miles)
Australia: 2.97 million
Papua New Guinea: 178,704
New Zealand: 103,483
Solomon Islands: 10,965
Fiji: 7056
Vanuatu: 4706
Samoa: 1097
Kiribati: 313
Tonga: 289
Federated States of Micronesia: 271
Palau: 180
Marshall Islands: 70
Tuvalu: 10
Nauru: 8
Parts of Indonesia are included in Oceania as about 162,371 square miles of Indonesia (total area – 735,358 square miles) falls here. It is, however, difficult to segregate the two regions.
Apart from these countries, it also comprises a number of islands that are dependencies or exist in free association. Niue and Cook Islands, for example, exist in a free association with New Zealand. American Samoa and French Polynesia are dependencies.
Here is a list of dependencies in the region –
American Samoa (USA)
Cook Islands (free association with New Zealand)
French Polynesia (France)
Guam (USA)
New Caledonia (France)
Niue (free association with New Zealand)
Norfolk Island (Australia)
Northern Mariana Islands (USA)
Pitcairn Islands (UK)
Tokelau (New Zealand)
Wake Island (USA)
Wallis and Futuna (France)
Divisions of Oceania –
Australasia includes Australia and New Zealand;
Melanesia includes Papua New Guinea, Fiji, Solomon Islands, and Vanuatu;
Micronesia includes Kiribati, Federated States of Micronesia, Marshall Islands, Palau, and Nauru;
Polynesia includes Samoa, Tonga, and Tuvalu.
Related Links:
Related Maps and Articles: